In 2016, my car broke down. It was the car I'd been driving since age 16, and it had made it to 14 years old. It was time. So I bought my dream car, a Kia Soul. I loved that car. It had Bluetooth! It had power windows, power locks, and a key fob that unlocked the doors remotely! Such simple luxuries, but I was tickled.
When I moved to the mountains this year, I realized I might need something a little more hardy. An all-wheel drive for the hills and snow, preferably with a backup camera. (Did you know that by May 2018, all new cars are required to come standard with backup cameras?)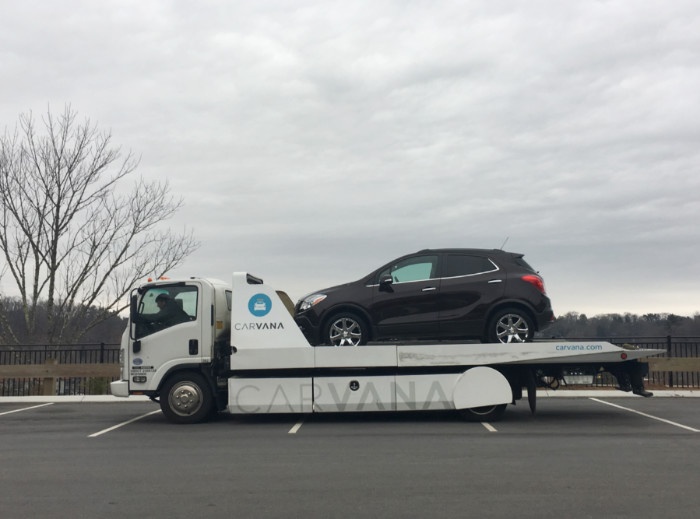 So in a bittersweet yet practical move, I traded in my Soul for a low-mileage Buick Encore from Carvana. Psst! If you're in the market for a new car, let me know. I have ten codes for $500 off your Carvana purchase. Not sponsored, I just had a good experience with Carvana.
Car Organization Tips: Keeping It Clean and Well-Stocked!
After stocking my new wheels with a few of my usual car essentials—lip balm, hand sanitizer, and extra napkins secreted away from various restaurants and coffee shops—inspiration struck. "I should fully organize this car! With cheap items from the dollar store!" So that's just what I did.
I visited Dollar Tree, Ross, Aldi, and Dollar General to organize my whole car & outfit it with emergency supplies for less than $30!
Let's start with the driver's side door.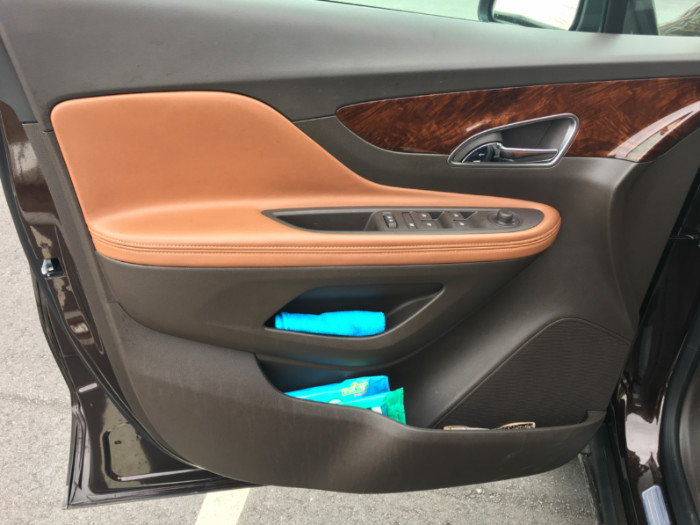 In my driver door pockets, I keep a microfiber cloth for dusting and drying (2 for $1, Dollar Tree), packs of Clorox wipes and baby wipes ($1 each, Dollar Tree), and a backup pair of sunglasses for my sensitive baby eyes.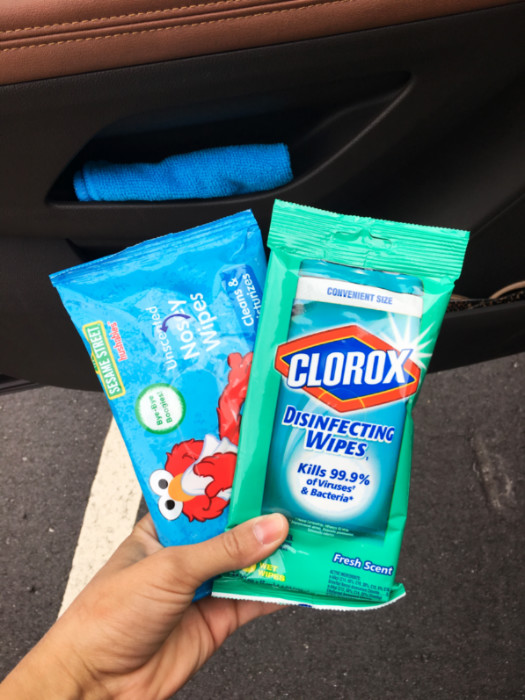 Now moving along to the center console.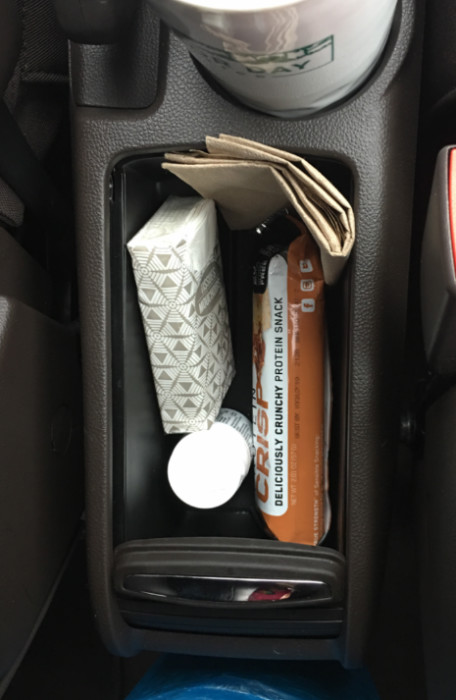 The console storage space in this car is quite small, so I don't have room for much. Inside I have extra napkins, a pack of tissues (8 packs for $1, Dollar Tree), a protein bar, and a bottle of ibuprofen…or is it?
Inside this bottle of ibuprofen, I actually keep change! Totally thief-proof. 🙂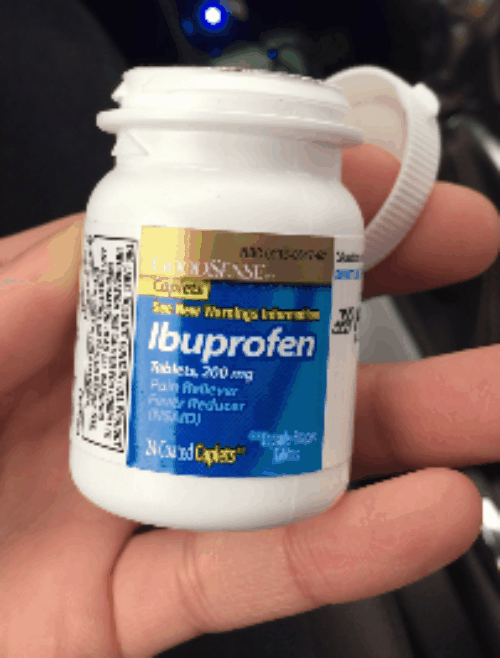 On the passenger's side, there are two glove compartments. In the main compartment, I keep the car owner's manual, my registration and insurance information, a toiletries kit, and a first aid kit.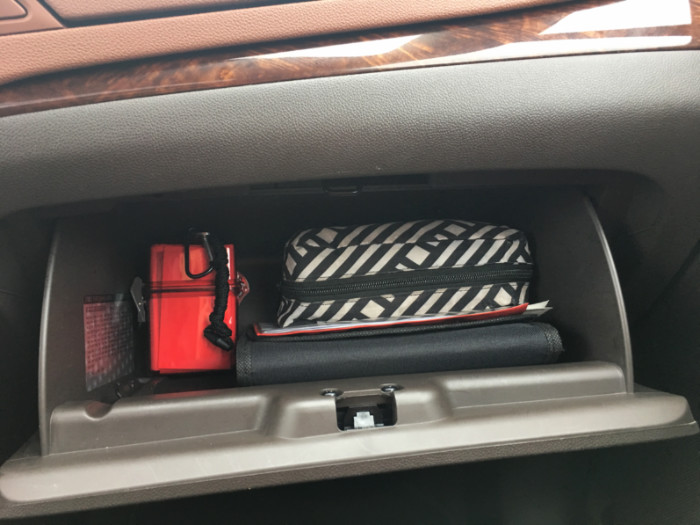 I got this compact first aid kit at Ross for $4.99. It has regular bandages, blister bandages, gauze, alcohol pads, antiseptic pads, and medical tape and is attached to a carabiner. Handy!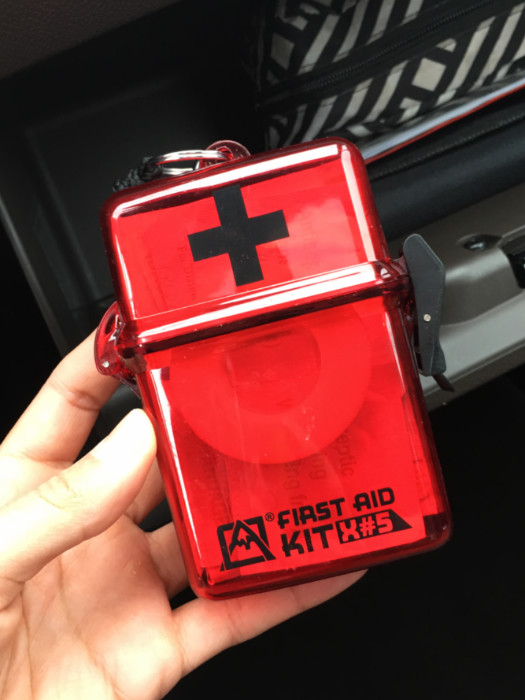 In the striped pouch, which is from Target years ago, I keep the following (not everything is pictured below):
Lotion
Tampons
One reusable pad (from this set of 5)
Toothpaste & toothbrush
Floss
Deodorant
Lint remover
Tide To-Go stick
Nail file
Hand sanitizer
Lip balm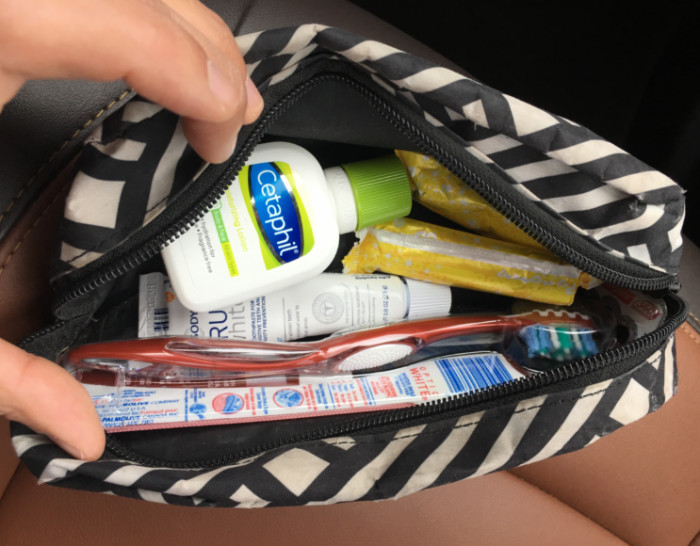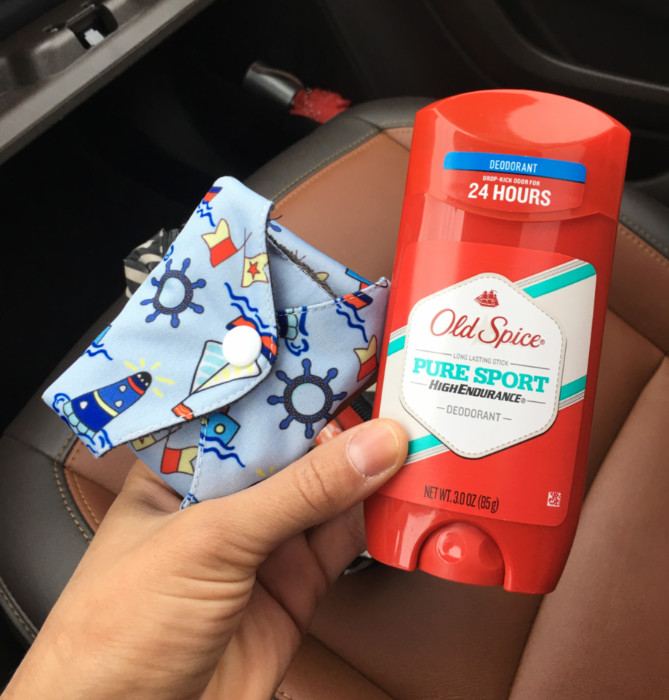 In the smaller glove box, I keep just a few things: scissors, scotch tape, a tape measure, and this multi-tool that includes a hammer, screwdriver, and more.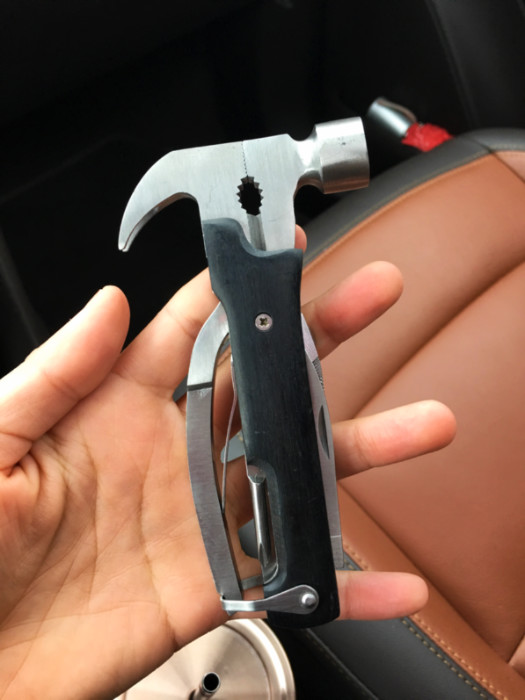 It's good to keep a hammer and something to cut with, in case you need to break a window or cut a seatbelt to escape the car in an emergency. The tool I have was $6.99 at Ross, but on Amazon you can find specialized tools made for escaping cars.
In the back seat is my favorite organization tip: a mini trashcan ($1, Dollar Tree) that sits perfectly on the hump between the two footwells and doesn't budge because…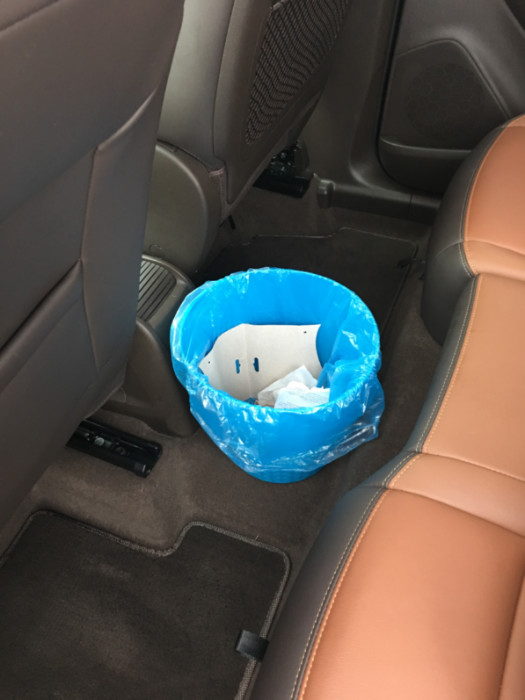 I put velcro strips on the bottom to attach it to the carpet and prevent sliding! I keep the package of trash bags at the bottom of the can so I'll always have a fresh one handy.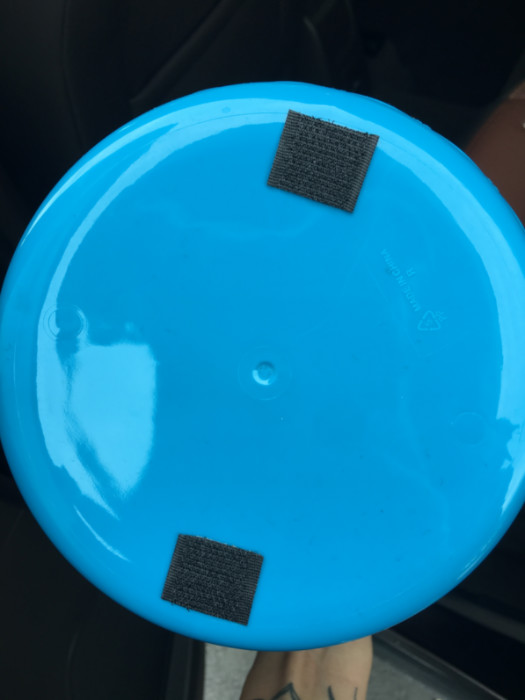 And finally, the trunk. I like to keep the trunk mostly empty so I have room for groceries or whatever I need to tote.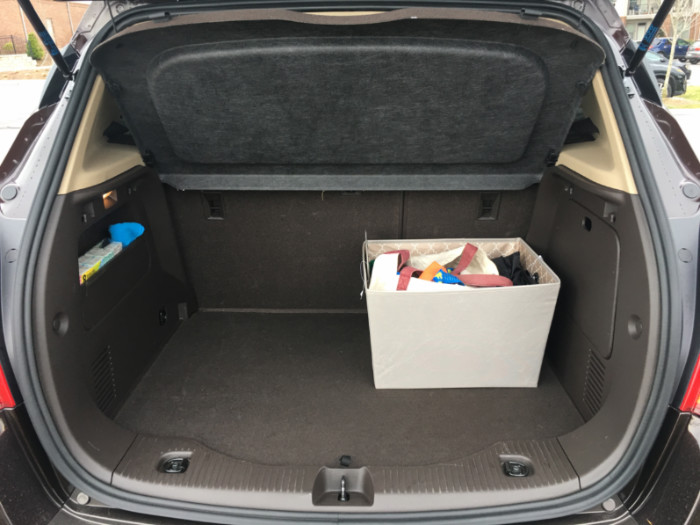 The small storage space on the left holds my extra tissues and the extra microfiber cloth from the 2-pack. I picked up a fabric bin from Aldi's Special Buys section for $6.99 to corral the few other items I keep handy in the trunk.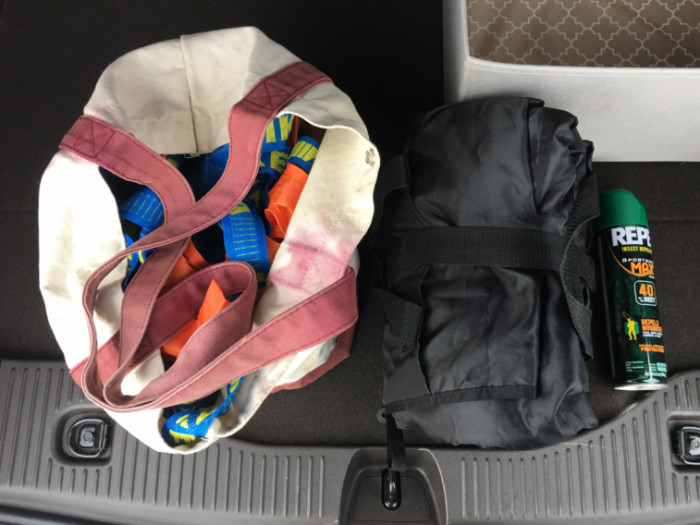 The bin holds my reusable bags, my picnic/stadium blanket, and a bottle of bug spray I got from Dollar General for $4.50. I always forget bug spray when I do outdoor activities, so keeping it in my car is insurance that I won't get bitten for once.
So let's recap everything that went into my car organization haul!
Baby wipes: $1
Disinfecting wipes: $1
Microfiber cloths: $1
Tissues: $1
Pill container for loose change: already had it = FREE
Toiletries kit: already had it = FREE
First aid kit: $4.99
Scissors: already had them = FREE
Scotch tape: already had it = FREE
Measuring tape: already had it = FREE
Multi-tool with hammer: $6.99
Trashcan: $1
Trashbags: $1
Velcro: $1
Trunk bin: $6.99
Bug spray: $4.50
Aldi quarter: $0.25 😉
GRAND TOTAL: $30.72. I think $30 to outfit a whole car with convenience and emergency items is pretty great. Patting myself on the back.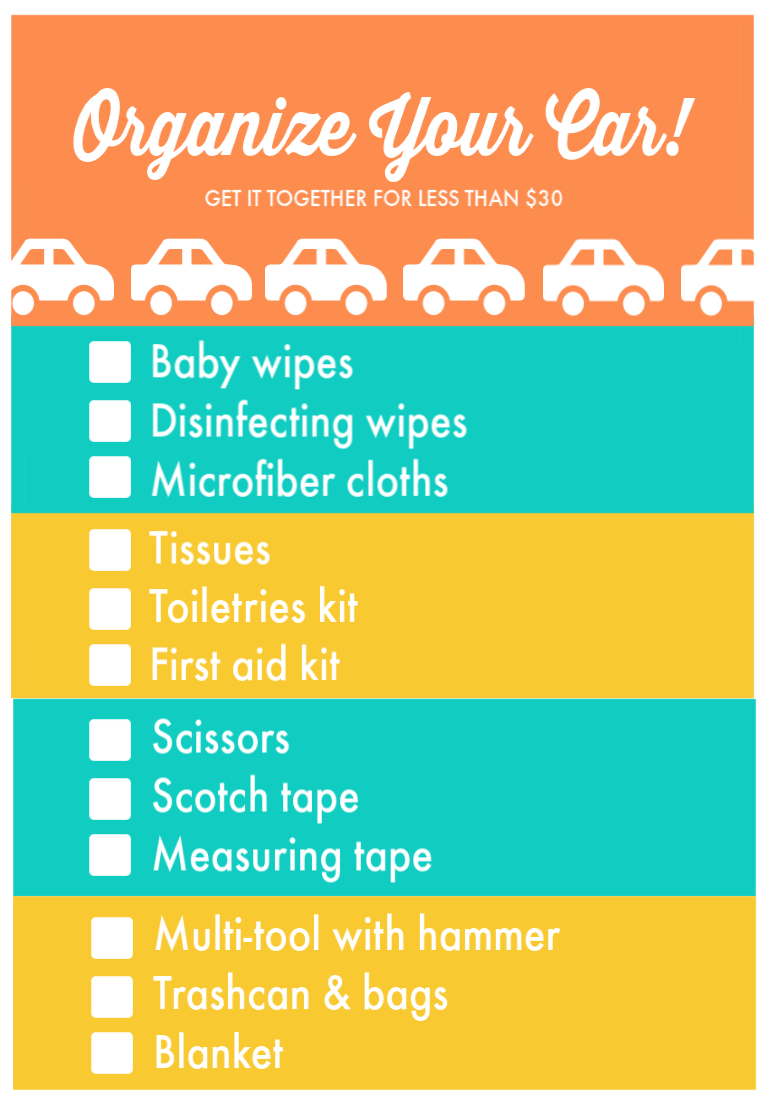 What other essentials do you keep in your car? I've been watching car organization videos on YouTube and can't get enough of everyone's clever ideas!