If you're like me and have resolved to eat healthier this year, you're probably focusing on choosing healthier snacks as part of an improved diet, and this baked apples recipe makes healthy snacking easy. It has the essence of apple pie without all of the calories. Delicious and guilt-free!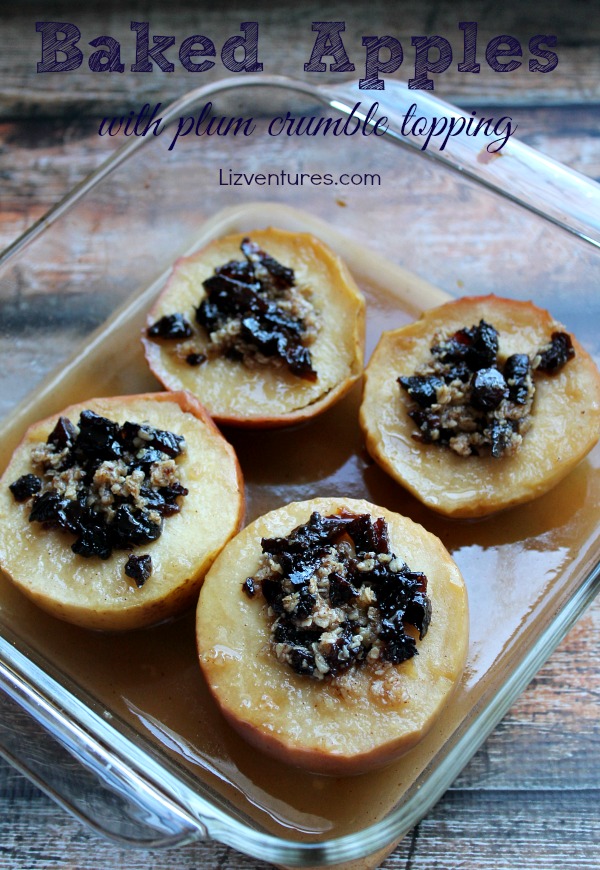 How are you doing with your New Year's Resolutions? Sadly, many of us have given up on them already. They're so easy to make, but so cotton-pickin' hard to keep. The problem is that we tend to choose lofty goals that are impossible to reach quickly, so we lose our motivation just as quickly. Instead of thinking about losing weight, think about eating healthier – it's not as intimidating!
One way to improve the quality of your diet is to add the Feel Good Fruit to your favorite snack recipes. It's an easy fix to help you stick with your healthy eating resolutions this year.
I love Sunsweet® plums and prunes! They're deliciously tasty and uniquely nutritious, making them the perfect addition to my baked apples recipe.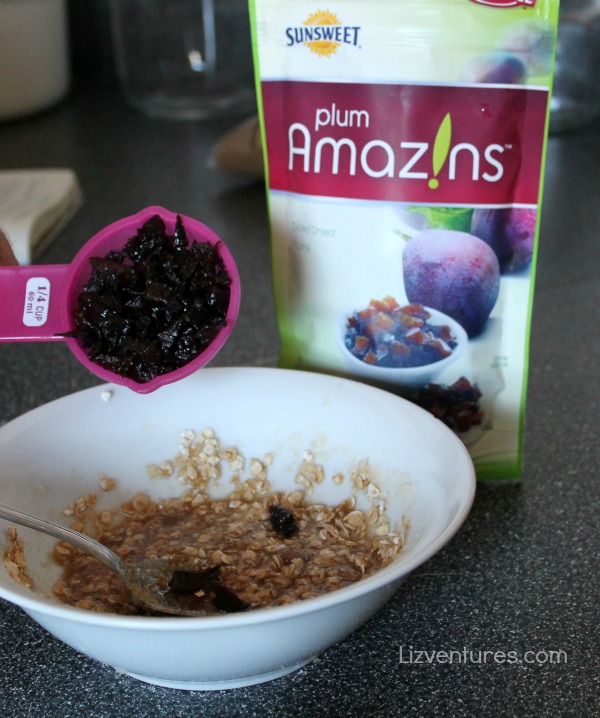 I mixed up a plum crumble topping for the baked apples recipe with Sunsweet Plum Amaz!ns, oatmeal, brown sugar, butter and spices to make a small amount of filling which I spooned into the centers of two cored and halved apples.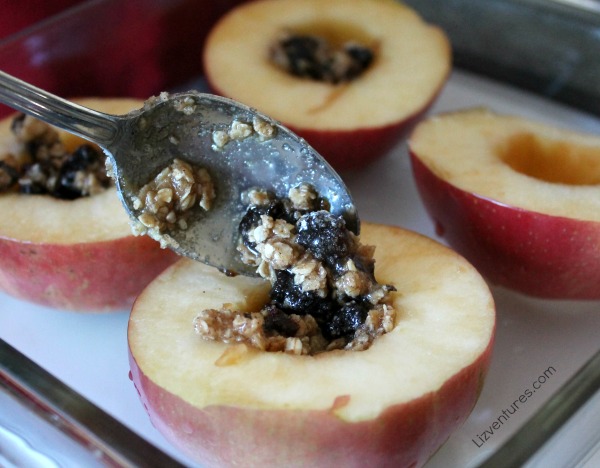 I covered them and baked them in a bath of apple juice until they were tender, spooning juice over the tops a few times throughout.
Guys, this is good stuff!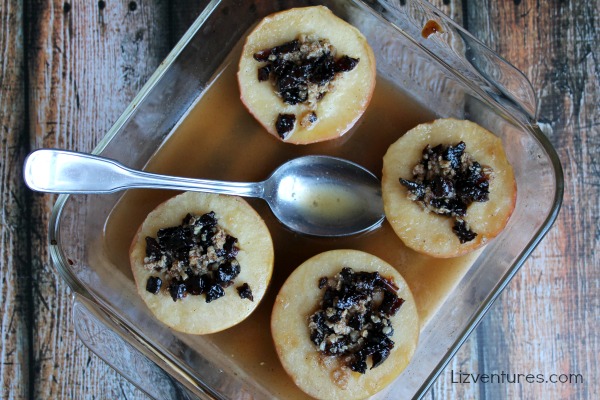 So, about those plums and prunes… studies suggest the following positive effects from certain nutrients in them:
Bone Health: Prunes may promote healthy bones. Dr. Bahram H. Arjmandi of Florida State University says, "Dried plums (prunes) are the most bone-friendly fruit that I have seen in decades. They are nature's solution to maintaining good bone health." Dr. Arjmandi hypothesizes that the many compounds and nutrients contained in prunes, such as vitamin K, potassium, copper and boron, likely work synergistically to have this positive effect. Additional research is currently being conducted to learn more about prunes and bone health.
Potassium: Potassium may help prevent hypertension and stroke and play a role in helping support cell energy by regulating fluid balance, nerve impulses and muscle contraction to increase energy.
Fiber: A diet containing foods with fiber can replace fats and sweets, and contributes to heart health.
Regularity: A fiber rich diet may contribute to maintaining a consistent digestive tract which helps lead to improved digestive health.
Healthy Snacking Baked Apples
Ingredients
2

apples

cut around the middle and cored

Lemon juice

1/2

cup

apple juice + 1 tablespoon

divided

1

Tbsp

butter

melted

1

Tbsp

pure Vermont maple syrup

1/4

cup

Sunsweet Amaz!n Diced Plums

2

Tbsp

oatmeal

2

Tbsp

brown sugar

1/2

tsp

cinnamon

1/8

tsp

nutmeg

1/8

tsp

ginger
Instructions
Preheat oven to 350 degrees.

Put apple halves into square baking dish; sprinkle tops with lemon juice to prevent too much browning.

In small bowl, combine remaining ingredients. Spoon into centers of apple halves.

Pour 1/2 cup apple juice into bottom of baking dish. Cover dish with foil. Bake for 40 minutes or until tender, spooning juice over apples occasionally.
Nutrition
Calories:
133.9
kcal
Carbohydrates:
27.62
g
Protein:
0.57
g
Fat:
3.2
g
Saturated Fat:
1.87
g
Cholesterol:
7.53
mg
Sodium:
29.6
mg
Potassium:
156.12
mg
Fiber:
2.59
g
Sugar:
22.32
g
Vitamin A:
172.18
IU
Vitamin C:
5.45
mg
Calcium:
15.89
mg
Iron:
0.17
mg
If you haven't tried #TheFeelGoodFruit yet, you should!

PlumSmart® Light: This juice is made from a special variety of fresh, juicy plums and has only 60 calories and 15g of carbs, and helps you stay fit on the inside by providing a good source of fiber. PlumSmart Light is a great addition to a smoothie.

Amaz!n™ Prunes: These little gems are a good source of fiber for only 100 calories per serving. Amaz!n Prunes are nature's perfect way to feel good with nutrition and delicious taste. Prunes also have a low glycemic index, which means they keep you feeling fuller longer. They add a powerful boost of nutrition and fiber to snack time or your favorite recipe.

Amaz!n™ Diced Prunes: Grab a handful of these delicious diced prunes for nutritious snacking. Toss them in cereal, oatmeal, salad or your favorite recipes for added flavor and fiber. One serving of Amaz!n Diced Prunes is a good source of fiber for only 100 calories. Add to your favorite snacking recipe for extra fiber and a fruit flavor boost.
I was selected for this opportunity as a member of Clever Girls and the content and opinions expressed here are all my own.