This post about root concealers was sponsored by Gray Away as part of an Influencer Activation and all opinions expressed in my post are my own.
Gray roots drive me crazy!
It seems like when I get my hair colored at the salon, it only takes two or three weeks until those shiny silver streaks are back in full force. Since I can't afford to color my hair every three weeks (nor do I want to traumatize my hair with chemicals that often) I usually wait five or six weeks between touchups.
And that means I have to deal with gray roots for quite a while. If I'm home, I get lazy and just live with them, but if I'm going to be out in public, I feel better if I cover up the gray.
I've tried a number of things to cover up the gray roots (including mascara and eye shadow) but I just tried Gray Away for the first time, and ding, ding, ding – we've got a winner.
Gray Away is the best root concealer!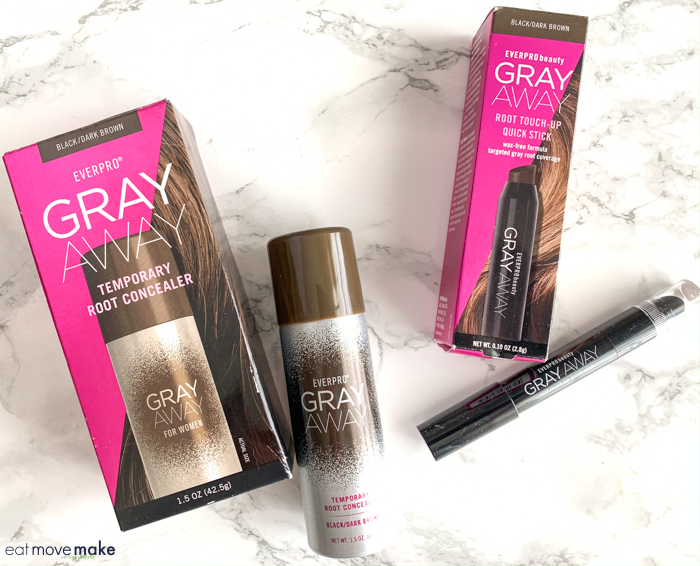 My heaviest gray peek-throughs show up on my part, so I used the Gray Away Temporary Root Concealer Spray to spray that area. I found it at ULTA Beauty.!
To use: Just shake and hold 2-3 inches from the hair and spray. It feels cold when you're spraying and it will be sticky and wet at first, so let it dry. If you touch it when it's wet (like I did) you'll get some stain on your fingers, but it washes off with soap and water.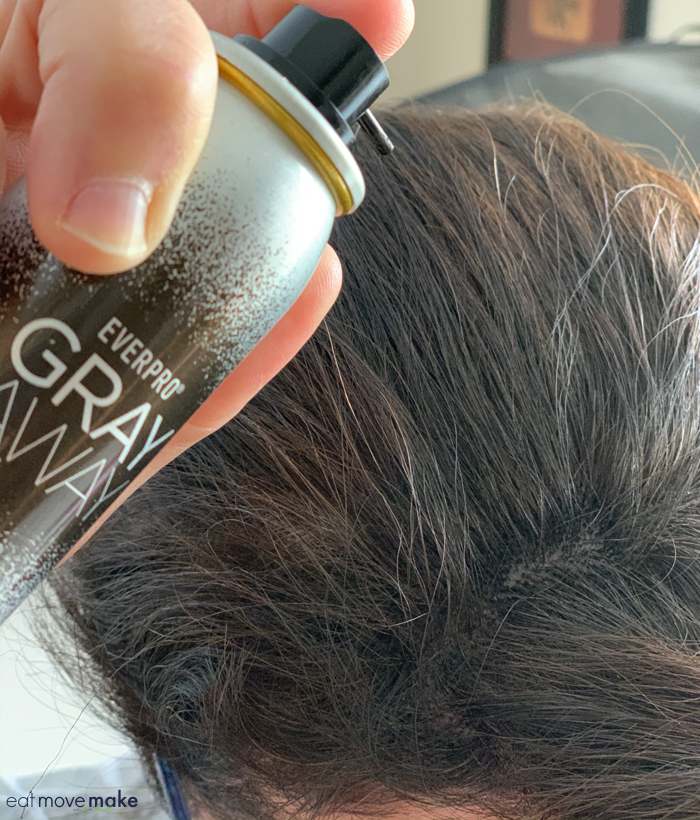 As you can see from the before and after photos, it worked beautifully! I'm so impressed!
It's a game-changing hair care breakthrough and the fastest, easiest way to touch up and cover gray roots. It literally took seconds. When I visit the salon, it takes two hours and it costs a fortune.
Now I can spread those appointments out even further, saving me more money and time.
I also tried the Gray Away Root Touch-Up Quick Stick on those pesky gray hairline strays. Also available at ULTA Beauty, the root touch-up stick has a dual-ended stick with an angled applicator tip and a sponge tip for blending. It's designed for ultra-targeted gray root coverage at the hairline and eyebrows.
I really liked how smooth and velvety dry it went on, and that it didn't change the texture of my hair, but it did cover up the gray!
I'll be keeping this in my purse for quick on-the-go root concealer touchups.
Both of the Gray Away root concealer products will wash out with shampoo and are free of harsh chemicals and permanent dyes.
If you're bothered by gray roots and are looking for a proven salon-quality solution that's fast and affordable, I recommend you try Gray Away products. I love that you can use them in the privacy of your own home or on-the-go. I'm super happy with the results.
Purchase Gray Away Temporary Root Concealer Spray at ULTA Beauty in-store or online.

Purchase Gray Away Root Touch-Up Quick Stick at ULTA Beauty online in-store or online.

Visit GrayAway.com for more information.
Pin this post to remind you which root concealer to buy!