I'm not generally one to make a fuss over a holiday breakfast, but Easter is a very special day, so I like to make my Easter meals special as well.
One of my very favorite breakfast recipes is for an overnight Pain Perdu, which is like a baked French Toast. This year I decided to go with blueberry, but I sometimes make it with strawberries or cinnamon and maple.
The bread used to make it is key, so be sure to use an artisan bread. They're perfect for the recipe.
Oven-Baked Blueberry Pain Perdu (French Toast)
Ingredients for Pain Perdu
1 Ecce Panis European baguette (you'll want a French bread-type texture)
10 oz Philadelphia brand cream cheese
1/4 cup powdered sugar
2 T milk
2 cups blueberries
10 eggs
2 cups milk
1/4 cup maple syrup
1 tsp vanilla
1 tsp cinnamon
Dash nutmeg
(Blueberry Sauce)
2 cups sugar
2 cups water
4 Tbsp corn starch
2 cups blueberries
2 Tbsp butter
Directions
1. Cut bread into cubes and then layer on the bottom of a greased 9″x12″ baking dish.
2. Beat together cream cheese, powdered sugar and milk until soft and creamy. Carefully spread over top of bread cubes. It won't be a perfectly smooth layer, but that's ok.
3. Mix together eggs, milk, vanilla, maple syrup, cinnamon and nutmeg. Pour over the top of the bread and cream cheese layer. Sprinkle on 2 cups of the blueberries. Cover with plastic wrap and refrigerate overnight.
4. Cover with foil and bake at 350 degrees for 30 minutes. Remove foil and continue to bake another 30 minutes until center sets and bread turns golden brown.
5. During the last 30 minutes of baking, prepare the blueberry sauce by stirring together water, sugar and corn starch and bringing to a boil. Stir constantly to prevent scalding and cook for several minutes. Add blueberries and reduce heat to a simmer; let cook for about 10-12 minutes.
6. Pour blueberry sauce over the Pain Perdu. Cut into squares to serve and enjoy.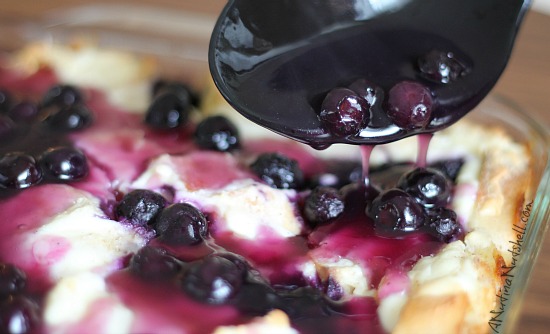 Trust me when I tell ya that you won't soon forget this recipe. Scrumptious!