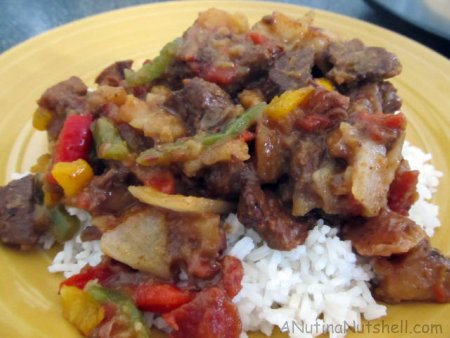 Whether you choose to serve it over rice, or enjoy it alone as a stew, this hearty and flavorful meal is wonderfully satisfying.
Ingredients
1/4 cup Caribbean jerk marinade
1 1/2 pounds beef stew meat
4 medium red potatoes, cut into small pieces
1/3 cup flour
1 or 2 Tbsp Cajun seasoning (depends on how spicy you like it)
1 14.5 oz can diced tomatoes, undrained
3 cups frozen stir-fry bell peppers and onions (1 pound bag)
Directions
1. Put beef in a resealable plastic bag or a dish; coat well with marinade. Let stand 15 minutes. (Note: I have made this recipe with and without browning the meat, and either way works, but my personal preference is to brown it first.)
2. Spray inside of slow cooker with cooking spray. Place potatoes inside.
3. Mix flour and Cajun seasoning. Toss with the beef and marinade mixture, coating well. Place marinated beef on potatoes.
4. Add tomatoes.
4. Cover and cook on low setting 7 to 8 hours or until beef is tender.
5. Stir in vegetables. Cover and cook for an additional 15 to 30 minutes, or until vegetables are tender. Makes 4 to 6 servings.
Eat alone as a stew, or serve over rice for a more filling meal.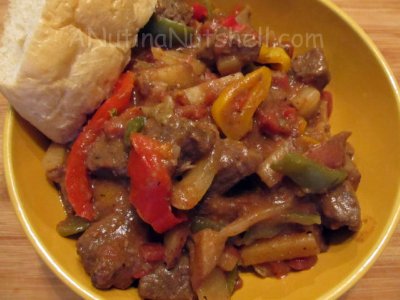 Enjoy!