I'm a HUGE chocolate fan.
Colossal, really.
I pretty much like all the chocolate. All the ways.
Except for chocolate chip cookies. Meh.
I know, I know.
It seems wrong.
I like them and I eat them, but they're just not my first chocolate choice. So over the years, I've experimented to get the essence of the chocolate chip cookie without the actual cookie, and somewhere along the way I stumbled on this recipe.
And what better day than National Chocolate Day to share it!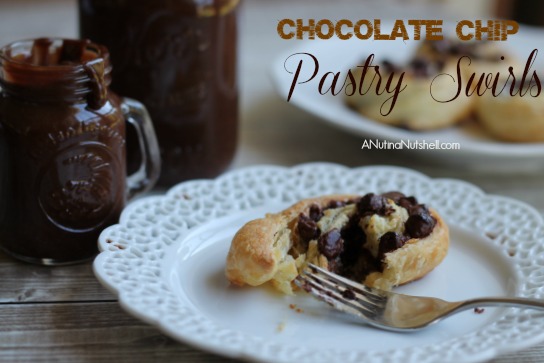 Oh, and if you're a colossal chocolate fan like me, you'll want to add some ooey gooey.
Do the ooey gooey. Trust me.
I make a homemade hot fudge chocolate sauce that is spec.tac.u.lar. That's what I spoon over the top of these pastries.
omg.
Chocolate.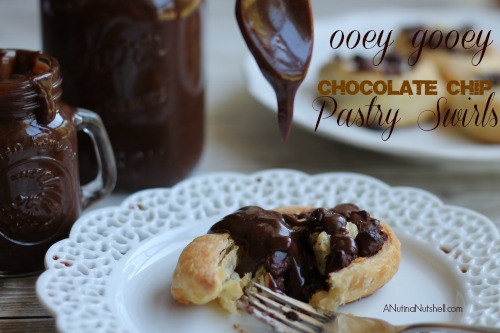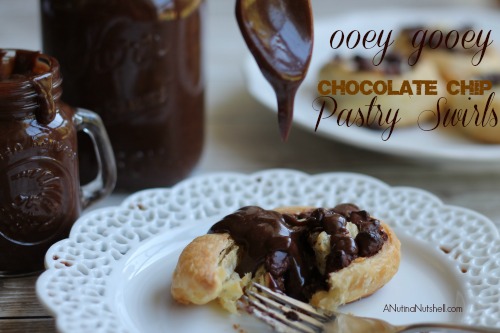 These pastries are especially scrumptious when still warm from the oven, but they're not to be ignored after they're cooled either.
You can't ignore chocolate.
Chocolate will not be ignored.
Dig in.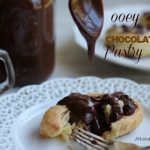 Ooey Gooey Chocolate Chip Pastry Swirls
Light, flaky pastry swirls oozing with chocolate chips atop a layer of cream cheese filling and topped with hot fudge chocolate decadence.
Ingredients
1 8-

oz

pkg cream cheese

softened

3

tbsp

sugar

1

pkg

2 sheets frozen puff pastries, thawed in refrigerator

2

cups

milk chocolate chips

divided

Optional: hot fudge sauce topping
Instructions
Mix together cream cheese and sugar in small bowl; set aside.

Lay one sheet puff pastry on lightly floured surface. Use a rolling pin to roll it to a 14 x 10-inch rectangle.

Spread half of cream cheese mixture over the puff pastry leaving a 1/2-1-inch border along one of the longer sides (to allow for sealing). Sprinkle 1 cup of the chocolate chips over the cream cheese layer. Start with the long side with cream cheese all the way to the edge and roll up. Seal edge with a little water.

Repeat the steps using the other pastry sheet. Refrigerate the rolls for about an hour.

Cut the rolls into 1-inch slices and place on lightly greased baking sheets.

Bake in preheated 375 degree oven for about 20 minutes or until lightly golden. Let rest on cookie sheet 2 minutes; transfer to cooling racks.

Before serving, let guests drizzle hot fudge sauce over the top of the pastries if desired. (Homemade is best, but use your favorite.)