I participated in a campaign on behalf of Mom Central Consulting for ACH Food Companies Inc. I received a promotional item as a thank-you for participating.
When my kids were in the high school band and needed to earn money for a trip to Washington D.C., I worked with a few other parents to start a holiday bake sale and cookie exchange, which has since become an annual tradition. It was through the bake sale that I discovered pumpkin rolls, and now I can't resist them when I spot them anywhere.
I make them myself too, but I still buy them at bake sales. I can't help it!
You know what else I always see at bake sales? Pecan pies! They're just so well loved that they seem to be a staple.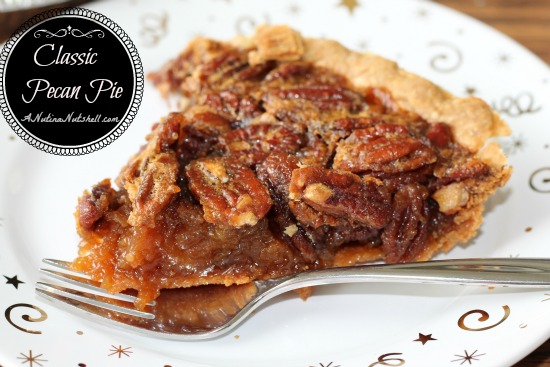 Since I moved down South, I haven't stumbled across even one bake sale. I know they must be here, but they're hiding from me.
In the spirit of bake sales, I decided to bake a classic pecan pie to donate…to my belly. I had never made one before or even tasted one, so it was an adventure!
Did you know that Karo Corn Syrup is the only leading national brand of corn syrup with 0 grams of high fructose corn syrup? Good to know, huh? So that's what I used.
Classic Pecan Pie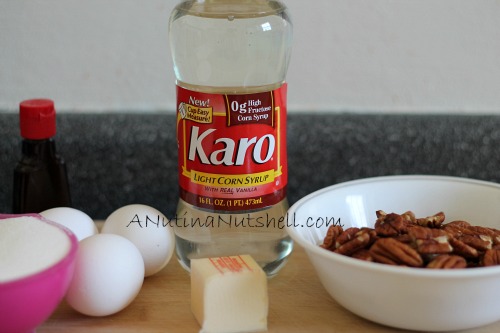 Ingredients
1 cup Karo® Light OR Dark Corn Syrup
3 eggs
1 cup sugar
2 tablespoons butter, melted
1 teaspoon Spice Islands® Pure Vanilla Extract
1-1/2 cups (6 ounces) pecans
1 (9-inch) unbaked or frozen** deep-dish pie crust
Directions
1. Preheat oven to 350°F.
2. Mix corn syrup, eggs, sugar, butter and vanilla using a spoon. Stir in pecans. Pour filling into pie crust.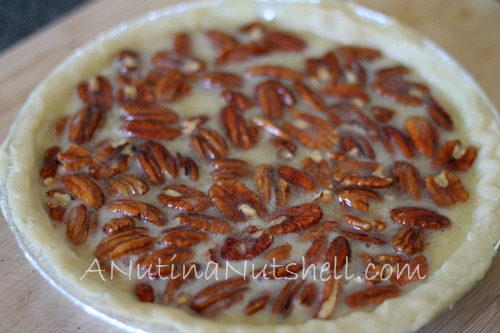 3. Bake on center rack of oven for 60 to 70 minutes. Pie is done when center reaches 200°F. Tap center surface of pie lightly – it should spring back when done. Cool for 2 hours on wire rack before serving.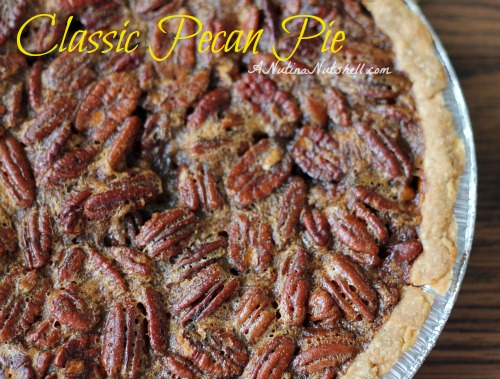 **To use prepared frozen pie crust: Place cookie sheet in oven and preheat oven as directed. Pour filling into frozen crust and bake on preheated cookie sheet.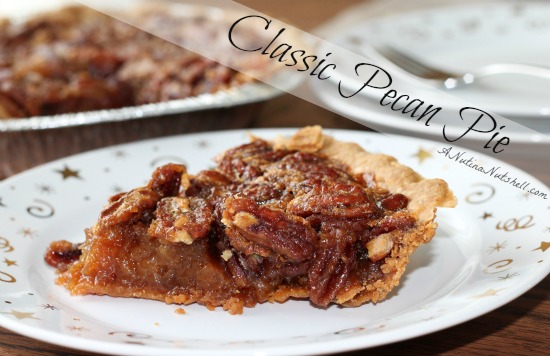 I told you this was my first time making and even tasting a pecan pie, but it sure won't be my last. Oh my gosh, that filling is a-mazing!!!!
Have you ever tried pecan pie? What else do you bake with Karo syrup?