Oh how I love chicken and rice soup! It's such a feel-good yum-yum!
Going once, going twice, going chicken soup with rice.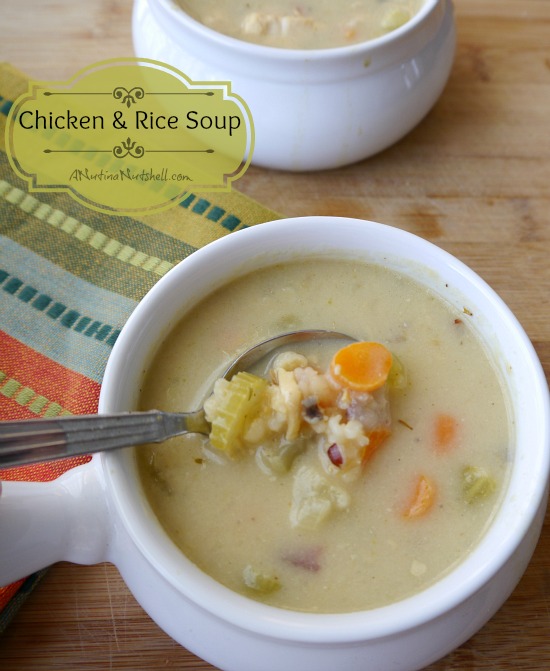 That's one of my favorite lines from a little Maurice Sendak book I had and loved as a child. Perhaps that's why chicken and rice soup is so ultra comforting to me.
Sometimes I make this with white rice and sometimes I make it with wild rice or several varieties, but as long as it has rice, I'm happy, happy, happy.
Chicken and Rice Soup

Ingredients

1/4 cup butter
1 T extra virgin olive oil
1/2 onion finely chopped
2 cloves minced garlic
1/2 cup sliced carrots
1/2 cup chopped celery
1/4 cup all-purpose flour
8 cups chicken broth
3 cups cooked rice (I used a blend of brown & white basmati and wild & red rice)
1 pound chicken breast, cooked and cubed (I used Hormel Premium Chunk Chicken Breast)
1/2 teaspoon garlic salt
1/2 teaspoon ground black pepper
2 tsp curry powder
1 tsp mustard powder
1/2 teaspoon dried parsley
1/4 tsp thyme
6 slices cooked crumbled bacon
2 cups milk

Directions

1. Melt butter in a large saucepan over medium heat along with the EVOO. Add onion, garlic, celery and carrots and saute for a few minutes. Add flour a little at a time and stir constantly to form your roux. Stir and let the roux cook for several minutes.

2. Gradually add the chicken broth, stirring constantly. Bring just to a boil, then reduce heat to low so the soup just simmers.

3. Add the rice, chicken, crumbled bacon, garlic salt, ground black pepper, curry powder, mustard powder, dried parsley and thyme. Allow the soup to heat through and then add the milk. Cover and let simmer for an hour or two.

Note: If making in crockpot, wait to add rice until the last couple of hours and add the milk during the final half hour or hour of cooking.
Makes 8 servings. Enjoy!
What's your favorite soup during the winter months? Chicken and rice soup?