I was looking for some traditional Irish recipes for St. Patrick's Day when I stumbled across this recipe for Dublin Coddle in a book a publisher sent me called Irish Country Cooking
. It's a distinctly traditional Irish recipe, and I needed to solve the mystery of "what the flying fig is a coddle?"
So I made it, and oh my people, I wanted to cuddle the coddle. It was home-cooked heaven on a winter's day… so comforting and delicious.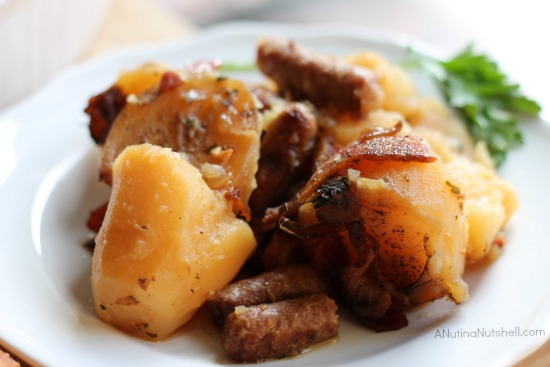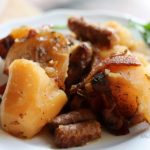 Dublin Coddle
Ingredients
4 1/2

lb

potatoes

peeled

1

pint

boiled water

1

ham

chicken or beef stock cube (optional)

1

lb

good quality pork sausages

1

lb

thick-cut bacon

2

large onions

sliced

1

tbsp

finely chopped fresh parsley

salt and coarse ground pepper
Instructions
Preheat oven to 300 degrees.

Cut potatoes into evenly sized chunks. Dissolve the stock cube in boiling water, if using.

Grill sausages and bacon long enough to color the but not dry them out. Drain on paper towels and chop bacon into 1-inch pieces. Chop sausages into bite sized pieces if desired.

In a large ovenproof casserole dish with a tight lid, layer onions, bacon, sausages and potatoes, seasoning each layer liberally with pepper and parsley. Continue until ingredients are used up. Pour hot water or bouillon mixture over top.

On stove, bring the liquid to a boil. Immediately reduce heat and cover pot. Line under the pot lid with foil to help seal it.

Place the covered pot in pre-heated oven and cook for at least 3 hours (up to four or five hours won't hurt it). After two hours, check liquid levels and add more water if needed. There should be about an inch of liquid in the bottom at all times.

Serve hot with fresh soda bread to sop up the lovely gravy.
Dublin Coddle is now one of my favorite recipes for St. Patrick's Day. Oh heck, who needs St. Patty's to make it — Irish country cooking year-round? I'm in.
What are your favorite Irish recipes?