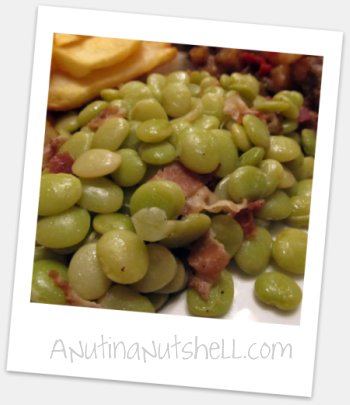 I'm absolutely crazy about Cracker Barrel's lima beans, but since they only serve them on Saturdays, I decided to start making my own. Athough this isn't a copycat recipe, it's a very tasty substitute.
Directions
28 oz. package frozen lima beans
1 14.5-oz can chicken broth
1 Tbsp butter
1 Tbsp sugar
8 slices of cooked bacon
1 tsp black pepper
1 tsp onion salt (or 1/2 teaspoon of onion powder and 1/2 teaspoon salt)

Instructions
Chop cooked bacon into small pieces (about 1/4″).
Combine the other ingredients in a pot, and then add the bacon. Bring the beans to a boil and then lower the heat to simmer.
Cook covered 30 minutes or until desired tenderness.
Enjoy!