I participated in a campaign on behalf of Mom Central Consulting for ACH Food Companies Inc. I received a promotional item as a thank-you for participating.
I'm totally into artisan bread pizzas, and I order them all the time in restaurants so I wanted to make one at home last weekend.
But I didn't. (Because I'm smart.)
As someone who's never ventured beyond prepared pizza doughs or boxed mixes, I had to start simply, right? So I chose an easy thick crust pizza recipe from Fleischmann's website.
Now actually, it does involve a few more steps to make a thick crust pizza, but I wanted to try it!
I figure since Fleischmann's yeast has been around since 1868, we can pretty much count on them for reliability and tastiness, right?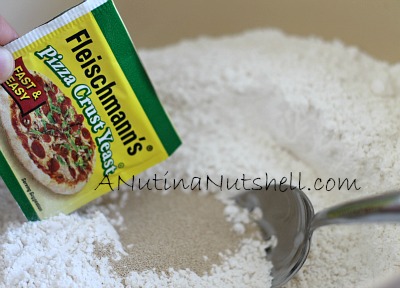 Once I had decided on the crust, the negotiations over toppings began.  Is it the same at your house? Nobody agrees!
When the kids and I dine out, we have to come to some sort of compromise because it would get too expensive to order everyone their own. But at home, it's easy to make two pizzas or even individual pies.
And in this case, we did decide to make two different pizzas, but I'm just gonna show you the ultimate supreme pizza! (I'll save the other one for another day.)
Ultimate Supreme Thick Crust Pizza
(crust recipe from Fleischmann's)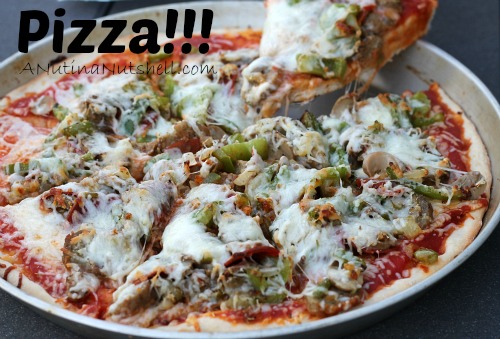 Ingredients:
3-1/4 to 3-3/4 cups all-purpose flour
1 envelope Fleischmann's® Pizza Crust Yeast
1 tablespoon sugar
1-1/2 teaspoons salt
1-1/3 cups very warm water (120° to 130°F)*
1/3 cup oil
1/2 to 1 cup pizza sauce
Other toppings as desired
1 to 2 cups (4 to 8 ounces) shredded mozzarella cheese (I used 2 cups Italian blend)
Directions:

1. Preheat oven to 425°F.
2. Combine 2 cups flour, undissolved yeast, sugar and salt in a large bowl. Add very warm water and oil; mix until well blended, about 1 minute. Gradually add enough remaining flour to make a soft dough. Dough should form a ball and will be slightly sticky. Knead** on a floured surface, adding additional flour if necessary, until smooth and elastic, about 4 minutes.
3. Pat dough with floured hands to fill greased pizza pan or baking sheet. OR roll dough on a floured counter to 12-inch circle; place in greased pizza pan or baking sheet. Form a rim by pinching the edge of the dough.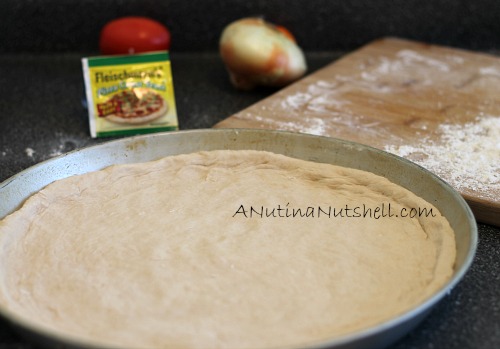 4. Bake crust on lowest oven rack for 10 to 12 minutes, until just beginning to brown.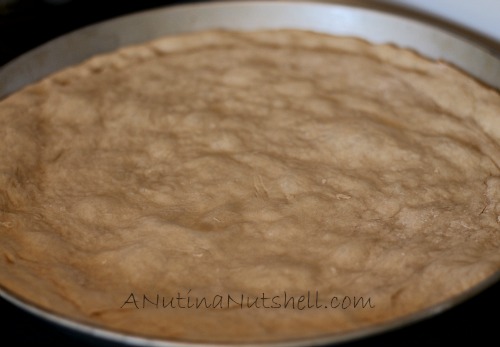 5. Remove from oven. Spread with pizza sauce. Top with desired toppings and sprinkle with cheese.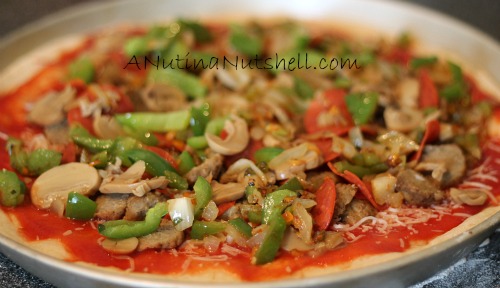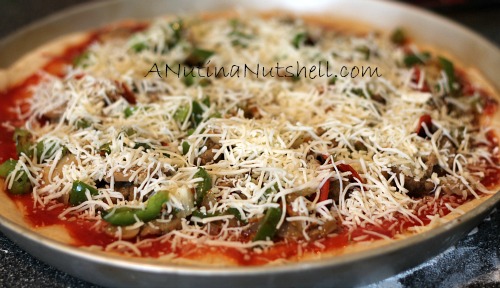 6. Continue baking for 10 to 13 minutes until cheese is bubbly and crust is browned.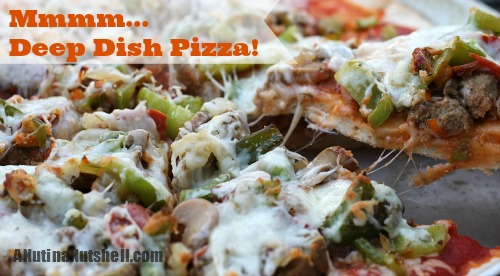 That's an ultimate supreme pizza, yes?
The crust was nice and thick, but not dense, and tasted like it was made in a pizza place. Absolutely delicious.
In case you're curious about the toppings…
I chopped and then sauteed half of a green bell pepper and about a quarter of a medium onion. I also chopped up some Italian meatballs and turkey pepperoni, added mushrooms and sprinkled on some Italian spices.
I was pretty surprised by how easy it is to make homemade pizza. All the folding, pushing and turning the dough while kneading is kind of relaxing. Plus, kids love to help because it's fun!
What kind of pizza have you made at home?