There's only one absolute must have dish for me at Thanksgiving: whole berry cranberry sauce, and I usually make a lot of it. Like a lot. I like it to last for days and days after the initial holiday meal.
Cold turkey dipped in cranberry sauce is holiday happiness. It just is.
But this year I made even more than I normally do, because I wanted to use some of that leftover cranberry sauce to make a quick bread as part of the sponsored Good Cook Leftover-Inspired Recipe Link-up. (I'm #8 on the list.)
Glazed Cranberry Orange Quick Bread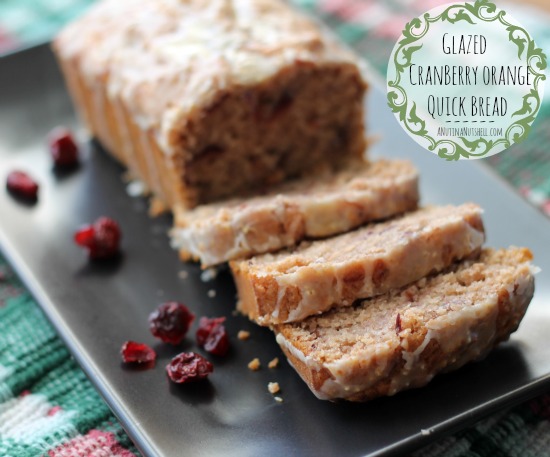 I wanted to try making a mini loaf rather than a traditional size, so I used a non-stick Good Cook mini loaf pan and then I also made quick bread muffins using a non-stick Good Cook muffin pan. (Why I didn't buy nonstick baking pans years ago I'll never understand.)
I used about 1 1/4 cups of my cranberry sauce to make these, and the muffins took about 15- 20 minutes less to bake than the loaf pan but I'll give you the time for the loaf pan because that's really the ideal for quick bread.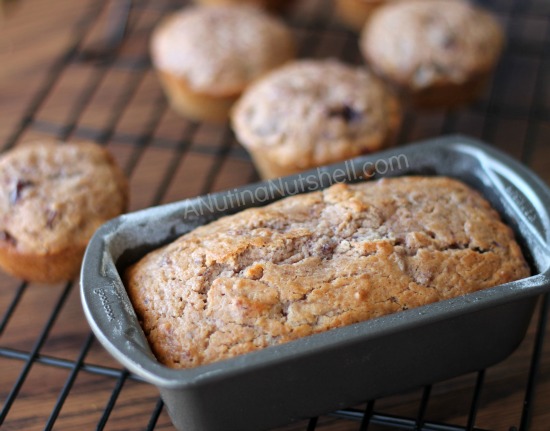 These babies slid like hot melted butter right out of those non-stick pans and once they'd cooled, I drizzled glaze over the top.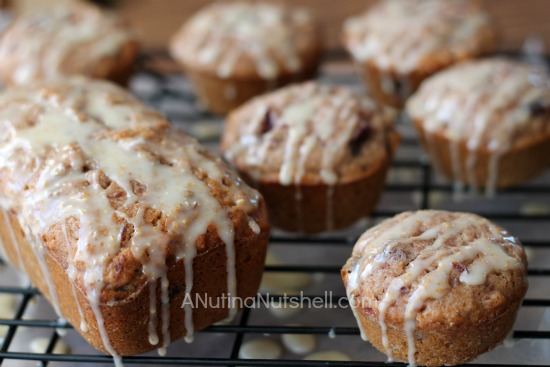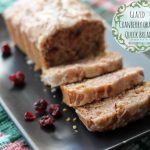 Glazed Cranberry Orange Quick Bread
Ingredients
2

cups

flour

2

tsp

baking powder

1/2

tsp

nutmeg

1

tsp

cinnamon

1/2

cup

butter

softened

1/2

cup

sugar

1

egg

1

tsp

vanilla

1/3

cup

orange juice

1 1/4

cups

whole berry cranberry sauce
Glaze:
1

cup

powdered sugar

2

Tbsp

orange juice

Pinch

of orange zest
Instructions
Preheat oven to 350 degrees. Grease and flour a 9" x 5" loaf pan.

Combine flour, baking powder, nutmeg and cinnamon in small bowl; set aside.

Cream butter and sugar until light and fluffy. Add egg, vanilla and orange juice; mix well.

Gently stir in cranberry sauce, mixing just until dry ingredients are moistened. Spread mixture in loaf pan.

Bake about 1 1/4 hours or until golden brown and toothpick inserted in center comes out clean.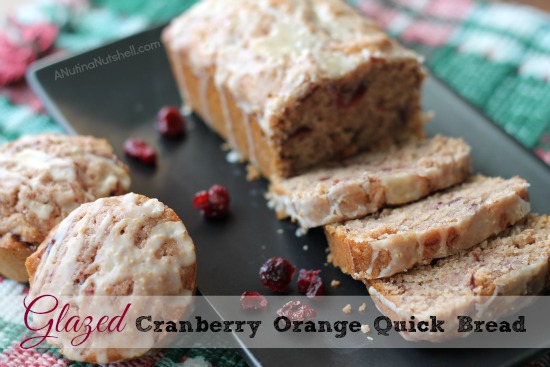 Happy cranberry-filled holidays!