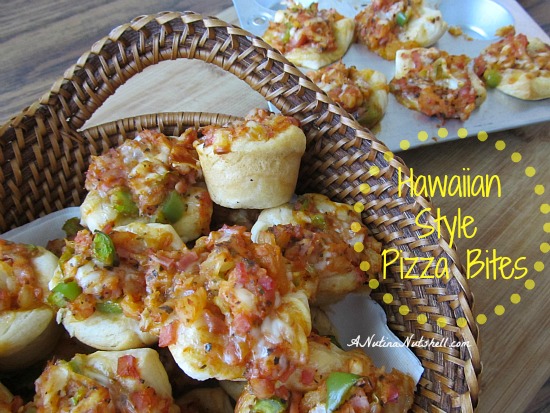 Bite-sized appetizers make the perfect party food, and these mini Hawaiian-style pizza bites are both kid and adult pleasing. I started with a Hormel recipe and tweaked it just a bit to my liking.
Hawaiian-Style Pizza Bites

Ingredients

3 oz Hormel Canadian Style Bacon, chopped
1 cup shredded mozzarella cheese
1/2 cup diced green bell pepper
1/2 cup crushed pineapple, well drained
1 small onion, chopped
1/2 cup pizza sauce
1 tsp dried basil leaves
2 (10-ounce) cans refrigerated flaky biscuit dough (I used one can of Grands.)

Directions
1. Heat oven to 350 degrees. Grease mini muffin cups.

2. To make filling, in bowl, combine Canadian bacon, cheese, bell pepper, pineapple, onion, pizza sauce and basil; mix well.

3. Cut each biscuit in half. (I used Grands which are larger so I cut them into fourths.) Place biscuit pieces in muffin cups, pressing gently to fit. Spoon heaping teaspoon of filling into each cup.

4. Bake pizza bites 20 to 25 minutes. Serve warm.
Party Tips:
Cut down on leftovers! Have a bunch of take-out containers ready, so you can send guests home with the extra treats!
Not enough space for guests? Have an open house so guests can stop in anytime during party hours.
When someone offers to bring something, say yes! You can never have too many appetizers or side dishes.
What's your favorite appetizer that you've created or that you've been served at a party? 
For more appetizer recipe ideas, visit Hormel Foods. I am currently a member of the Hormel Foods Extended Blogger Program, and this post is part of my involvement in the Group. While Hormel Foods provides me material and necessary resources to complete various activities, all statements and sentiments expressed at A Nut in a Nutshell are my own.