Figuring out how to roast chestnuts on an open fire has been a bit of a mini-obsession for me this year. I know how to roast chestnuts in the oven but there's something especially Christmas-y about doing it the old-fashioned way.
And so on Christmas Day night, we lit a fire and roasted chestnuts in the fireplace.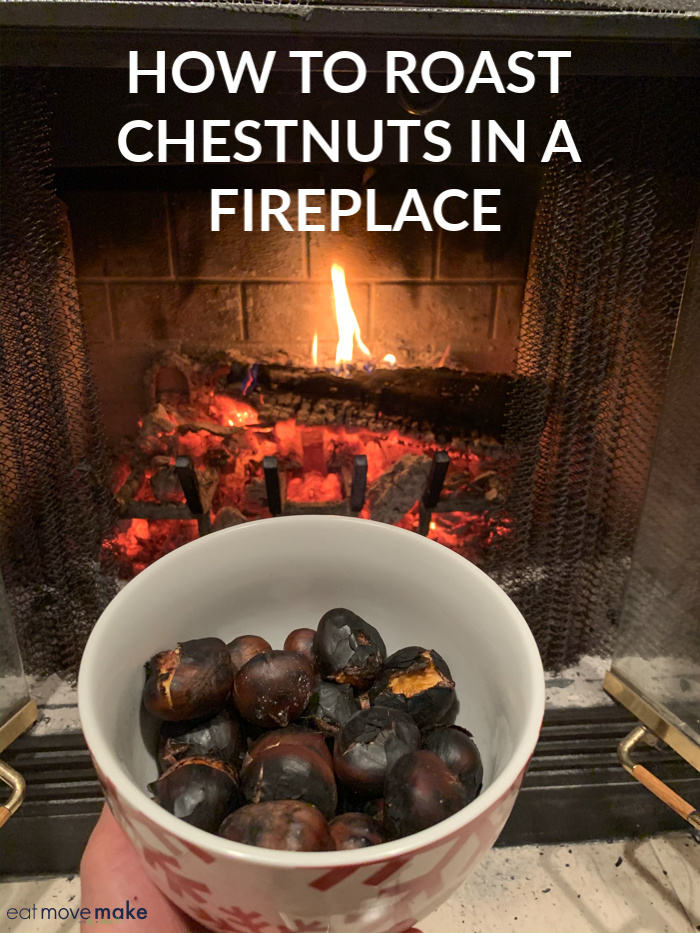 What You'll Need:
• Fresh, raw chestnuts (If you're lucky, you live in the NorthEast where they're readily available in grocery stores. I couldn't find them locally, so I purchased these from Nuts.com.)
Paderno World Cuisine Black Carbon Steel Chestnut Pan, 11IN
Lamson Chestnut Knife with Riveted Walnut Handle
Easy Chestnut Cookbook: A Nut Cookbook for Nut Lovers Filled with Delicious Chestnut Recipes
How to Prepare Chestnuts for Roasting
Good quality, fresh chestnuts are essential, so be selective about where you get them. My chestnuts were delivered on the 23rd of December and I stored them in a perforated bag in the fridge until Christmas Day.
Before roasting, I rinsed off the chestnuts and looked through them to make sure there weren't any blemishes or holes.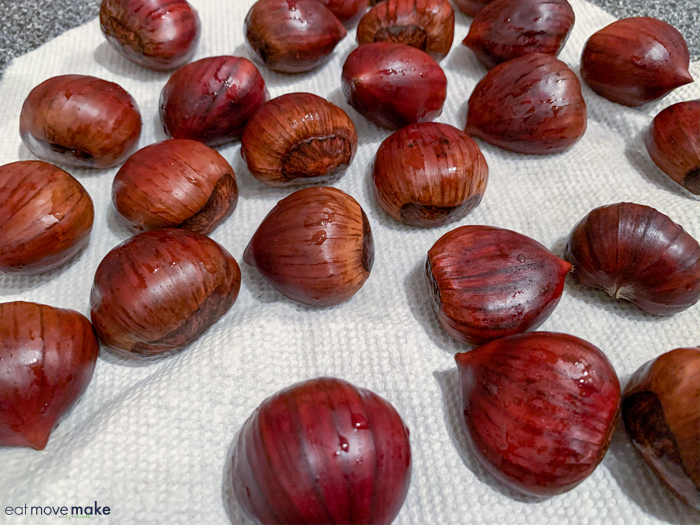 Most of mine were beautiful, but there was one with a tiny hole. That got tossed in the garbage.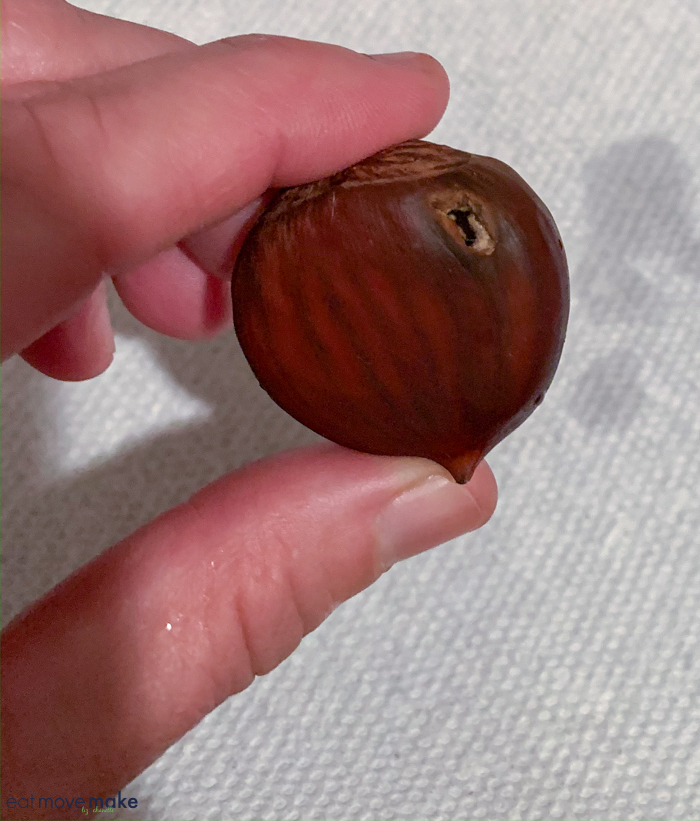 I made sure to pat the chestnuts dry, then I used a chestnut knife to score an "X" on the rounded side of each of the chestnuts so that steam can escape while they're cooking.
You could use a regular knife, but the chestnut knife is safer and makes it so much easier.
I made my x's fairly small, but I'd recommend going a little bigger than I did to ensure easy peeling once they're cooked.
Place all the chestnuts in the pan flat side down.
How to Roast Chestnuts on an Open Fire
The key to roasting chestnuts on an open fire is to have red hot coals built up underneath the grate. The chestnut roasting pan will sit over those coals, not in the flames. We let our fire burn for a good hour to get the red-hot heat.
Then we carefully repositioned the burning logs off to the side and left part of the grate empty so we could rest the chestnut pan on the grate itself.
Be sure you have a heavy-duty hot pad mitten when holding the roasting pan. It gets HOT!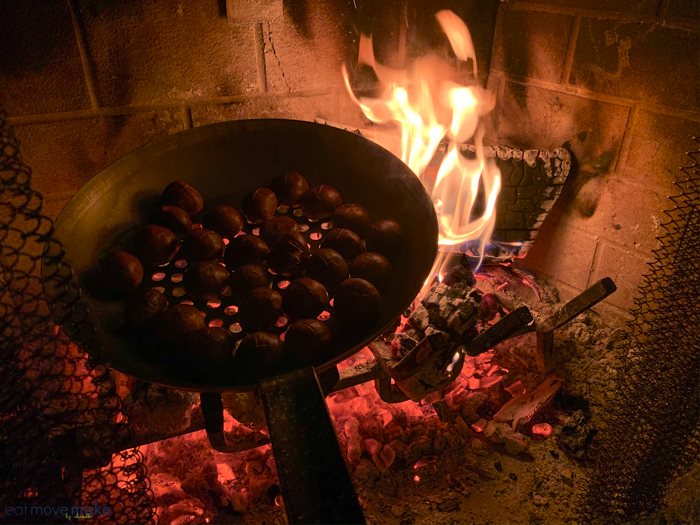 We let the chestnuts roast in the fireplace for about 10 minutes before checking for doneness.
It's hard to tell by eye when they're done and the blackening shells will trick you into thinking they're ready, so always check one for doneness.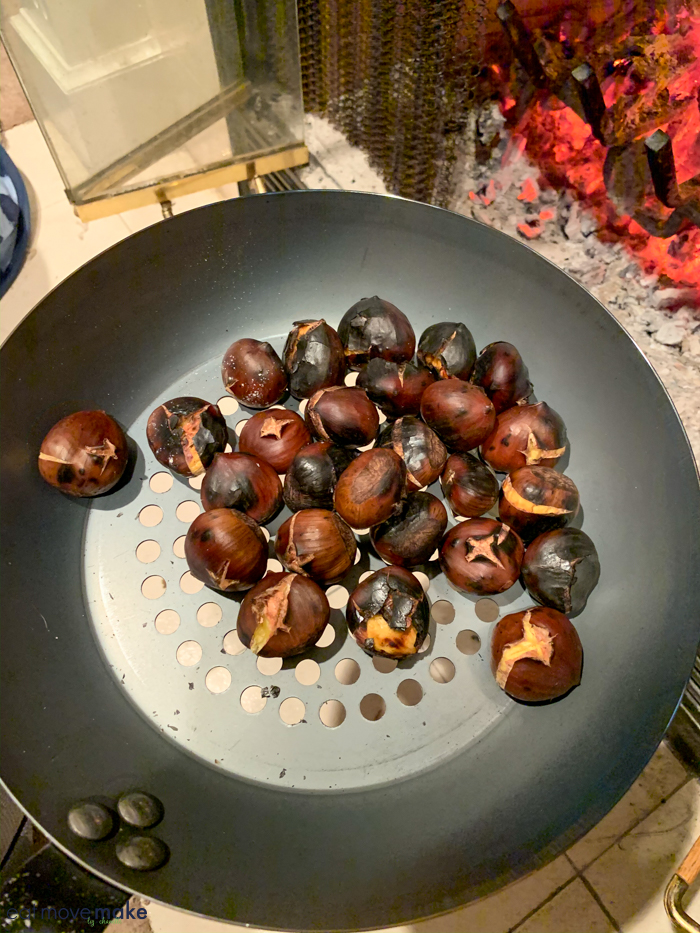 I took a single chestnut, peeled it and could see that the chestnut was still raw in the middle.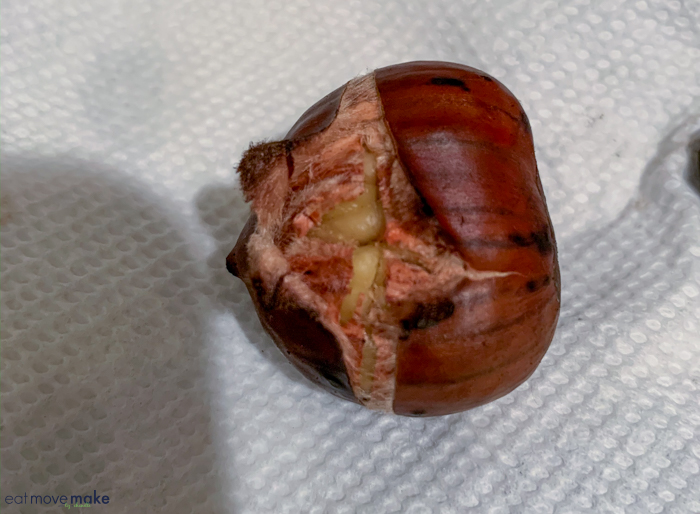 We continued roasting them for another 10 minutes before checking for doneness again.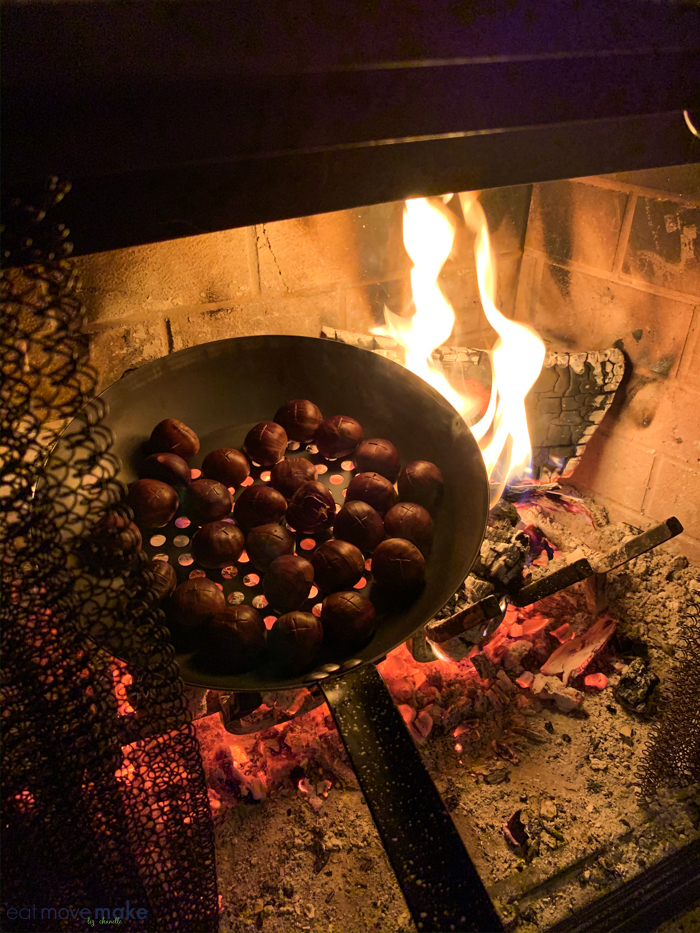 This time, the chestnuts were perfectly golden inside and ready for eating.
How to Eat Roasted Chestnuts
Give them a minute or so to cool slightly, but they should be eaten when they're still warm, so don't wait too long!
Press your fingers on the scored "x" part of the shell and peel it off. They peel pretty easily. Now you can eat the tender, golden interior.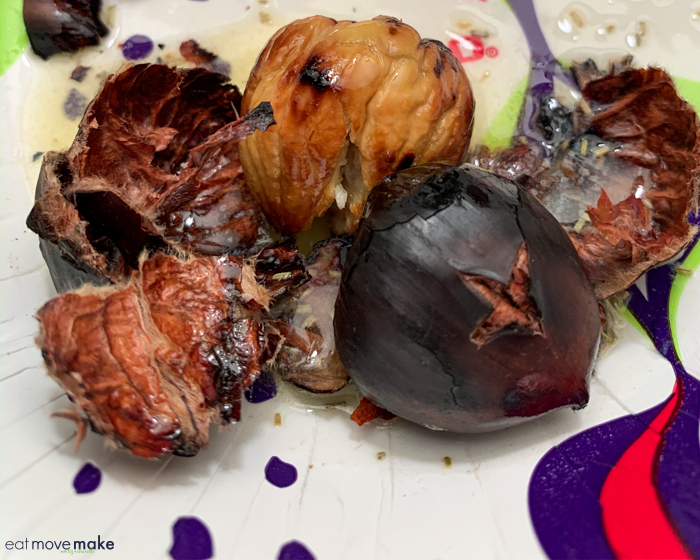 I made a chestnut dipping sauce by melting two tablespoons of butter, then added a half tablespoon of dried rosemary and a pinch of salt. Delicious!
You could also make a cinnamon sugar butter sauce for a sweet sensation.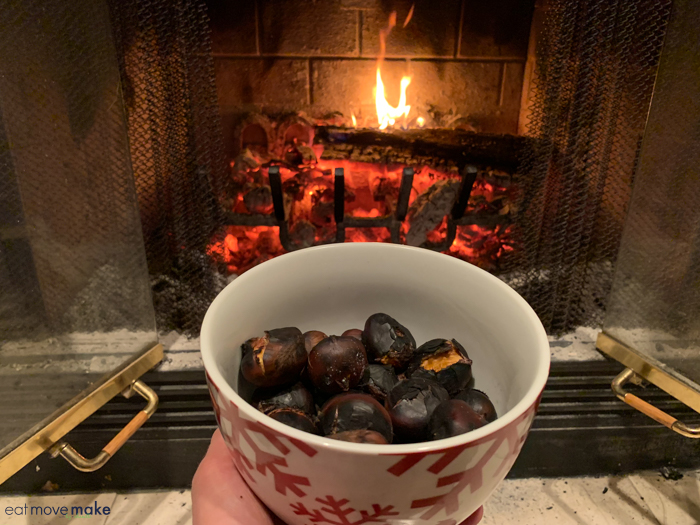 If you've never tried roasting chestnuts over an open fire, do it! It's a perfect winter activity for families, but be sure to do it safely. Parents should be the only ones around the fire and handling the hot pan and nuts.
Roasting chestnuts was a really fun experience and will be a new family tradition at my house, for sure!
Have you ever roasted chestnuts on an open fire?