I'd like to thank Workman Publishing for sponsoring this instant pot bacon, corn and potato chowder recipe post and giveaway.
I have a confession. I bought an instant pot last year during an awesome Amazon sale, but I never used it until this week. That's almost a year of leaving it in the box! For some reason, the idea of actually using a pressure cooker intimidated me and I just couldn't bring myself to do it. We've all heard the horror stories of the past…
BUT, pressure cookers are no longer scary. They have all sorts of safety measures in place so you really can't do anything wrong. I know this because I read the How to Instant Pot cookbook by Daniel Shumski, and I highly suggest you get it, especially if you've been scared like me.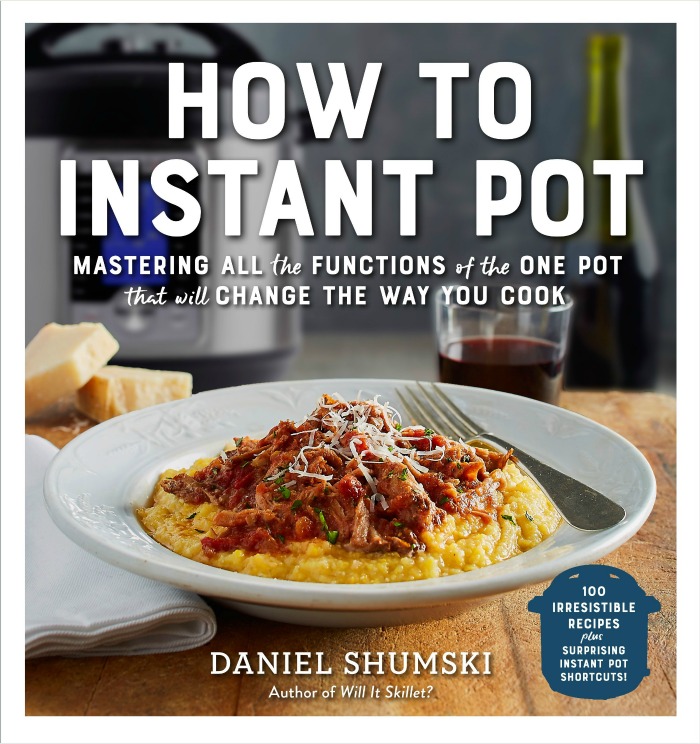 There are so many buttons, lights and indicators on an instant pot that it can be a little overwhelming at first. This cookbook demystifies it all logically, and you'll understand why beeps, clicks and whooshes of steam are coming from your appliance.
But if you're an instant pot pro and don't need usage guidance, you'll love the cookbook for the recipe ideas. They're designed to take advantage of the instant pot's multiple functions, so you're bound to learn something new.
Since I was an instant pot virgin, I chose a recipe from the book I thought would be fairly simple: Instant Pot Bacon, Corn and Potato Chowder. (Excerpted from How to Instant Pot by Daniel Shumski (Workman Publishing). Copyright © 2017. Photographs by Ken Carlson.)
And it was delish!
Instant Pot Bacon, Corn and Potato Chowder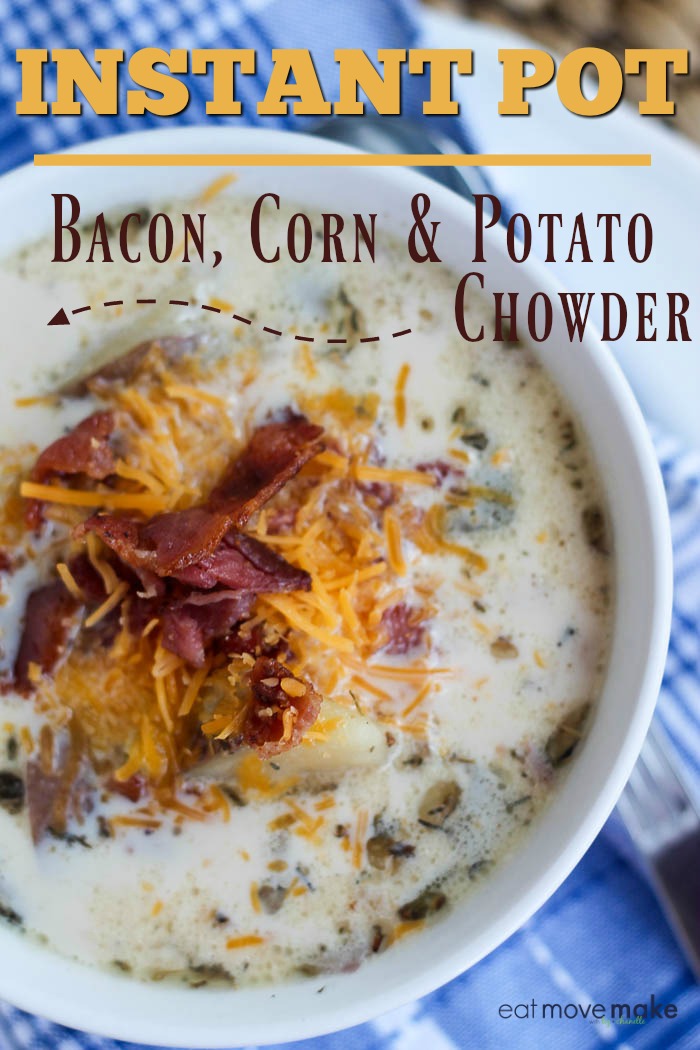 About the Cookbook
Master the revolutionary appliance that's changing the way we cook!
The only Instant Pot cookbook that is organized by function, How to Instant Pot is both a guide to understanding the Instant Pot basics and a foodie's creative collection of over 100 recipes specially crafted to take advantage of the Instant Pot's many virtues, from cooking perfect risotto in six minutes, no stirring required, to five kinds of yogurt, to creating one-hour killer chili and soups from scratch, using dried beans.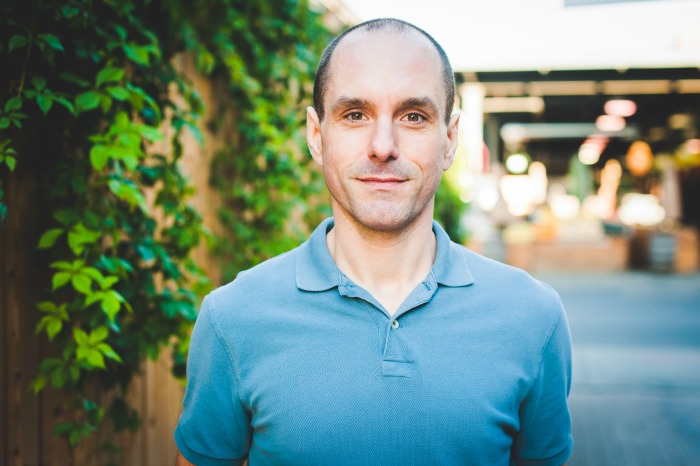 About the Author
Daniel Shumski is a writer and editor who has hunted ramen in Tokyo for the Washington Post and tracked down ice cream in Buenos Aires for the Los Angeles Times. Between stints at the Chicago Sun-Times and the Chicago Tribune, he worked for a Midwestern heirloom apple orchard. His bestselling first book, Will It Waffle?: 53 Irresistible and Unexpected Recipes to Make in a Waffle Iron, won praise from the New York Times, People magazine, and Food52. He lives in Montreal.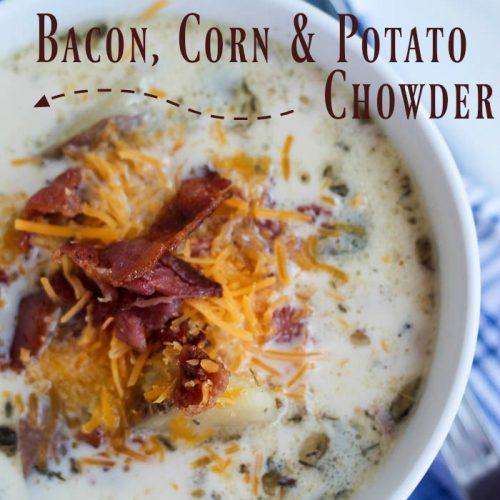 Instant Pot Bacon, Corn and Potato Chowder.
Excerpted (and slightly altered) from How to Instant Pot by Daniel Shumski (Workman Publishing). Copyright © 2017. Photographs by Ken Carlson. 
Ingredients
4

slices

bacon

halved crosswise to yield 8 short strips

1

small white or yellow onion

finely chopped

1

stalk

celery

leaves discarded, coarsely chopped

1

pound

unpeeled red potatoes

cut into 3/4-inch cubes

2

bay leaves

2

cups

reduced-salt chicken broth

3

cups

frozen corn kernels

1

tsp

chopped fresh thyme leaves

1/2

tsp

salt

1/4

tsp

freshly ground black pepper

1 1/2

cups

whole milk

divided

1/4

tsp

hot sauce

2

tbsp

corn starch
Instructions
Line the bottom of inner pot with bacon. Press Saute and use Saute or Adjust button to select middle temperature (Normal). Cook with lid off and use silicone spatula or wooden spoon to move bacon around occasionally so that it cooks evenly. Cook until crisp, about 6 minutes.

Remove bacon, leaving behind fat. Allow bacon to drain on paper-towel lined plate until step 7.

With the Saute function and middle temperature (Normal) still selected, add onion and celery to bacon fat. Cook with lid off, stirring occasionally, until softened, about 5 minutes.

Add potatoes and bay leaves. Wait a moment and then pour in the broth. Close and lock the lid.Set the valve to Sealing. Press Cancel, then press Manual or Pressure Cook and use the Pressure or Pressure Level button to select High Pressure. Use the - or + button to set the time to 1 minute.

When the cooking cycle ends, carefully use a wooden spoon to release the pressure by turning the pressure-release valve to venting. (Pressure is released when the small metal float valve next to the pressure-release valve sinks back into the lid and the lid is no longer locked.)

Remove the lid. Discard bay leaves. Add corn, thyme, salt, pepper, 1 1/4 cups milk and hot sauce. Press Cancel, then press Saute and use Saute or Adjust button to select the lowest temperature (Less). Cook with lid off, stirring occasionally until chowder is hot, about 5 minutes.

Chop the bacon. Add half to the chowder, stirring to distribute. Reserve the rest to use as a garnish.

Combine reserved 1/4 cup milk and corn starch in small bowl. Mix well. Mix into heated soup to thicken.

Serve the chowder hot, garnished with reserved bacon.
Notes
I altered the recipe slightly to make the broth thicker, to my personal preference. My adjustments are included in this printable recipe.
Instant Pot Bacon, Corn and Potato Chowder will keep in an airtight container in the fridge, for up to 3 days. To reheat, place chowder in a pot and warm on stove over medium heat, stirring occasionally for about 5 minutes.
All information presented on this site is intended for informational purposes only and nutrition may vary according to exact products and the online nutrition calculator being used. I am not a certified nutritionist and any nutritional information shared on EatMoveMake.com should only be used as a general guideline.
Nutrition
Calories:
264
kcal
Carbohydrates:
40
g
Protein:
10
g
Fat:
9
g
Saturated Fat:
3
g
Cholesterol:
16
mg
Sodium:
370
mg
Potassium:
808
mg
Fiber:
4
g
Sugar:
5
g
Vitamin A:
129
IU
Vitamin C:
14
mg
Calcium:
90
mg
Iron:
1
mg