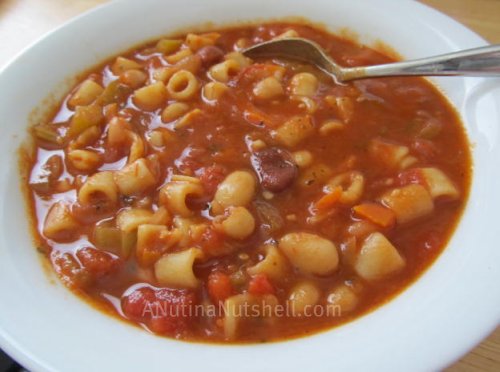 A perfect warm-up for these chilly winter months! It can be made with stew beef or ground beef, and either way is delicious!
Ingredients
1 lb stew beef chopped into 1/2″ pieces (can substitute ground beef for a more traditional flavor)
1 cup onion, diced
1 large carrot, chopped
3 stalks celery, chopped
2 T minced garlic
2 14.5 oz cans diced tomatoes
1 15-oz can light red kidney beans
1 15-oz can great northern beans
1 15-oz can tomato sauce
1 cup water
3 cups V8 juice (regular or spicy)
1 T red wine vinegar
1 1/2 tsp salt
1 1/2 tsp oregano
1 tsp basil
1/2 tsp pepper
1/2 tsp thyme
1/2 lb small tube pasta (I use ditalini)
Directions
1. In a nonstick fry pan, brown beef using a little oil.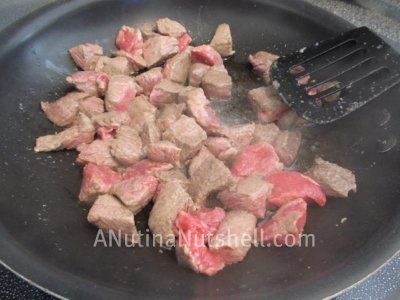 2. Remove from pan and put beef into a large stockpot. (Don't dispose of drippings.)
Sautee the celery, carrots, onion, and minced garlic in beef drippings for about 7-10 minutes or until veggies just start tenderizing.
3. Add them to stockpot with beef, minus the drippings, and then add all remaining ingredients (except for pasta).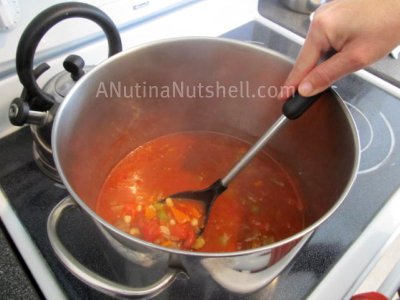 4. Cook on medium heat until it begins to bubble. Then turn heat down and simmer covered, stirring occasionally. After an hour of simmering, cook pasta until tender and add to soup mixture. Let cook for 10 more minutes, and then serve.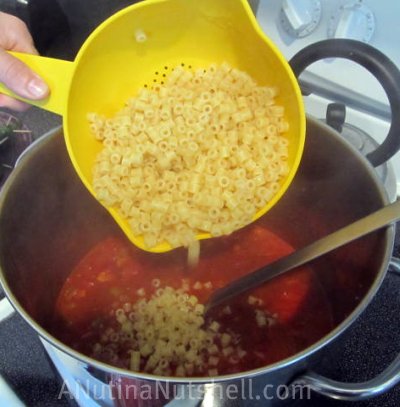 Note: If soup is too thick, you can add more V8 juice to thin it.
Enjoy!