Thank you BJ's Wholesale Club for sponsoring this post.
I'm a crazy cat lady — a collector of cats, if you will. But I'm a well-adjusted crazy cat lady, I swear. I'd love to adopt ALL THE CATS but I know when enough is enough. And enough (right now) is four cats — three girls and a new boy we named Dexter.
Dex is so stinkin' cute. I love him so much! And the three girls hate him so much. He's been a part of the family for four months so far, and integration is rough and tumble, y'all.
All he really wants is to be friends and to eat. The friendship (with his feline siblings) is still to come, but the eating is continuous. Keeping that little boy's belly filled is a full-time job. He's only a year old, but he's a big boy, extremely active and very muscular, and he eats twice as much as the little ladies around here, so I started him on a can of wet food a day in addition to his dry food.
Look at him eat. He's so happy. Oh my gosh, I love him.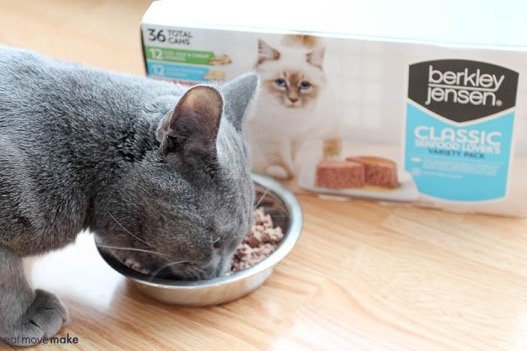 Click the image above to shop!
When I was at BJ's Wholesale Club last Friday shopping for wet and dry pet food, I found a seafood variety pack with 36 cans — more than a month of high-quality nutritious meals for him. Not only can BJ's members find pet food, they can find treats that support dental health and specialty foods designed for weight management or complete nutrition.
It's part of BJ's exclusive Berkley Jensen line of pet products offering the nutrition that pets need to live a long, healthy and happy life. The Berkley Jensen Classic Seafood Lover's Variety Pack uses the best cuts of fresh cod, salmon or ocean whitefish as the first ingredient to ensure cats get the important proteins and amino acids they need to thrive.
And it's very affordable! Finding food and accessories for my fur-babies at a great value is the only way I shop (and quite honestly, the only way I can afford to have so many cats).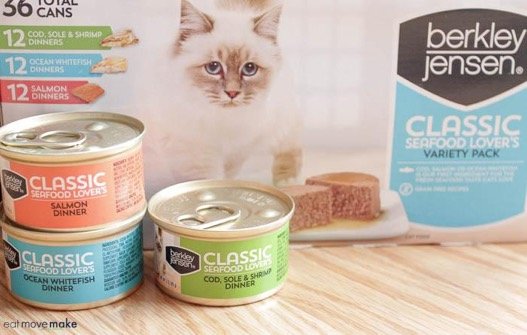 Click the image above to shop!
And look what else I found at BJ's!
I fell in love with these pet beds at first sight.  And so did the girls when I brought them home. Yep, I bought two. (They were only $19.99 each. Can you blame me?)
I'm telling you… BJ's Wholesale Club has the best for your pets, and since it's a one-stop shopping destination carrying a huge assortment of budget-friendly national and specialty pet food brands, it saves you time and money!
Soooo, yeah, two pet beds went home with me.
Pinot was the first on the scene as always. She started doing patty-pats on the plush insides immediately.
Then Tia showed up and investigated the new smooshy things.
Both of them.
Tia was comfy enough to take a bath.
And then crash.
Pinot loves to be covered up, so the blankets that come with the pet beds (there's a squeaky bone toy too) were perfect for tucking her in for an afternoon nap.
If you're wondering where the last of the four cats is, so am I.  Winnie was semi-feral when we adopted her so she's an elusive one and spends a lot of time hiding, but I did spot her checking out the pet beds the day I brought them home. I suspect I'll find her curled up in one of them eventually.
I know I spoil my cats, but I can't help it. They're so important to me, and I love them dearly! I'm glad I can find everything I need to take good care of them at BJ's Wholesale Club at such an unbeatable value that I can afford to spoil them with treats (like these brand new beds). Only the best for my fur babies!
Real fur baby friends share real fur baby savings, which is why I'm sharing my refer-a-friend link for you to join BJ's today and earn a $25 gift card!
I was selected for this opportunity as a member of CLEVER and the content and opinions expressed here are all my own.