Water is an integral part of a health and fitness journey and it most definitely is the key to
my
daily well-being. Whereas I used to fill up on diet sodas all day long, now I quench my thirst and hydrate my body with water, water, water.
But I don't get my water out of the tap. Water is too important to take chances with. I worry about the potential of contaminants in public drinking water, so I've switched from tap water to Primo water.
I have the Primo Smart Touch Deluxe Bottom Loading Water Dispenser and I love it! You'll need to purchase an empty 5-gallon water bottle to take with you to a Primo refill station. Mine is right outside my grocery store. Practically every grocery store and big box store has one available, either inside or outside. You may recognize them as either Primo or Glacier, but they're the same company. More locations for more Primo!
I like to refill at the outdoor dispensers so I can just pull up to the curb by the machine. Easy peasy!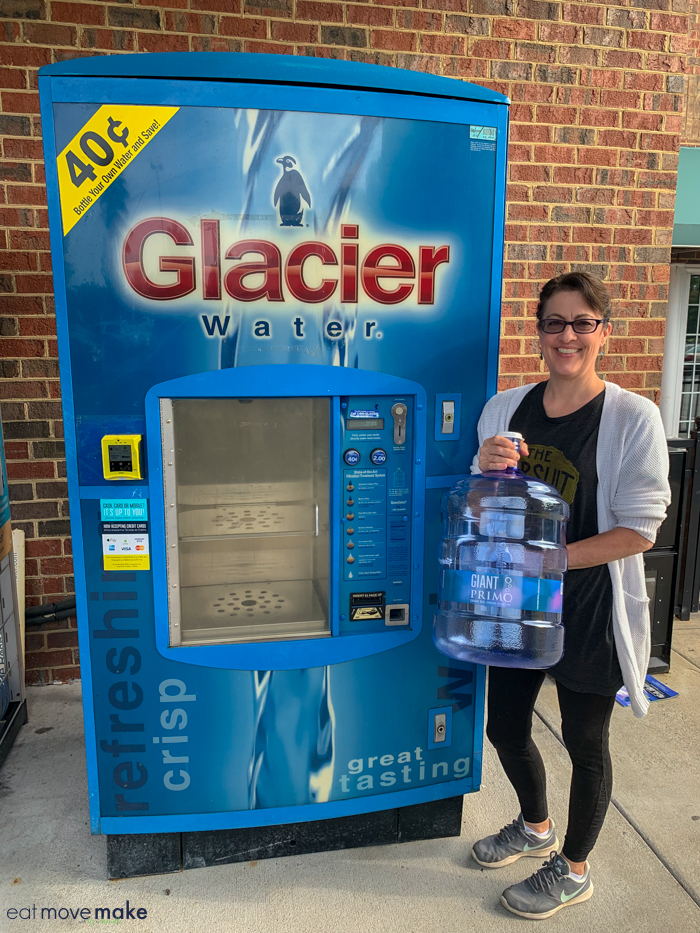 It's really a simple process and takes just a few minutes. Place the empty bottle inside the filling chamber under the spout and then use cash or credit card to make the payment. It's a mere $2.00 for a 5-gallon fill of refreshing, crisp and great tasting water – super cost-effective.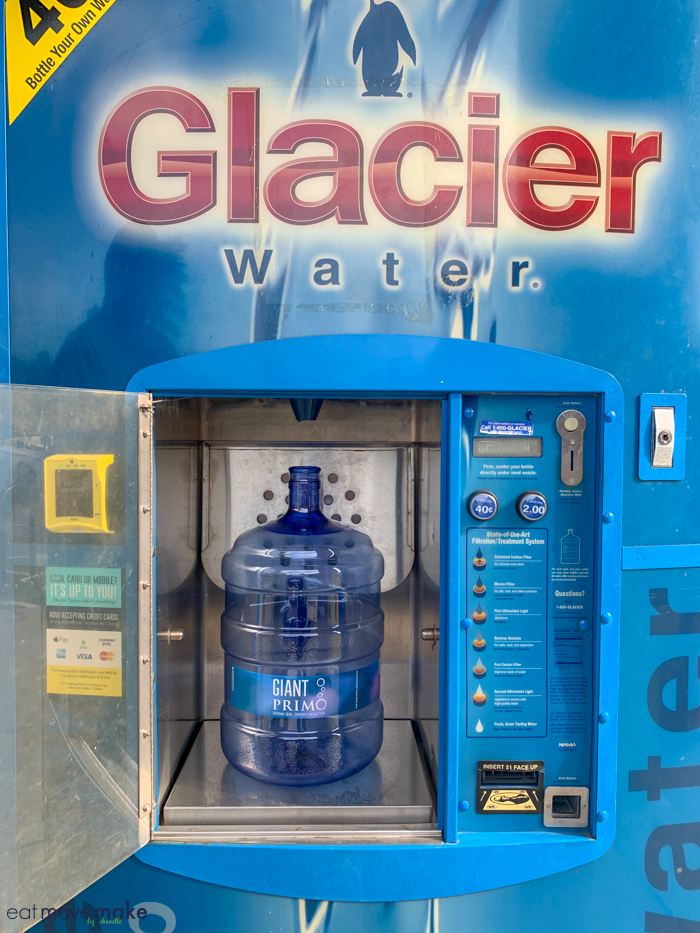 It's actually kinda fun to watch the filling process! If you have little ones, they'll love to come with you to the refill station, and if you're at a grocery store, you can knock out two errands in one trip.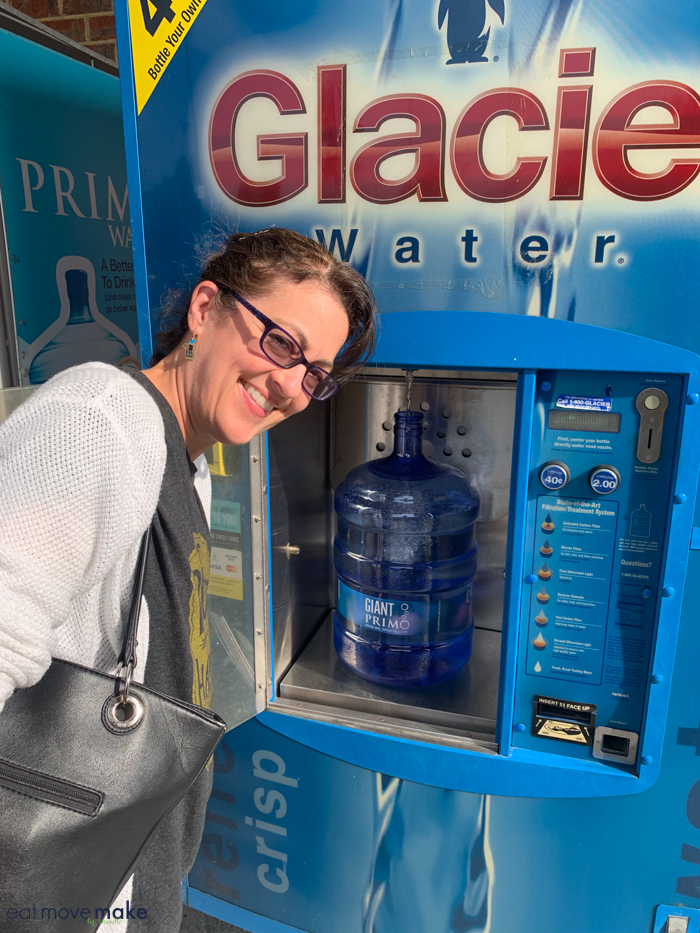 I'm really thankful that all the water goes into one refillable container instead of a bunch of single-use bottles. I feel guilty about all that plastic trash and now that I know each 5-gallon bottle saves 1,100 single-use bottles from reaching landfills or oceans, I'm even happier about making the switch to Primo water.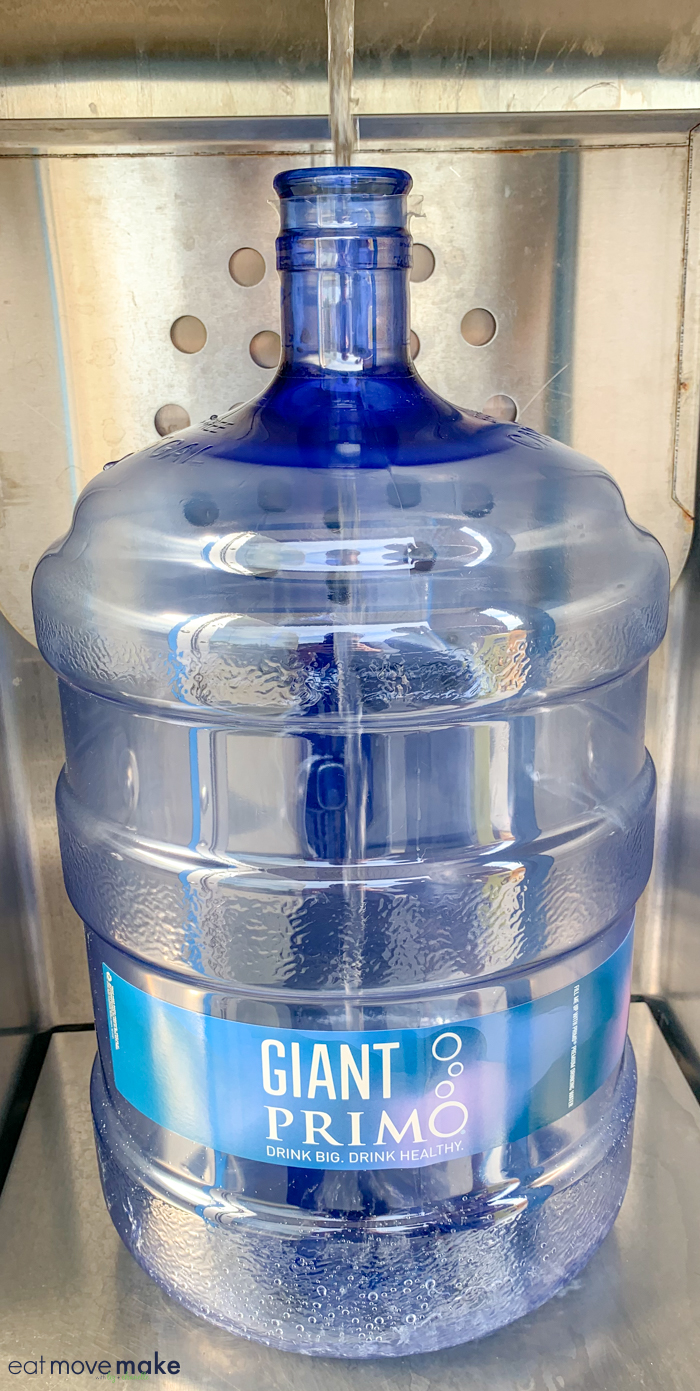 Once the bottle has been filled, cap it, grab your water and go!
Pro tip: Order a non-spill cap so it'll be even easier to refill at a refill station. I just ordered mine!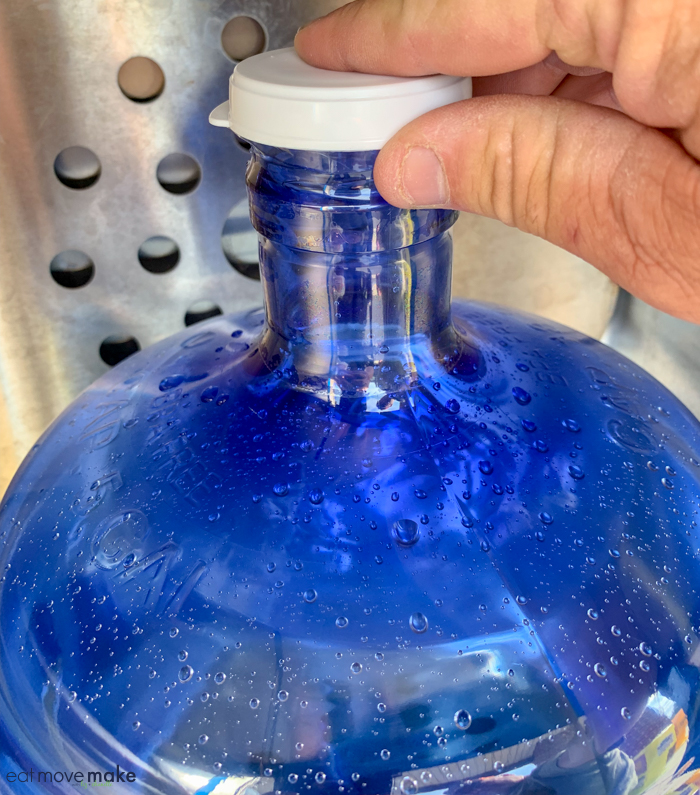 Once we brought the water bottle home, all we had to do was insert the probe assembly and slide it into the bottom of the unit. Yes, the bottom! There's no lifting it up and turning it upside down… it's a Smart Touch Deluxe Bottom Loading Water Dispenser!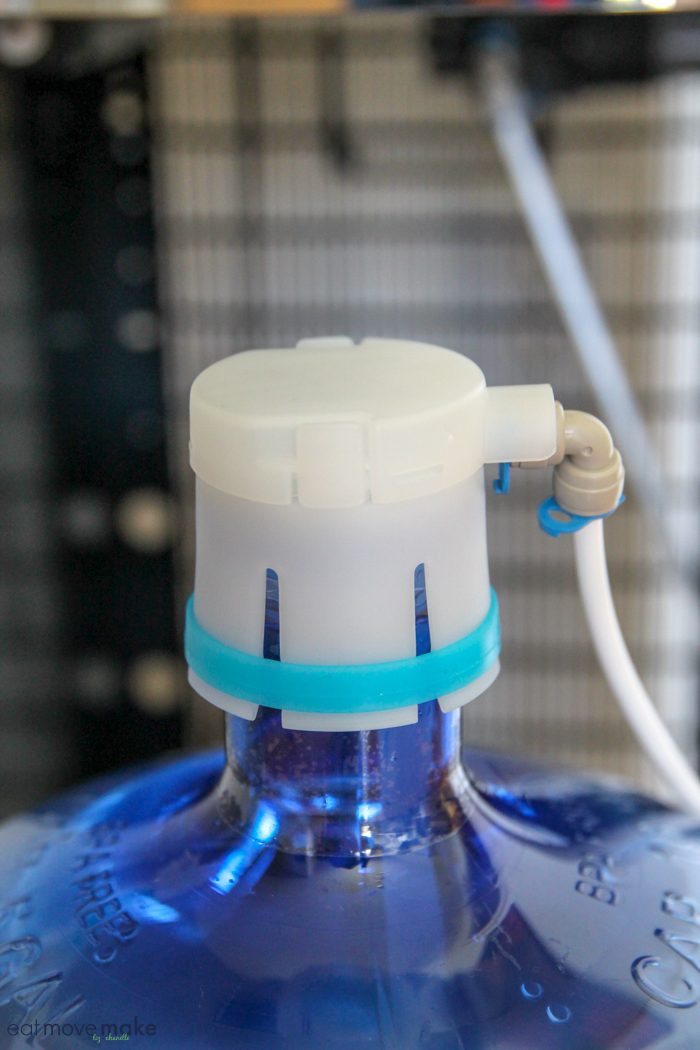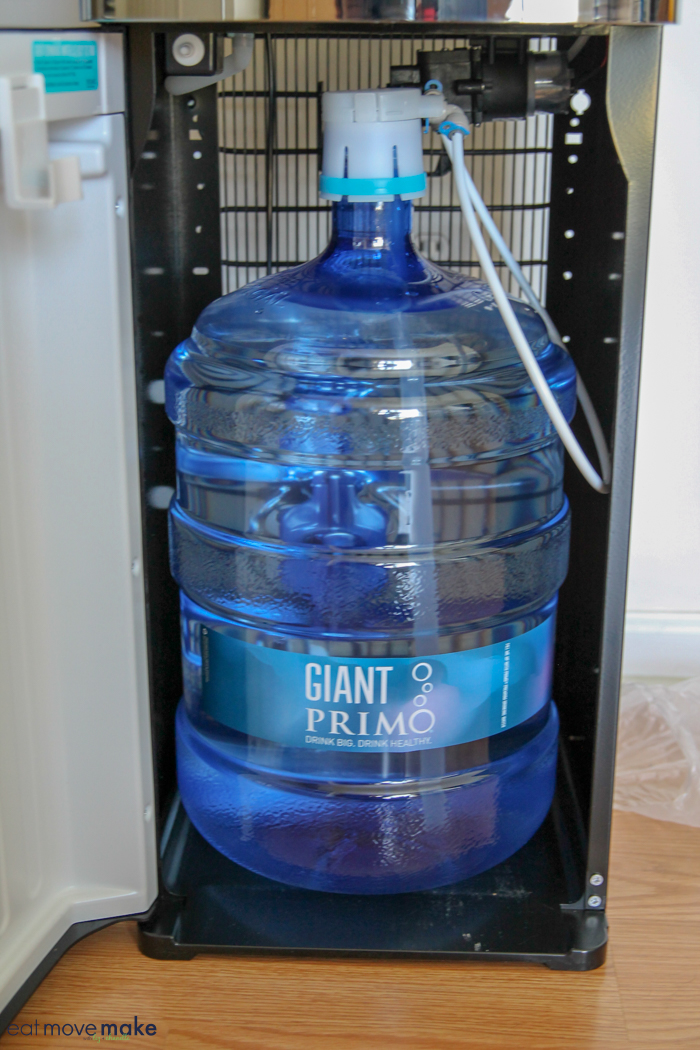 By the way, when you purchase a Primo water dispenser, you'll receive a welcome mailer with super helpful information, so keep an eye out for that!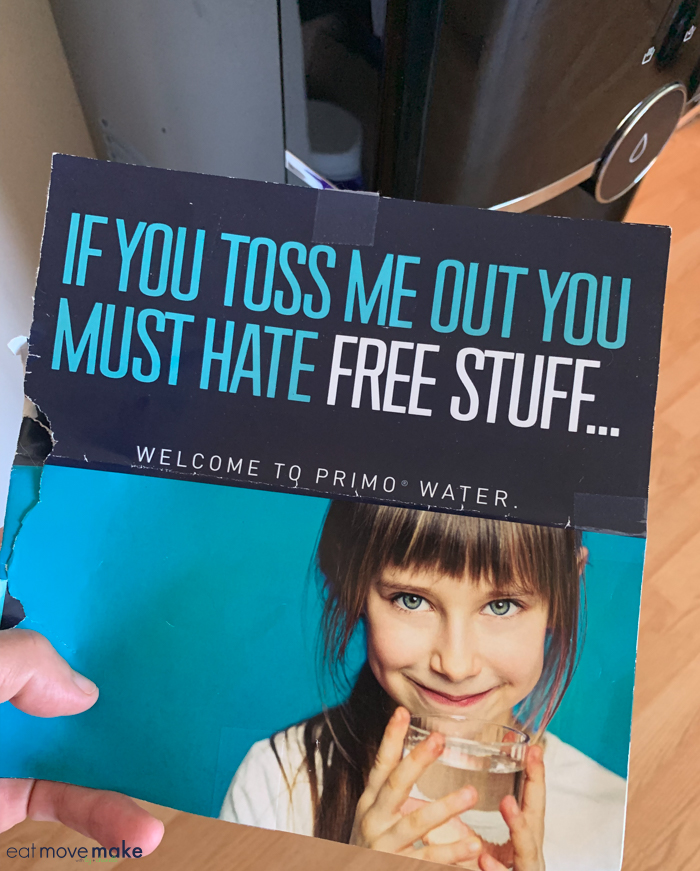 We have our Primo water system between the kitchen and living room so it's a constant visual reminder to hydrate. Fun fact: adding a water dispenser to your home results in families drinking 25% more water. It's hard to believe a simple change would make a big difference, but I'm glad it does!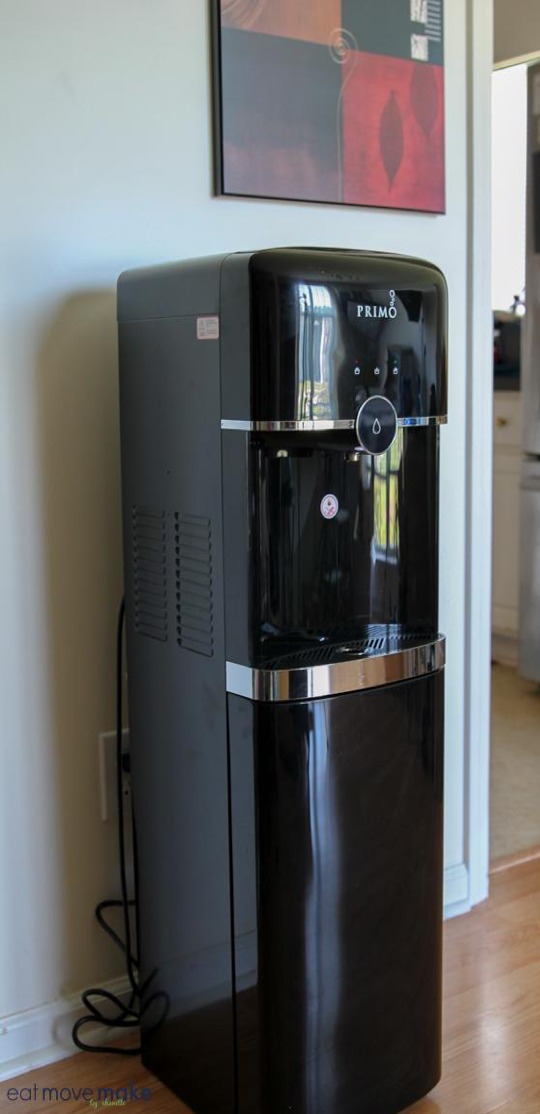 Another huge perk of having a Primo water dispenser and system is that it can dispense either hot or cold water, and certain dispensers provide ice-cold, cool, warm and hot water. There's a dispenser that's right for everyone's needs!
Throughout the day and during workouts, I hydrate with cold water. It's so nice to have cool, refreshing water at the ready!
I also use the hot water for my morning tea and oatmeal. It's so much easier than getting out the tea kettle or using the microwave, and if you have small children, don't worry! There's a child lock to prevent accidental hot water release and the hot water temperature control can be turned off at any time in the back of the machine as well.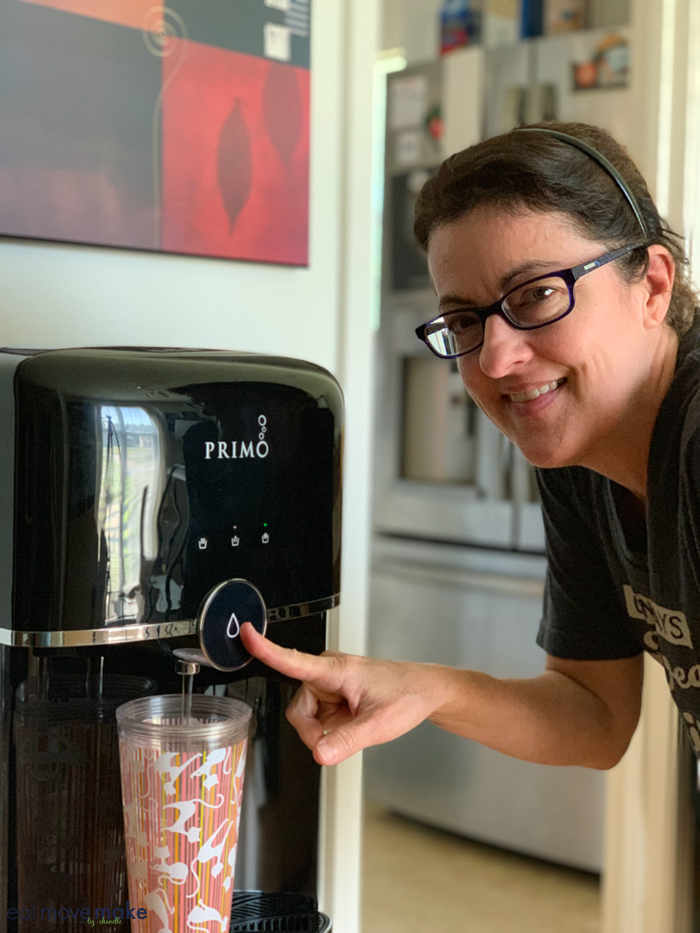 What's the difference between Exchange Water and Refill Water?
When buying Exchange water, you turn in your empty water bottle at the same time you purchase a pre-filled Primo water bottle.
I'm a huge fan of refilling because it's so easy, convenient and cost-effective. Plus, I love not having to go inside a store, but for the record, there are both indoor and outdoor refill stations available.
Both Exchange and Refill Water are purified with filtration, reverse osmosis and sterilization. Exchange water includes added filtration, mineral addition and ozonation (for safety and freshness).
What makes Primo water taste so great?
Let's get science-y for a minute.
Primo water uses membrane filtration technology which allows water to flow through the filter while leaving behind salt, chemicals, minerals and other impurities. The resulting drinking water is highly purified, great-tasting healthier drinking water free of potentially harmful impurities.
But… the additional filtration of reverse osmosis, used in Primo water, filters out many of the remaining microscopic organisms and heavy metals in tap water. It removes or significantly lessens the presence of chlorine and its byproducts, bacteria and parasites, heavy metals (including lead and mercury), trace levels of pharmaceuticals and even more contaminants.
Now if all that seems confusing, just look on the outside of the Primo water refill station when you're filling up your bottle. There's a simple to follow explanation of the Primo water filtration system.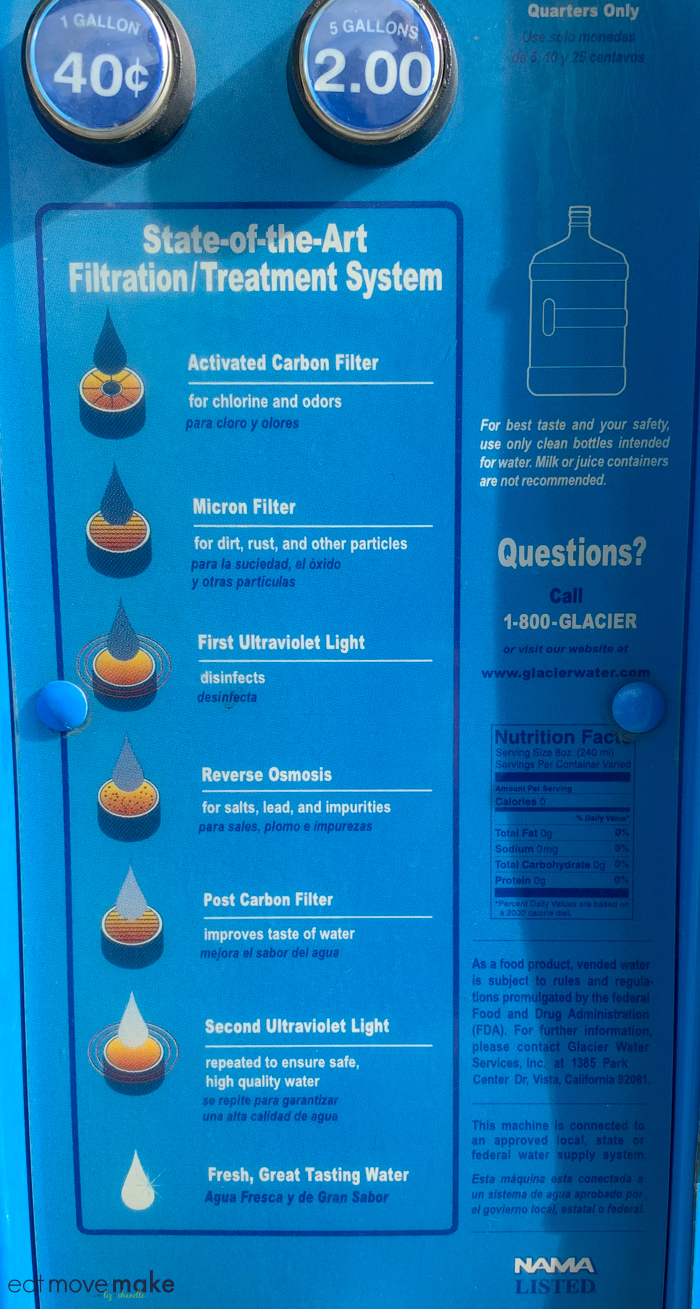 Pin this Primo Water post for hydration inspo!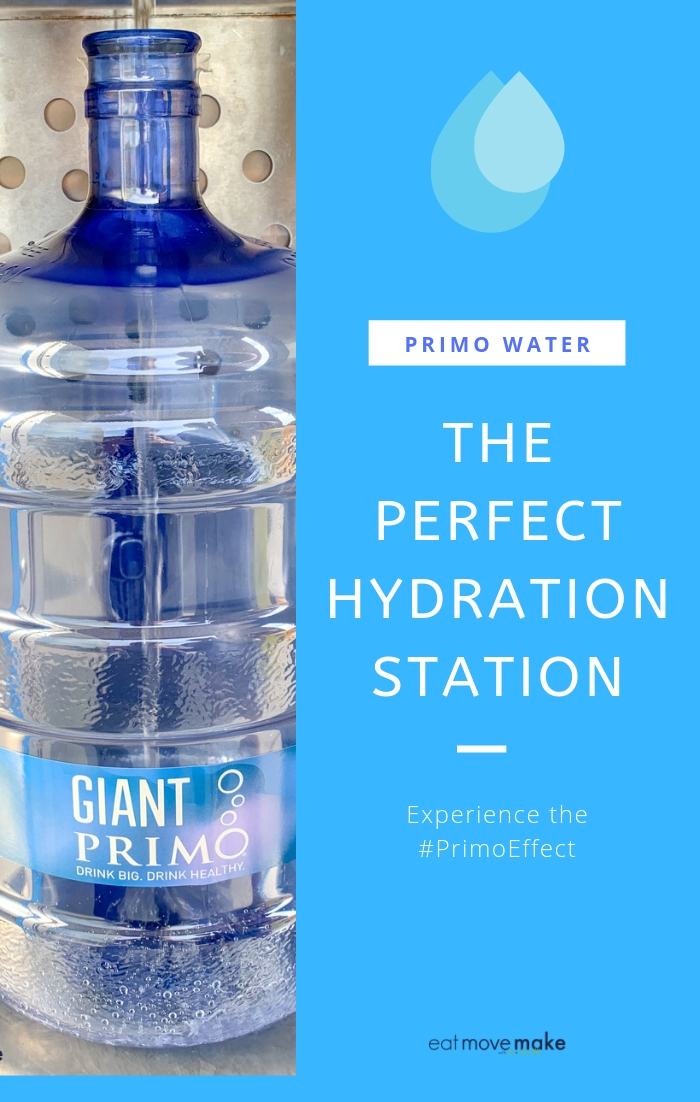 Buy your Primo Water Dispenser Now: Use the promo code WATERGOALS25 to receive 25% off dispenser with FREE fast shipping + a FREE coupon will be mailed for a 5-gallon bottle of Primo water and another will be in the box when delivered.
This post was sponsored by Primo Water and all opinions expressed in my post are my own.