Easter is such a special day to many of us, but it can be very busy! Try some of these time saving Easter dinner ideas and tips to help you organize all the fun festivities, prepare a special dinner and still have time to relax and enjoy the day with your family.
Time Saving Easter Dinner Ideas and Tips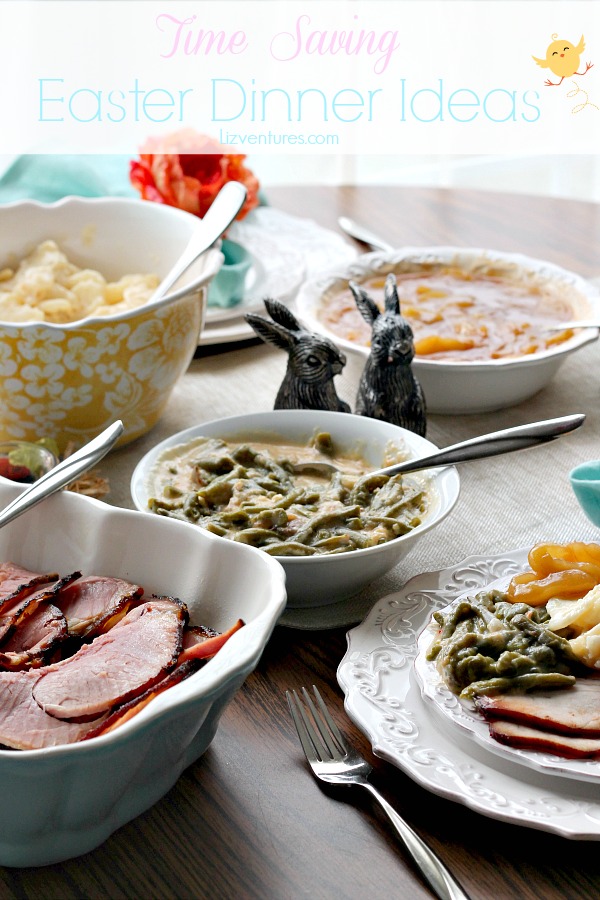 • Set up the Easter egg hunt outdoors and in advance if you can. The less chaos in the house while you're trying to get dinner ready, the better! If you have to set it up indoors due to weather, and you're using hard boiled Easter eggs, have the kids collect them and bring them back to a large bowl which you can easily pop back in the fridge ensuring the eggs stay fresh for eating.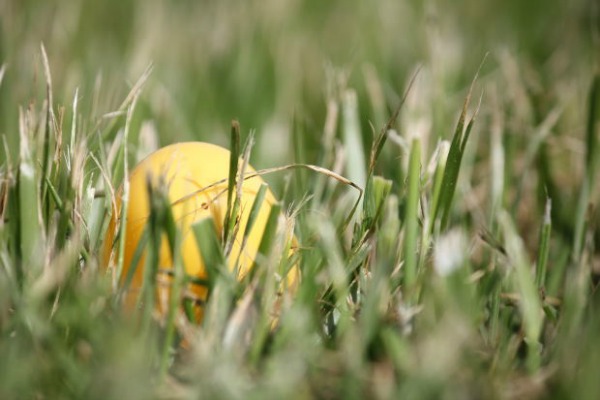 • Create a treasure hunt with clever and silly clues to lead them to more clues and then eventually to a special hiding spot where they'll find Easter baskets. This is a tradition my dad started when we were little, and I've continued it with my own kids. They get so excited when they figure out where each clue leads!
• Don't stress yourself out over Easter dinner. Accept help. When family members ask if they can bring something, take them up on it. Not only does it make things easier for you, it also adds variety and a little surprise to the menu.
• Table decorations can be simple and still have big impact. I love the contrast of using pastel napkins with brightly colored floral napkin rings. It's a simple and sophisticated touch that adds a lot of pizzazz.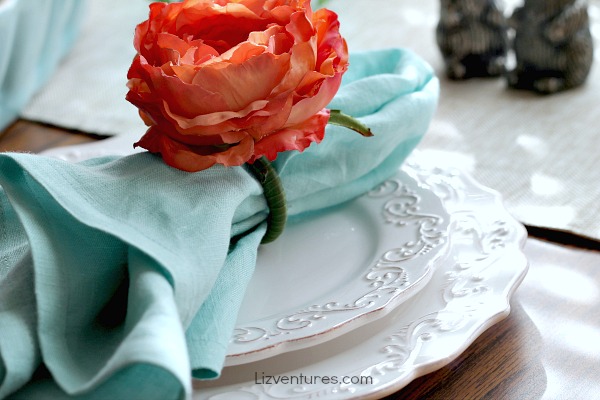 • Remember that Easter dinner can be anything! If you want to serve pizza, serve pizza. If you want to serve turkey, cranberries and sweet potatoes, do it! For the ultimate in time saving Easter dinner ideas, have a HoneyBaked Easter! The entire dinner can be ready and on the table in less than an hour, so it's the perfect solution to creating a delicious Easter dinner in the simplest, most convenient way.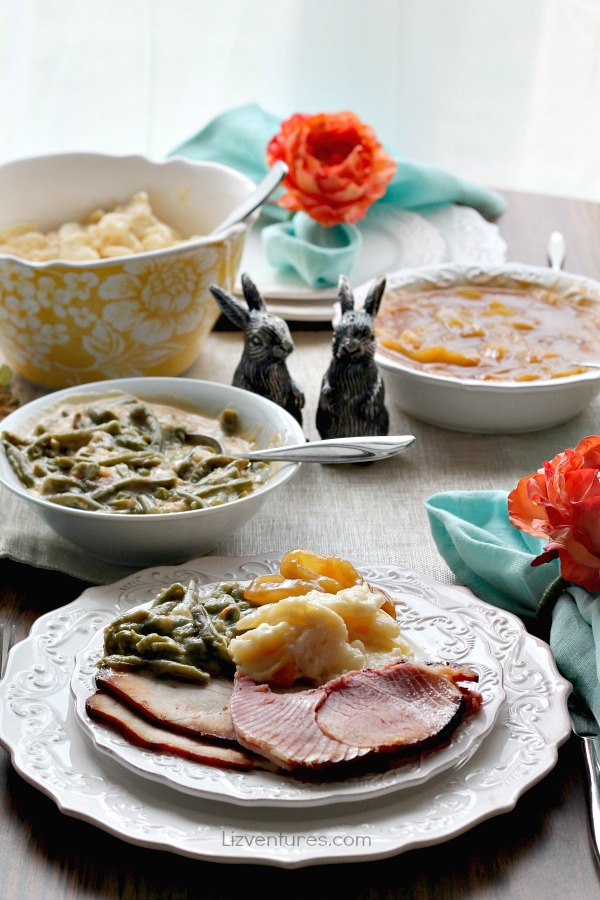 I like to serve ham and turkey from HoneyBaked, and I do it for selfish reasons. I can't decide which one I love most, and I LOVE holiday leftovers!
Have you tried HoneyBaked ham? It's slow-smoked for more than twenty hours so it's incredibly tender, and it has the most irresistible sweet and crunchy glaze on it. Plus, it comes spiral-sliced to make it even easier to serve.
And the HoneyBaked turkey breast is 100% breast meat, carefully seasoned, then fire-glazed to perfection with that one-of-a-kind sweet, crunchy glaze. I usually go with roasted for Easter, but it's also available in smoked, both of which are sliced for convenience.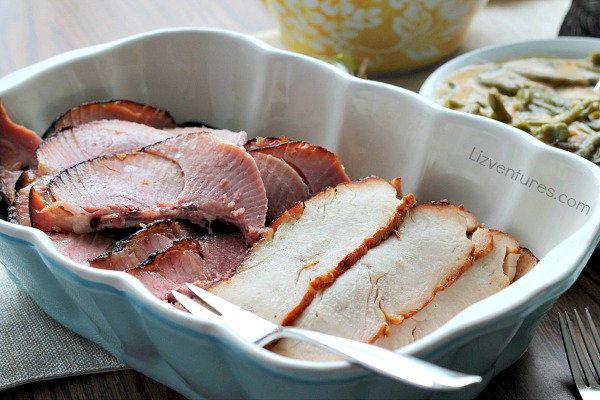 • Don't forget the side dishes! HoneyBaked makes it super simple for you with their heat-and-serve side dish options, and they are impossibly delicious! This year I'm serving au gratin potatoes, green bean casserole and warm apples. They all heat at the same temperature for the same amount of time, so it couldn't be easier to serve a fabulous and complete Easter dinner for your loved ones.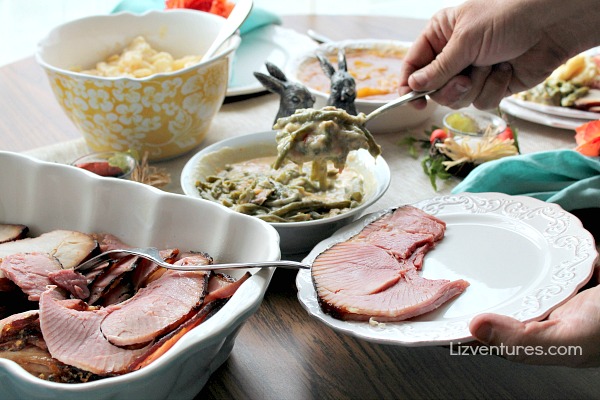 • Take advantage of the time you saved. Sit down, relax, spend time with your family and enjoy your Easter dinner!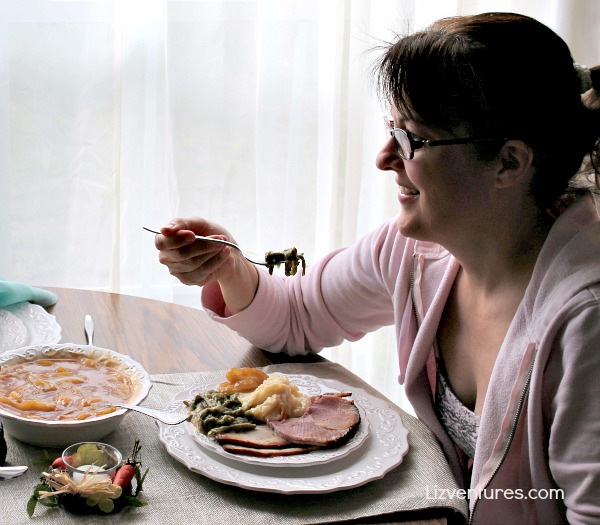 • End the day with some quiet and relaxed family time. Gather everyone on the couch and read a special Easter book together.
• Now, enjoy the fact that you have plenty of leftovers for the next few days to eat as is, or make sandwiches, casseroles, omelettes or whatever your heart and tummy desires!
Happy Easter!
This is a sponsored post with HoneyBaked Ham. All ideas and opinions belong to me.