This post brought to you by Libby's. All opinions are 100% mine.
With Mother's Day brunch on the horizon, I've got brunch on the brain, and lately I've been dreaming of pumpkin. Yes, I know it's springtime, but if you're not eating pumpkin year-round, you're totally missing out on the superfood benefits!
All that beta carotene, fiber and Vitamin A is not to be ignored. 😉 Yes, yes, oh yes. Grab a Pumpkin Can!
And perhaps you'll serve some warm pumpkin biscuits made with Libby's Pumpkin at your Mother's Day brunch too!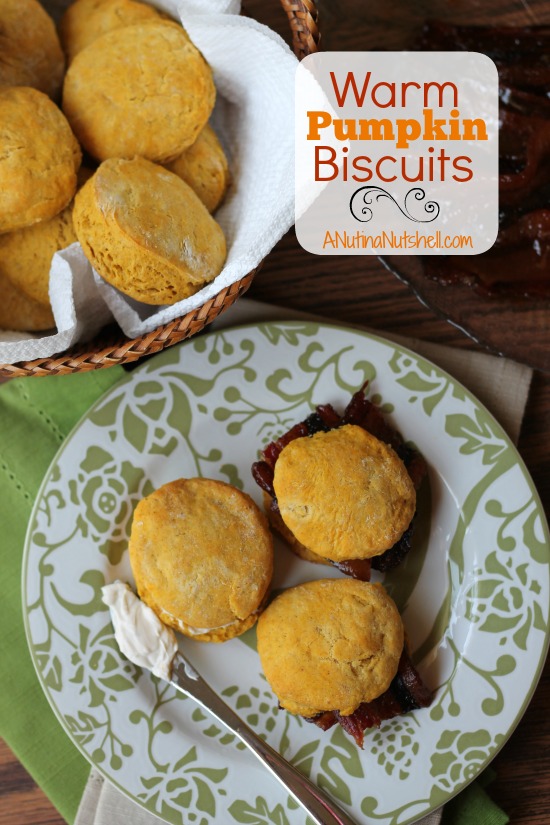 Warm Pumpkin Biscuits

Ingredients

2 cups all-purpose flour
1/4 cup packed brown sugar
2 1/2 tsp baking powder
1/2 teaspoon salt
1 tbsp ground cinnamon
1tsp ground nutmeg
1 tsp ground ginger
1/2 tsp ground cloves
5 tbsp cold butter, cut into pieces
1/3 cup buttermilk
3/4 cup pumpkin puree
3 tbsp honey

Directions

1. Preheat oven to 400 degrees F. Line cookie sheet with parchment paper.

2. Combine flour, brown sugar, baking powder, salt, cinnamon, nutmeg, ginger and cloves. Cut in the butter with a pastry blender until the mixture resembles coarse crumbs.

3. Whisk together buttermilk and honey. Stir in canned pumpkin. Add buttermilk mixture to flour mixture; stir to form a soft dough. (It will be sticky)

4. On a floured surface, roll or pat out dough to about 1/2-inch thickness. Cut out biscuits with a round biscuit cutter. (I used a glass.) Place biscuits about one inch apart on the parchment paper-lined cookie sheet.

5. Bake at 400 degrees F (205 degrees C) for about 14-16 minutes or until golden. Serve warm from the oven.
They taste delicious with a honey pecan cream cheese spread, or turn them into petite breakfast sandwiches by adding thick-cut maple-glazed bacon slices.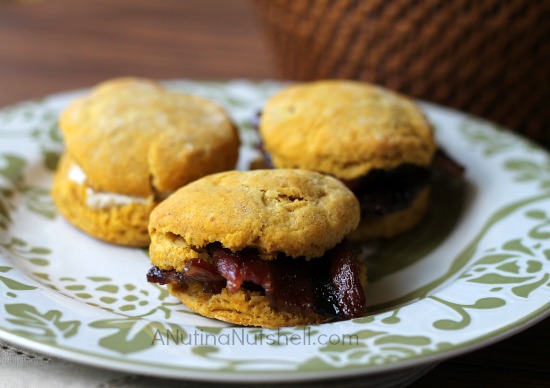 Pumpkin is a heck of a lot more versatile than you might think. We all know it's superb in sweet dishes, but don't overlook the savory either!

It also works great as an add-in boost of fiber, Vitamin A and flavor.  Try stirring a couple of tablespoons into oatmeal, smoothies or macaroni and cheese. (Tip: Leftover pumpkin can be portioned and stored in the freezer for later.)

Try pumpkin as a substitute for butter, eggs or oil in some recipes to reduce fat and calories. Stirred into jarred or prepared sauces, it can also reduce sodium per serving.
Best of all, you can incorporate pumpkin in breakfast, lunch, dinner, snacks and beverages. It's just that yummy!
And don't miss your chance to win a free Vitamin blender in the Libby's giveaway. Think of all the pumpkin recipes you'll be able to whip up!
What's your favorite way to use canned pumpkin?