Grilling season and summertime menus call for lots of pasta salad, but do you know what to serve with cold pasta salad?! Burgers, chicken, corn on the cob ….everything tastes better with a cold pasta salad! I think that's what I love the most about it – the versatility. It can be paired with so many different foods.
It's also inexpensive, easy to make and can be prepared in advance to save you time. Bonus points.
And since it's such a summertime fave, I thought I'd put together a list of ideas on what to serve with cold pasta salad. I hope it inspires you to think outside the box and get creative.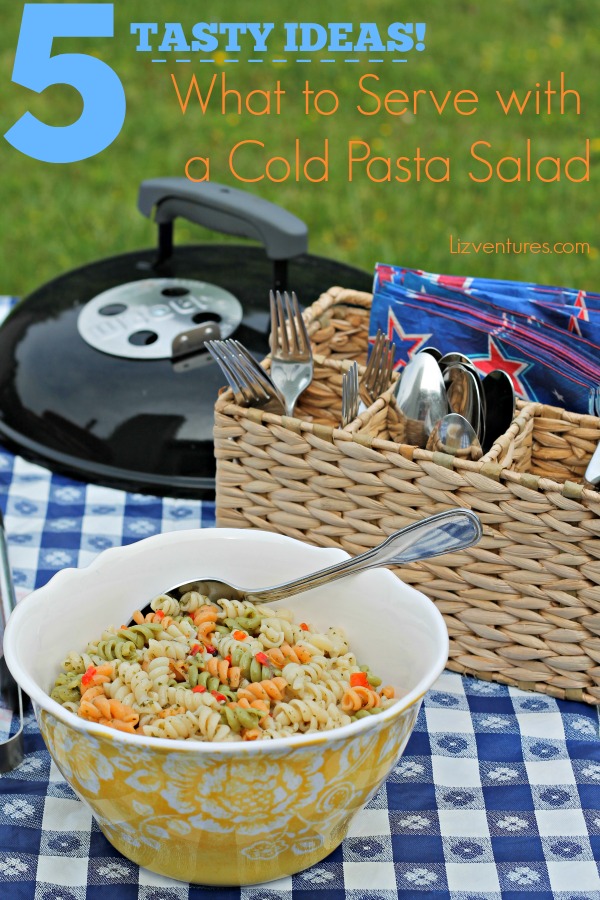 5 Tasty Ideas on What To Serve with Cold Pasta Salad
1. Grilled Meat – This is pretty much a given, right? If you're not already cozying up your grilled burgers, steaks and BBQ chicken with a side of cold pasta salad, you're missing out. Remember you can slice up some grilled chicken and toss it right into the pasta salad too. Grilled meat goes beautifully with traditional pasta salad flavors, but don't overlook trying things like grilled salmon either!
2. Summer soups – Any light soup like gazpacho, summer squash or spring minestrone will pair wonderfully.
3. Fruit – Whether you serve it with fruit slices, fruit cups or a big fruit salad, it works. Add a crunchy loaf of bread, corn muffins or a cheese and cracker tray to round out the meal.
4. Sandwiches – Serve up finger sandwiches like pimento cheese, tomato basil and cucumber. Grilled panini sandwiches are also delicious with cold pasta salad.
5. Vegetables – Grilled corn on the cob is an absolute perfect pairing, but try things like baked sweet potatoes, asparagus, sliced tomatoes, broccoli, fried okra and baked beans too.
---
Confession: I don't always make a homemade version of pasta salad. Ain't nobody got time for that.
I'm so stinkin' busy, and I don't always have the time or want to spend the time, so I keep a couple of boxes of Suddenly Salad on hand. There are some darn good flavors, y'all and there are 6 grams of protein! (For those with allergies, it contains wheat, milk, and may contain egg and soy.)
With 4 servings per container, one is usually more than enough for me, but when having guests over, a double batch is sometimes in order.
Each package also includes stir-in ideas and a recipe too! Since it's served cold, it can be prepared in advance. Love.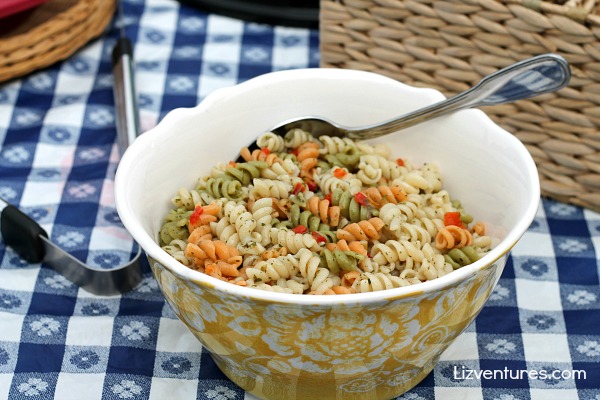 Summer is the perfect time to serve a cold pasta salad. Enjoy!