I don't go home every year for the holidays because it requires thirty-five hours of road trippin'. Technically I don't have to drive, but I need the cargo space for gifts, warm weather gear and let's be honest, pop. I don't go anywhere without a giant stash of pop. (Soda, if you must.)
The one thing I won't have to worry about once I get there is food. If there's one thing I can count on when my family gets together, it's food. (I'm pretty sure that's a universal family phenomenon. Oui?)
I'm planning on hanging out in my mom's kitchen and whipping up this breakfast quiche to share with everyone this year. It's a twist on a bacon and egg casserole with a fun surprise – tater tots!
Bacon 'Tater Breakfast Quiche
Start with a deep dish pie shell and line it with cooked tater tots. I like them to be nice and crispy! (In the photo below, I was checking to see about how many I was going to need to cook, so that's why they look frozen.)
Don't pack them in too tightly, as you want to leave room for all the rest of the ingredients.
Once you've got your cooked tater tots in the shell, sprinkle on chopped scallions, bacon, cheese and then pour the liquid ingredients over the top.
I can hardly wait to have it again at my mom's house!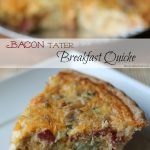 Bacon 'Tater Breakfast Quiche
Total Time
1
hour
10
minutes
Ingredients
1

deep dish pie shell

About 25 tater tots

baked in advance

4

eggs

1 1/2

cup

light cream

10

sliced Oscar Mayer fully cooked bacon

chopped

1/4

cup

cut scallions

1/2

tsp

nutmeg

1/2

tsp

black pepper

1

cup

Kraft shredded sharp cheddar cheese
Instructions
Preheat oven to 350 degrees.

Line pie shell with cooked tater tots.

Evenly spread chopped bacon over tater tots. Add chopped scallions. Top with shredded cheese; set aside.

Whisk together cream, eggs, nutmeg and pepper. Pour mixture into pie shell to cover all ingredients, waiting a moment to give liquid a chance to soak down. (There may be a few tablespoons of liquid left over; discard.)

Bake for about 55 minutes.
Are you hosting or attending any family get-togethers over the holidays this year?