I kicked off Fall baking season with chocolate M&M's and Mott's apple juice in these Fall recipes as part of a sponsored post for Collective Bias®.
I grew up with the "melt in your mouth, not in your hands" M&M's philosophy. Eat 'em straight from the bag!
They're just so poppable!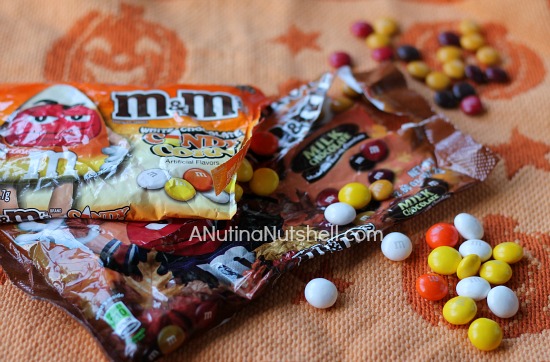 But when I spotted them in Fall colors at Walmart last week, I decided to add them to a Fall recipe and pop them in my mouth! So I did, and I did.
I made Halloween bark! I used milk chocolate M&M's and white chocolate candy corn M&M's, and I also used both white and milk chocolate candy melts.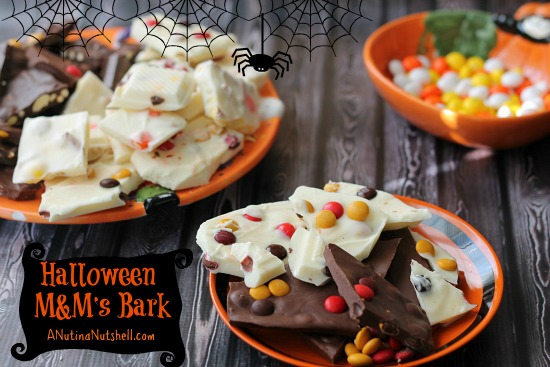 I make my candy bark in two different ways, depending on what I have on hand, either chocolate chips or candy melts and honestly, they both taste great. Also, sometimes I make my bark in a mold and sometimes I don't. (I'm obviously a very fickle person.)
Halloween Bark

8-12 oz of your choice: white chocolate, semi-sweet or milk chocolate chips or candy melts
1/4 cup M&M's (your favorite variety)
1/4 cup broken pretzel sticks

1. Heat chips or candy melt at 50% power in the microwave for about a minute to melt, stir until smooth and then mix in the M&M's and pretzels. Pour that into candy bar molds and then refrigerate them for about 15 minutes.

2. Remove from fridge and break into chunks. I kinda like breaking it into irregularly shaped pieces, but I'm not the boss of you.

Note: You do not need molds for this! It works just as well and I actually like it best when I pour the mixture onto a waxed paper-covered cookie sheet and spread it to my desired thickness. No need to spread to the edges or make it neat and square. Irregular bark pieces are more fun, I'm tellin' ya.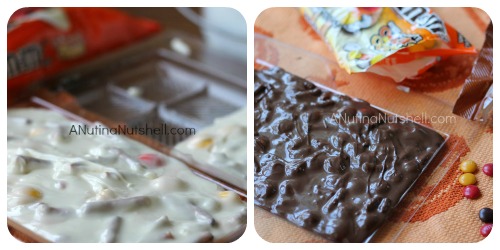 For kicks I made a quick apple juice punch with Mott's Apple Juice to sip alongside. Sometimes I make a hot apple cider punch but the temps are way too hot here, so I chilled things up and went icy this time.
Apple Juice Punch

64 oz Mott's apple juice
46 oz cranberry juice cocktail
1 cup orange juice
2 liter ginger ale soda

Pour the all three juices into a punch bowl. Then gradually add a 2-liter bottle of ginger ale and stir together.

Note: I made an ice ring to keep it cool by filling a gelatin mold with water and freezing it. You  can add citrus curls, pieces of fruit or anything you'd like to the freezing water to make it pretty.
Happy Fall baking season!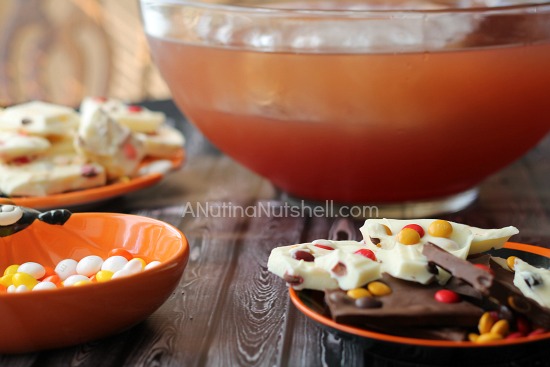 Like and follow M&M's at Facebook.com/mms and @mmsgreen on Twitter.
For more great ideas visit the Fall Baking and Entertaining Pinterest Board.