I believe we've already discussed that getting ready for a bodybuilding competition is hard here, here, and here. I'm not kidding! It's hard!
Although I'm by no means a veteran of the sport, having only been doing it for two years/seasons, I have learned a lot and watched it go wrong for many acquaintances and even a few friends.
I've seen people become extremely weak and sick from taking extra strength diuretics to try to "get dry" for the stage.
I've seen people try extremely low calorie diets in combination with hours of daily cardio to try to make weight for a competition.
I've seen them rebound after the show and gain back the weight they lost plus 10 extra pounds.
So if you're thinking about entering a bodybuilding competition, here is my best advice to you:
Do not prep for a bodybuilding competition as a weight loss strategy or to get a certain "look". You will fail.
Do not prep for a bodybuilding competition as a way to begin a healthy lifestyle. You will fail.
Do not prep for a bodybuilding competition if your attitude is "do whatever it takes to win". You will fail.
Some people might disagree with me, but I truly encourage you to reconsider competing if you are doing it for these reasons.
You should compete as an extra layer of challenging fun on top of your already healthy lifestyle.
Don't Compete for Weight Loss
Please be careful about trusting people to coach you who promise that you can be "STAGE READY IN 6 WEEKS GUARANTEED". Losing weight and being stage ready are absolutely not the same thing, and any competition coach worth his/her salt knows that.
If you want to lose weight, don't hire a competition prep coach. Get in the gym and lift! (And eat right, which I'm talking about more below.) If you need a little extra boost, hire a personal trainer. Make lifting and cardio part of your routine. Don't set yourself up for failure by entering a competition as a weight loss deadline.
After a fast weight loss, trying to be comfortable with your newly-shaped body on stage in a bikini would be like someone magically bringing an inanimate object to life and then telling it to go and get a job and a wife and kids. The object would be like, "Yo I don't even know how to walk or speak English."
The moral: Work on your body, make fitness your normal, and sign up for a competition next year.
Don't Compete to Get Healthy
Don't make bland, tasteless competition prep food your first taste of clean eating. You will hate every meal, you will crave junk, you will cave in, and you'll get discouraged.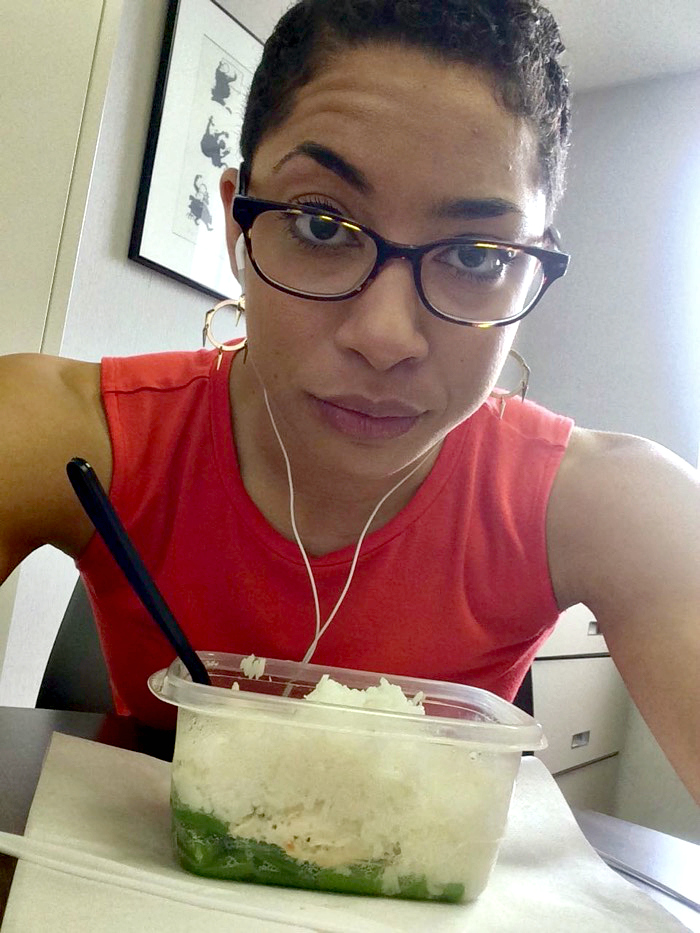 Instead, if you want to start eating better, clean up your diet and eat balanced meals of whole foods. One really helpful and practical tip is to use the hand method to measure your meals.
The moral: Get a taste for clean eating before you dive into the world of competing. Once eating right has become part of your lifestyle, prepping for a competition will be second nature! (Almost.)
Don't Compete Just to Win
Now there's nothing wrong with being competitive and wanting to win – if "do whatever it takes" means taking your diet and training seriously, then that's healthy and okay. But if "do whatever it takes" starts to mean having cosmetic surgery that you didn't originally want in the hopes that it will help you place higher, or taking drugs you didn't really want to take so that you can build muscle faster, then that's when it gets a bit scary.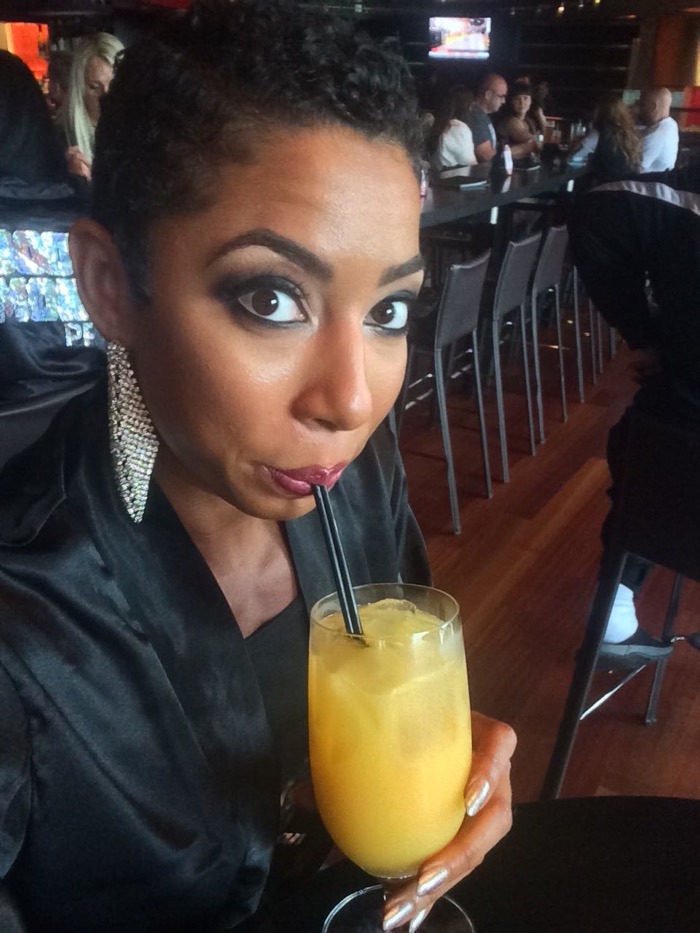 The moral: Be true to yourself. Compete for the sport of it, but don't change your values and succumb to the allure of The Quick Fix™.
NOW THAT THAT'S OUT OF THE WAY…
If these no-nos don't apply to you and you truly are ready for a bodybuilding competition, the best way to manage the craziness of contest prep is to get organized. Next week I'm showing you how to do just that, so stay tuned!
And now for this week's progress comparison. While the lighting happens to be slightly more flattering in the left pic, I think I look pretty much the same this week.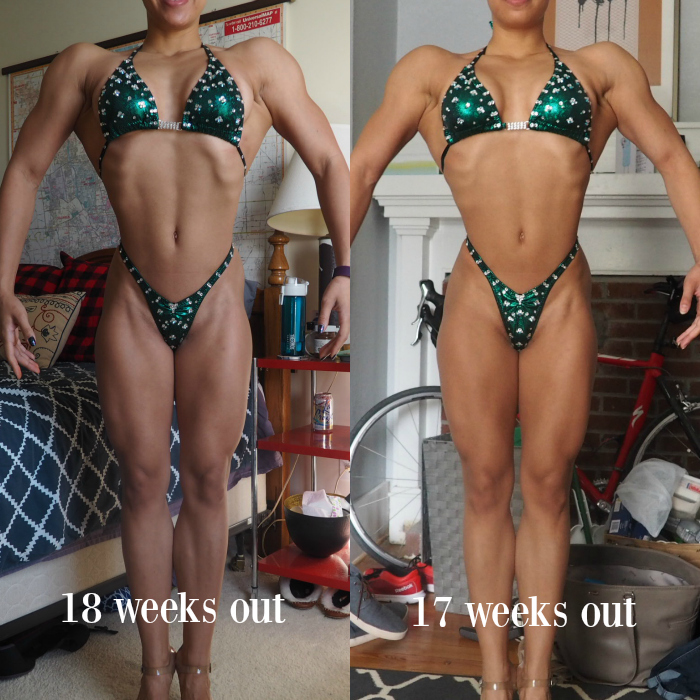 ---
Read the rest of the posts in my figure competition prep series here, and follow along with my pro figure competition journey with Instagram hashtag: #proprepdiaries!
---
Hey fit fam! Want a weekly email update on only my new fitness posts? Click here.