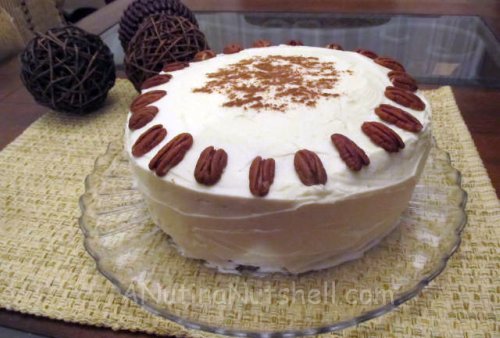 Cake Ingredients
1 3/4 cup sugar
1 1/4 cup vegetable oil
4 eggs
2 cups flour
2 tsp baking powder
2 tsp baking soda
1 tsp salt
2 tsp cinnamon
3 cups finely grated carrots
Optional – 1/2 cup chopped pecans/and or raisins (I used raisins)
Directions for Cake

Grease and flour cake pans.
Blend sugar and oil in electric mixer until light and fluffy. Add eggs. Blend well.
Combine flour, baking powder, salt, baking soda, and cinnamon in a separate bowl, and then add to rest of ingredients in mixer. Mix well.
Fold in the grated carrots and raisins.
Pour batter into 2 round cake pans.
Bake at 325 degrees for approximately 40-45 minutes, or until toothpick inserted near center comes out clean.
Cool in pans 5-10 minutes; turn out onto wire racks to cool completely. Once cooled, frost with icing as desired.
Cream Cheese Icing Ingredients

2 8-oz packages cream cheese
1/2 cup butter
2 Tbsp milk
1 tsp vanilla
2 cups powdered sugar
Directions for Icing
Melt butter and combine it with the cream cheese in mixer; beat well. Add milk and vanilla, blend until smooth. Add the powdered sugar, and blend until smooth again.
Spread icing over cooled cake, and garnish as desired. Store covered in refrigerator.
Enjoy!