I had forgotten just how dreamy homemade ice cream was until I made this batch of fresh strawberry ice cream last week. I may never go back to store bought! Ok, I lied. I'll eat them both. I'm not the sort of girl to turn down frozen confections of any kind!
This recipe came from the booklet included with my ice cream maker, and it's scrumptious! It uses 3 cups of freshly sliced strawberries, but if you don't have quite that much, that's fine too.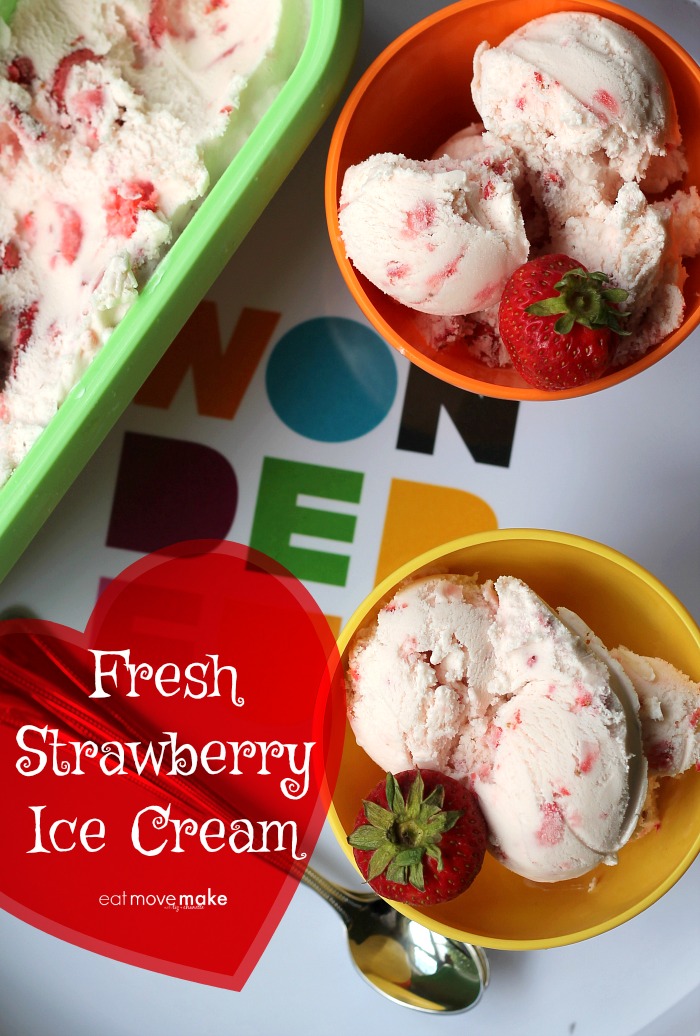 Fresh Strawberry Ice Cream
Fresh Strawberry Ice Cream
Ingredients
3

cups

fresh ripe strawberries

stemmed and sliced

4

tbsp

freshly squeezed lemon juice

1 1/2

cups

sugar

divided

1 1/2

cups

whole milk

2 3/4

cups

heavy cream

1 1/2

tsp

pure vanilla extract
Instructions
In a small bowl, combine the strawberries with the lemon juice and 1/2 cup of the sugar. Stir gently and allow the strawberries to macerate in the juices for 2 hours. Strain the berries, reserving juices. Mash or puree half the berries.

In a medium mixing bowl, use a hand mixer on low speed to combine the milk and remaining granulated sugar until sugar dissolves, about 1 to 2 minutes.

Stir in the heavy cream, reserved strawberry juice, mashed strawberries and vanilla.

Turn the ice cream machine on; pour the mixture into freezer bowl, and let mix until thickened, about 20 to 25 minutes.

Five minutes before mixing is completed, add the reserved sliced strawberries and let mix in completely.
Notes
The ice cream will have a soft, creamy texture. If a firmer consistency is desired, transfer the ice cream to an airtight container and freez for about 2 hours. Remove from freezer about 15 minutes before serving.