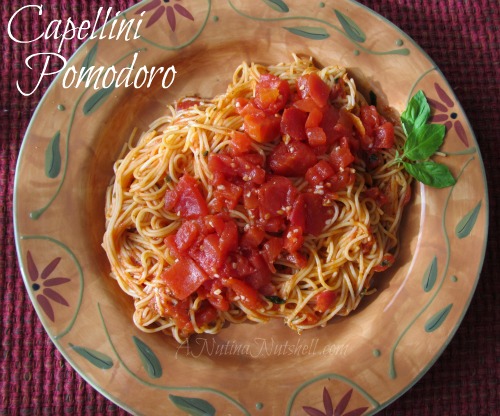 This can be made using either fresh or canned tomatoes, and how I make it depends on how busy of a day I'm having, but both ways are just delicious.
Capellini Pomodoro
Ingredients
4 cloves garlic, minced
2 cans (14.5 ounces each) good quality diced tomatoes (slightly drained), or about 2 pounds fresh, peeled and diced tomatoes
1/2 teaspoon freshly ground black pepper
1/2 teaspoon salt
3/4 oz package of fresh basil leaves
1/3 cup extra virgin olive oil
1/2 cup grated Parmesan cheese
16 ounces dry angel hair pasta, cooked
26 oz. jar of sweet basil marinara sauce
Directions
1. Heat olive oil in frying pan. (Nonstick is best if you have one.) Add garlic; cook until slightly browned on edges.
2. Add tomatoes, salt and pepper. Heat through, stirring constantly, about 4 to 6 minutes. Remove from heat.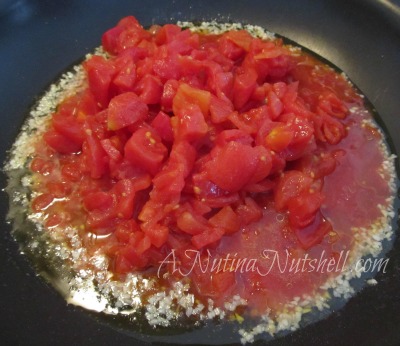 3. Transfer hot, cooked pasta to large bowl. Toss pasta gently with tomato mixture, freshly chopped basil, and the Parmesan cheese. Add marinara sauce and stir gently to coat.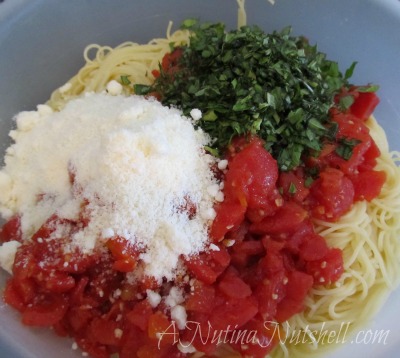 Enjoy!