I can tell it's summer when I open the door and it feels like a hot, wet, heavy blanket is being thrown over my head.  But it gives me the perfect excuse to stay inside and work on picnic recipes and 4th of July recipes.
Let's do some baking. And cooking. And napping.
I've been in the mood to bake a fruit pie and serve it a la mode. However, I can't bear to turn on the oven when it's sticky hot out there so the need to keep it cool is how this no-bake dessert came to be.
Creamy Dreamy Icebox Pie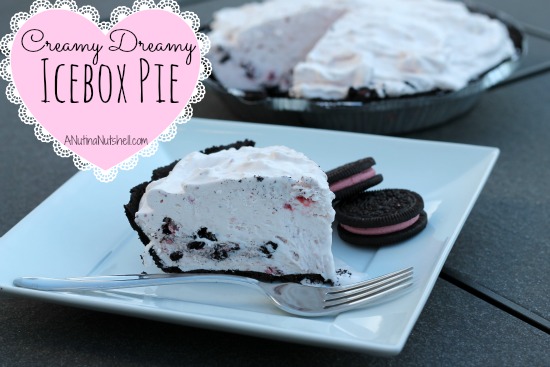 The beauty of the recipe is that it can be changed to suit any holiday, theme, flavor, anything! You just need five key ingredients, but you can use any variety of each.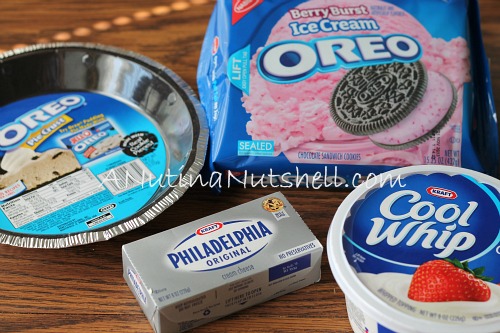 Ingredients
8 oz. pkg PHILADELPHIA Original Cream Cheese (Important: should be at room temperature)
8 oz. tub COOL WHIP whipped topping, thawed
1 pkg OREO cookies, crumbled into chunks (any flavor) – I used Berry Burst
1 OREO pie crust (or crumb crust of your choosing)
1.5 qt container ice cream (any flavor), unsoftened – I used strawberry
Directions
1. In mixer, beat together PHILADELPHIA Original Cream Cheese and COOL WHIP whipped topping until smooth. Mix ice cream in and combine just until ingredients are smooth and workable. Spread half of the mixture into the pie crust and smooth out.
2. Sprinkle the OREO cookie crumbles over the entire ice cream layer. Be generous, because you want the cookie layer to show when you cut the pie.
3. Spoon the remaining ice cream mixture over the top of the cookie crumbles, and carefully spread all the way to the edges, smoothing as you go.  Place pie in freezer for at least 2 hours before serving.
*Note: Depending on how high you heap your ice cream, you may have a little of the mixture left over. Freeze and enjoy later if you do!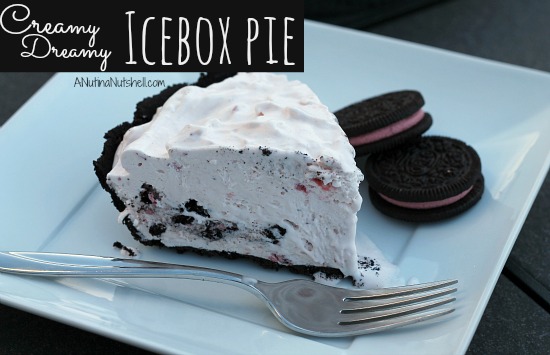 The filling is so creamy, cool and delicious and has just the right amount of sweetness to balance the semi-sweet bite of the OREO cookie crumb crust.
What flavor of OREO cookies and ice cream would you use to make this icebox pie recipe?