Blueberry bread pudding with candied bacon is like having breakfast for dessert. Yes, please. When sweet and savory find a way to hang out, I'm the third wheel they never saw comin'.
And bonus points for bread pudding — it's so dang easy to make.
BLUEBERRY BREAD PUDDING WITH CANDIED BACON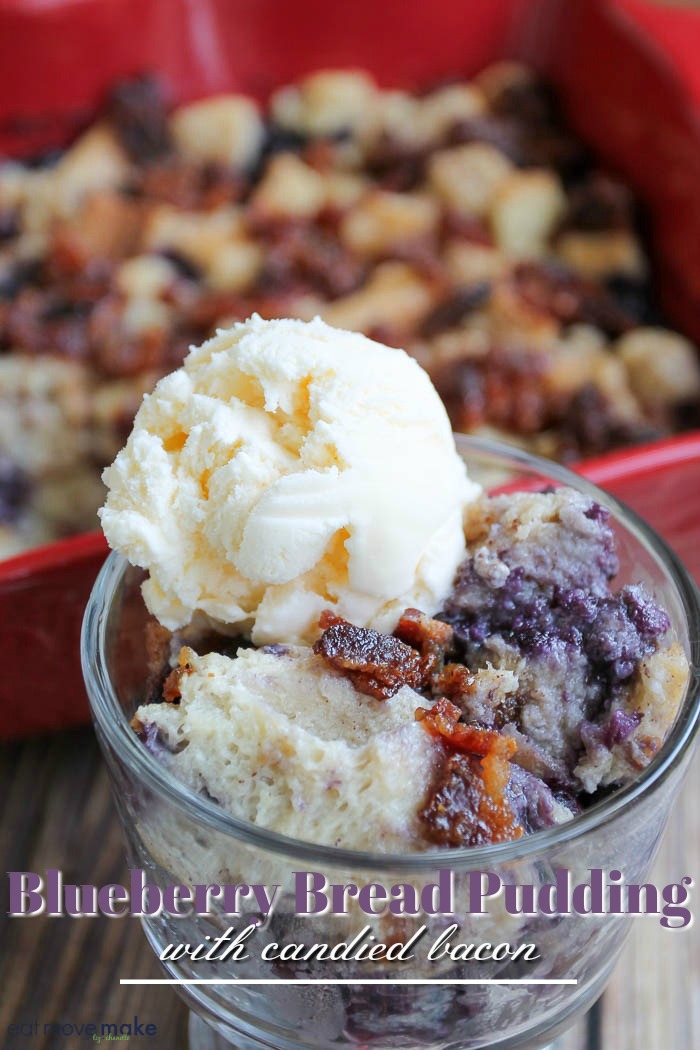 Throw some cubed bread in a bowl. (Day or two-old bread is great because it's thirsty.) Then add the liquid mixture and stir to make sure all those bread cubes get a drink.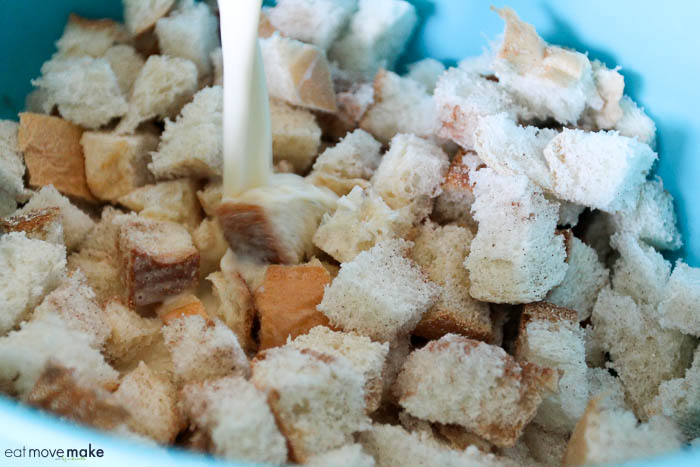 Gently fold in the blueberries.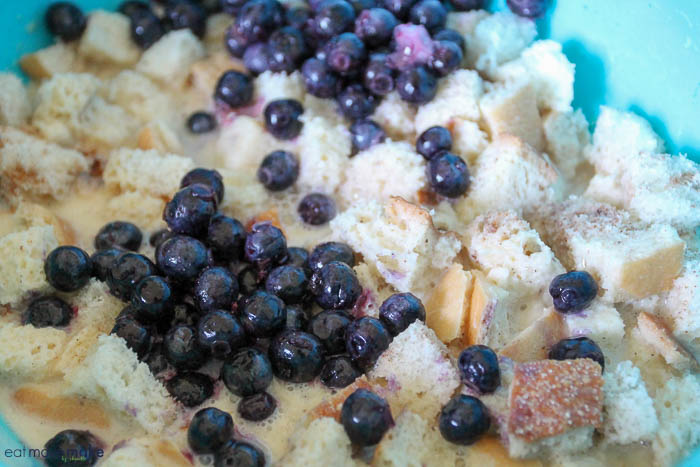 Pour it into a baking dish and sprinkle with all those bits of yummy candied bacon and pop it in the oven.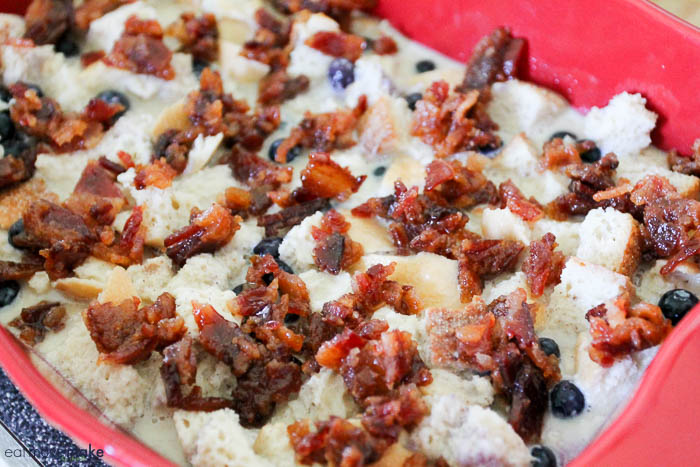 When it's ready, you can dig in as is or get even naughtier by adding a scoop of ice cream.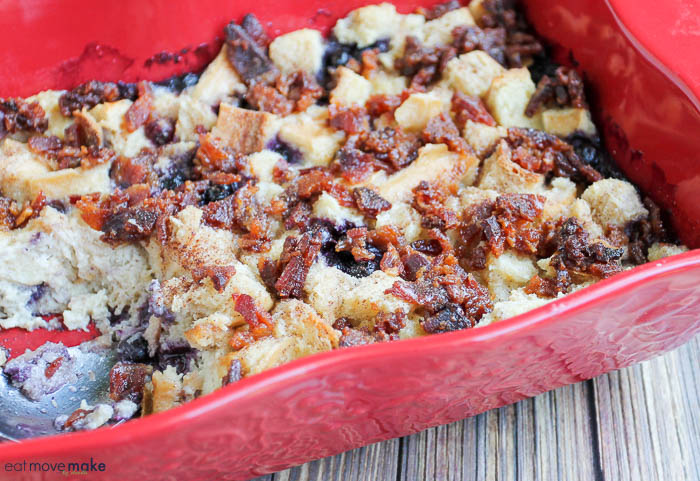 I sit in the ice cream fan section myself.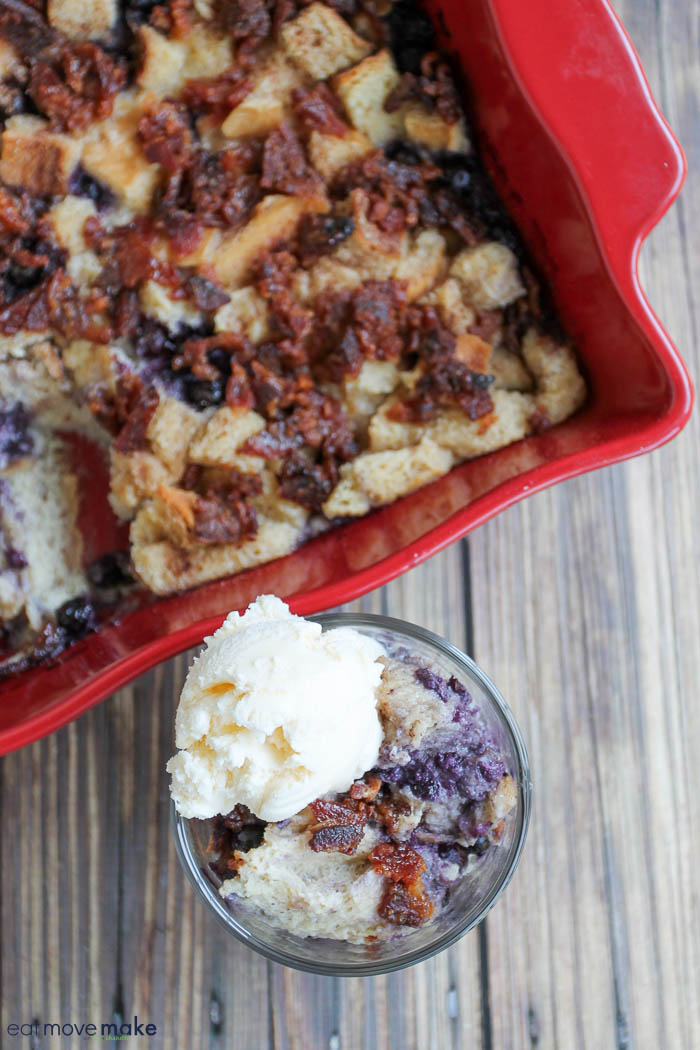 Blueberry Cinnamon Bread Pudding
Ingredients
Candied Bacon
8

strips

bacon

thick-cut

1/2

cup

real maple syrup

1/4

cup

brown sugar
Blueberry Bread Pudding
2

cups

half and half

1/4

cup + 1 tbsp

butter

1/4

cup

maple syrup

3

eggs

1/3

cup

sugar

1/4

cup

brown sugar

1/4

tsp

salt

6

cups

bread chunks

1

cup

blueberries

1

tsp

vanilla

1

tsp

cinnamon
Instructions
Candied Bacon
Preheat oven to 250-275 degrees. Either dredge bacon strip by dunking, or you can lay the bacon strips on a rimmed cookie sheet and add the maple syrup with a brush.

Sprinkle little pinches of brown sugar atop the syrup covered bacon strips

Bake for 1 to 1 1/2 hours or until bacon reaches desired doneness.
Blueberry Bread Pudding
Preheat oven to 350 degrees.

Cut bread into cubes. Place in large bowl.; set aside.

Chop the candied bacon.

In a mixer or blender, combine half and half, maple syrup, eggs, white sugar, brown sugar, cinnamon and salt. Mix or blend until smooth.

Pour mixture into saucepan; add butter. Cook over medium heat, stirring frequently until butter is melted. Remove from heat; add vanilla.

Pour over bread cubes. Gently fold to saturate. Stir in blueberries.

Pour into ungreased 9 x13-inch pan. Top with crumbled candied bacon.

Bake 350 degrees 30 minutes or until toothpick inserted in bread cubes near edges comes out clean.
Enjoy! And check out our other blueberry recipes for more dessert ideas!