This is a sponsored post written by me on behalf of Unilever.
I've mixed up pizza sauce, cheese and all kinds of breads and doughs for as long as I can remember, but the one thing I had never done was to add a hot, buttery seasoned glaze of happiness o'er the top. So I did it.
Oh my word, why did I wait so long!!!
I melted some I Can't Believe It's Not Butter, mixed in some seasonings and then brushed it on top of these freshly baked pizza croissants.
Oh heaven, oh heaven.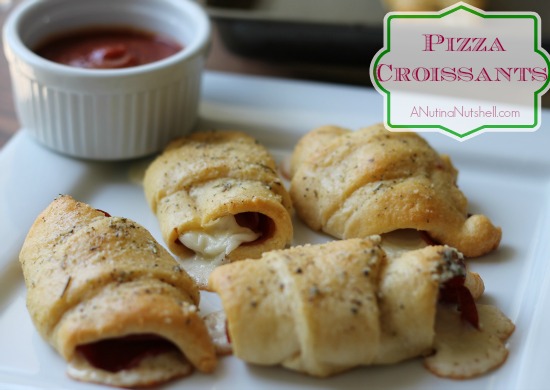 Before I give you the recipe (adapted from The Girl Who Ate Everything,) let me just remind you why I've been extolling the virtues of using spreads instead of butter. I'm desperately trying to keep the heart disease family curse away from me, so using cholesterol-free spreads with 0g trans fats is super important to me.
Yes, I should give up pizza completely, but Since I'm stubbornly attached to it, I just eat it a lot less often and make it taste especially good when I have it. Plus, using I Can't Believe It's Not Butter eases my guilt a little bit. 😉
So anyway, here's how I made these yummy pizza croissants. So easy!
Ready for the recipe? 
Quick and Easy Pizza Croissants
(brushed with warm Italian butter spread)
Ingredients
1 (8 ounce) package refrigerated crescent roll dough (feel free to use a reduced fat version)
4 cheese sticks, halved
1 (3.5 ounce) package turkey pepperoni (or regular, if desired)
Italian Butter Spread
4 Tbsp I Can't Believe It's Not Butter spread, melted
3/4 teaspoon Italian seasonings
1/2 teaspoon garlic powder
1 Tablespoon and a pinch or two of grated Parmesan cheese
Directions
1. Preheat oven to 350 degrees.
2. Place a few pepperoni slices (more if you want it loaded) onto the wide end of each dough triangle. Place a cheese stick half on top and roll up. (I also made several without pepperoni, just cheese.) Place seam side down on a cookie sheet and bake for about 12-14 minutes or until a nice golden brown.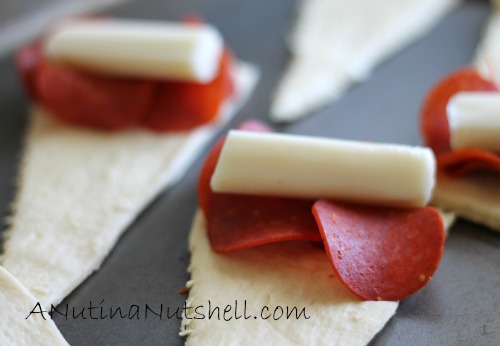 3.  While croissants are baking… In a small bowl, mix together the melted I Can't Believe It's Not Butter and remaining ingredients.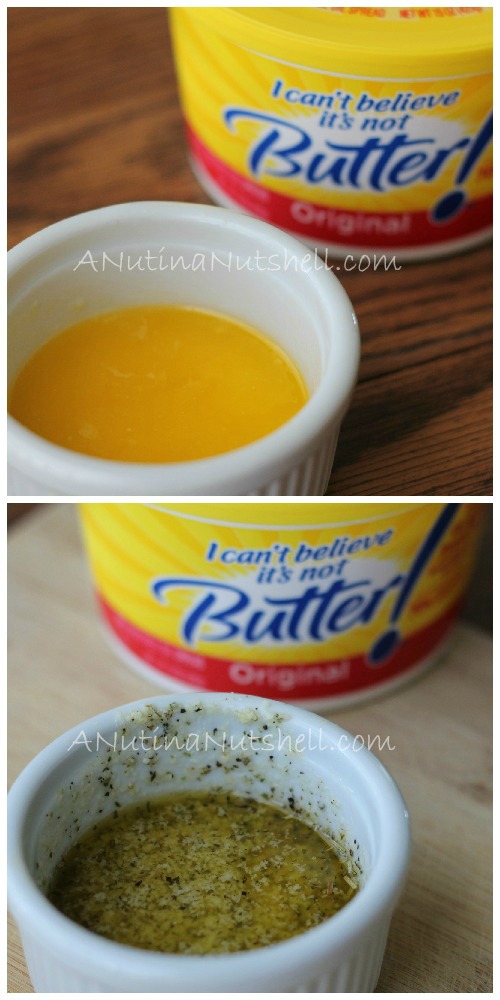 3. Remove from oven, and with a pastry brush, gently brush the buttery spread over the tops of the freshly baked pizza croissants.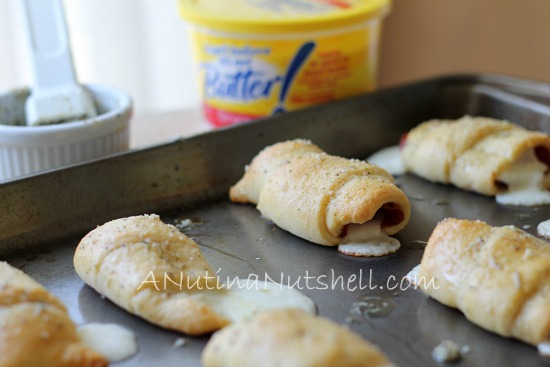 Serve immediately with pizza or marinara sauce for dipping.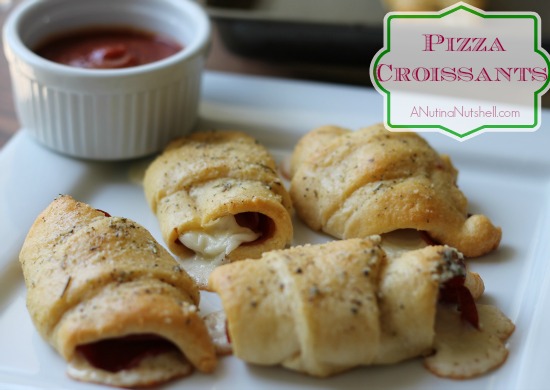 Cooking your favorite recipes using Unilever buttery spreads is a deliciously smart move. With 0g trans fats per serving, less saturated fat and fewer calories than butter, cholesterol-free spreads are a better option.

Visit itsgoodtoknow.com for more information and recipe ideas now!
Mmmmmmm, hot, cheesy and buttery pizza croissants – enjoy!
This is a sponsored post written by me on behalf of Unilever. All opinions are my own.