Plasmatic- go Plasmatic! You're singing it, aren't you? Well, it's not quite Greased Lightnin', but I found a pretty fabulous set of wheels.
I've always wondered what it would be like to drive a sleek, flashy and aerodynamic vehicle. I shall wonder no more because this fly mama has a ride that can glide!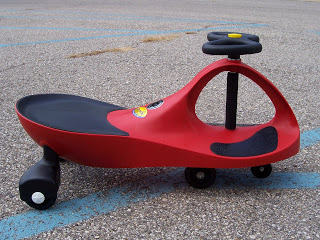 Check out my PlasmaCar! Ain't she purdy? She's automatic, systematic, and hyyyyydromatic. Ok, I'm totally getting carried away, but it's fun! It's a cute little car which moves based on the natural forces of inertia, centrifugal force, gravity and friction, in other words, kid power!
Just set it on a smooth, flat surface and vrrooom, vrroom, you're off.
You move the steering wheel back and forth and it sets you in motion. Turn the steering wheel around and you'll even head backwards.
You thought your little ones are the only ones that could ride this? Stop with that nonsense. It can hold up to 220 lbs on a smooth, flat surface and function just as well.
My son put it together for me within 5 minutes. He actually hops on it all the time in the house and drives through the kitchen to the family room and back, but when it came to the pictures, he was a little embarrassed…cuz, you know, he's a man and all.

In a nutshell: It's fun! It takes just a few seconds to figure out how to move the steering wheel and then there's no stopping you! The PlasmaCar is harder to operate on rough surfaces, so stick with smooth ones and you'll have a lot more fun! It can go up to 10 mph but I need a lot more practice before I enter that race. (Helpful hint: I found that if I made big, smooth figure eight motions with the steering wheel, I could really get it to pick up speed.) Anyone wanna race?
(There might be pictures of me too but they're locked in a vault.
)
For more information, check out the PlaSmart website and PlaSmart blog, and you can buy this award winning PlasmaCar for about $55 at Amazon, in red, purple, blue, yellow, green, orange and pink!


Thank you PlaSmart for providing the PlasmaCar for this review. I set out to prove the PlasmaCar could be fun for BOTH kids and adults, and I was right! Disclosure policy here.