Jennifer Chandler's Simply Salads cookbook is saving my life. I'm a lazy cook so I'm guilty of reaching for convenience foods too often. The blessing of Simply Salads is that each of the 100+ salads is based on pre-packaged greens and easy to find ingredients!
Normally, when I make a salad at home, it turns out so boring and tasteless, but the recipes in this cookbook are teaching me that I can make the same delicious salads at home that I often order in restaurants.
Each salad recipe is accompanied by a full color picture and I LOVE that! Who doesn't?
My son lives and breathes his protein, so I decided to make him the Taco Salad and I used a spicy taco seasoning because he loves "heat". He had never had anything like this before, and he absolutely loved it! (He ate all 4 servings himself.)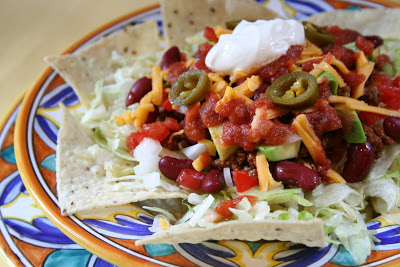 Another recipe I tried was the Curried Rice and Chickpea Salad. The different textures of the ingredients combined beautifully and it was a satisfying, flavorful, and delicious salad.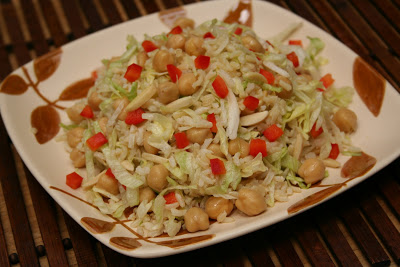 I have also made the Mandarin Chicken Salad several times and it's my favorite so far. I just LOVE it! The author of the cookbook encourages substitutions and changes to the recipes and I took her suggestion with this one. I used La Choy noodles in place of the ramen noodles, and I used sliced blanched almonds in place of cashews. Sweet, savory and crunchy. Fantastic!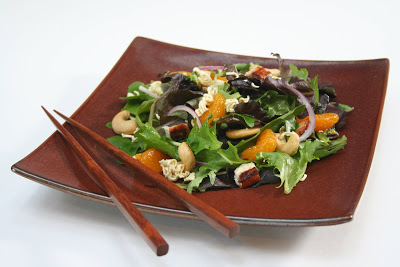 I have a lot of cookbooks but I have never had one exclusively for salads, and I am really impressed with this one. I know I'll be using it often, as I've already been creating salads from it at least once a week.
To get your copy of Simply Salads, check your local bookstore, or you can find it at Amazon for $16.49 with free super saver shipping.
A big thank you to this wonderful cookbook's author, Jennifer Chandler, for providing me with a review copy and introducing me to salads the way they can be and should be!
And another special thank you to the Product Review Place for the review opportunity.