If you've ever had a muffuletta, olive spread probably comes to mind since it's such an important part of how to make a muffuletta sandwich. Some people call it olive salad and some call it olive tapenade, but everyone calls it delicious!
Of course, there's also debate on whether to spell muffuletta as muffaletta. Either one will get you a sandwich, so I don't think it matters.
You know what does matter? The olives! And you can't go wrong when you make olive spread with the best olives – Pearls®.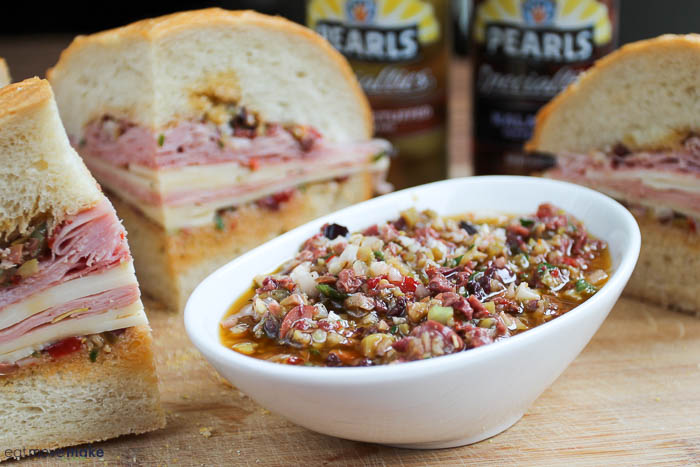 When I went shopping for olives, I found Pearls® Specialties and I knew the Pitted Kalamata Greek Olives and the Jalapeno Stuffed Queen Olives were exactly what I needed to take my olive spread to the next level. Use this store locator to find them near you or shop online — Amazon has them!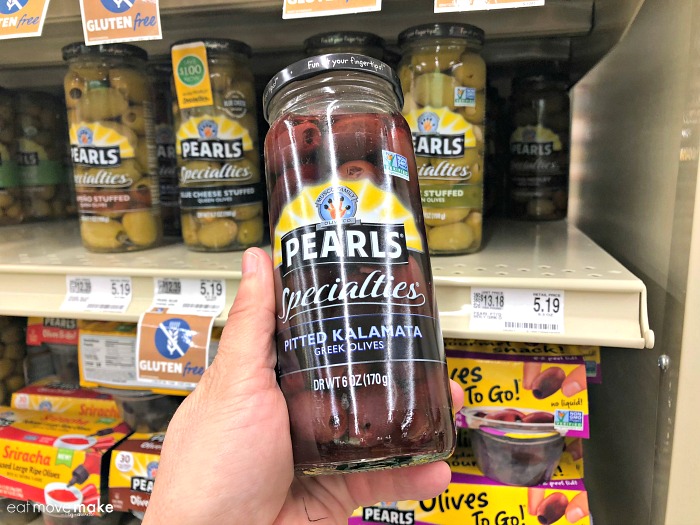 Dice up the olives and all the other goodies that will be mixed together for the olive spread. I like everything diced fine, but I'm sure some people love a chunky olive salad, so chop in a way that makes you happy.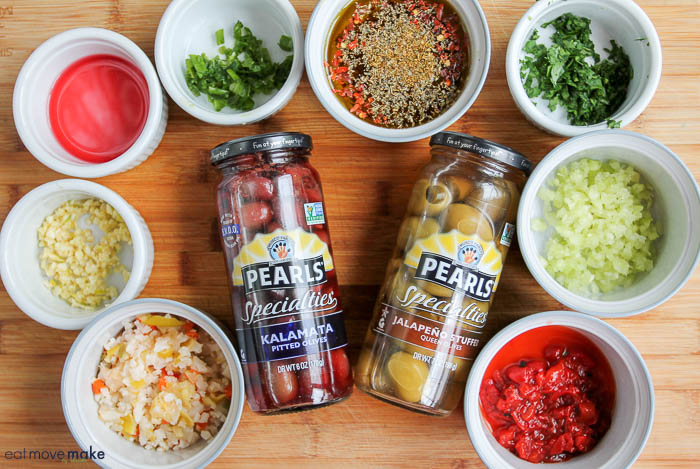 Once you mix all the olive spread ingredients together, cover and put in the fridge to let all those flavors marry for a while. Ideally, you'll leave it overnight, but let it set at least a couple of hours if you can. (Extra olive salad will stay fresh in the fridge for a couple of months — more muffulettas for you!)
Muffuletta bread is a thing in and of itself, but if you find an uncut round Italian loaf, it will work just fine. Cut that baby in half side to side, not top to bottom. You want the whole top and the whole bottom intact. Then spread the olive salad over the inside portions of the bottom half. YUM!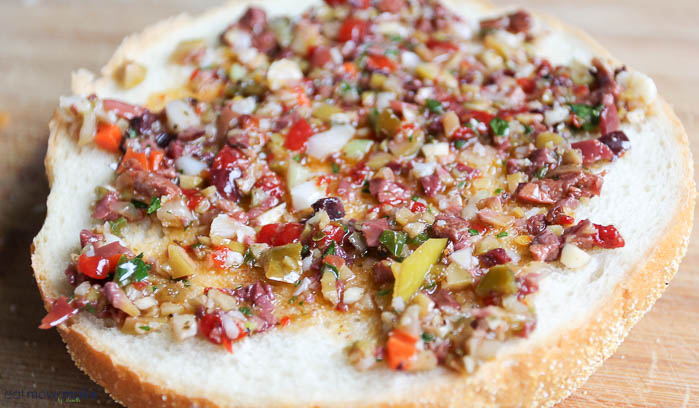 Then start layering your meats and cheeses on top of the muffuletta spread.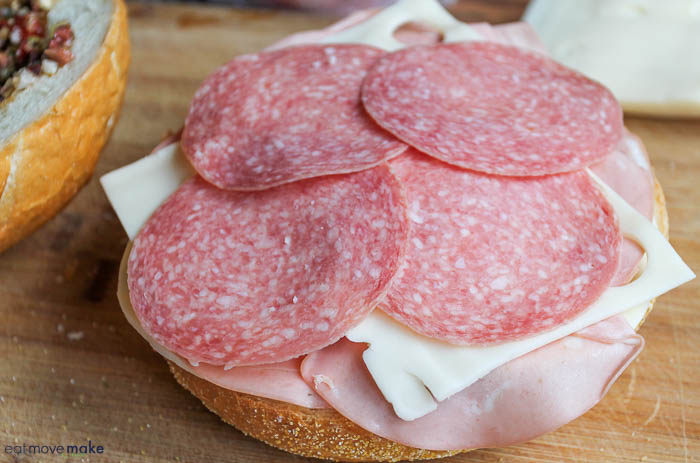 Put more olive salad on the inside of the top bread half and put the GIANT sandwich together.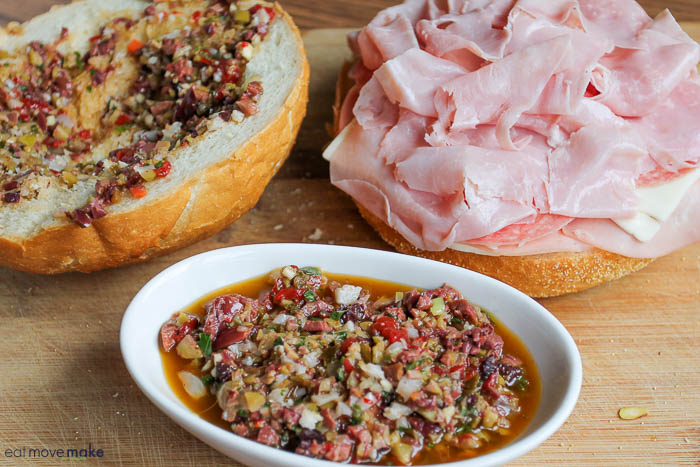 Cut into four sections and take a bite. It's absolutely delicious!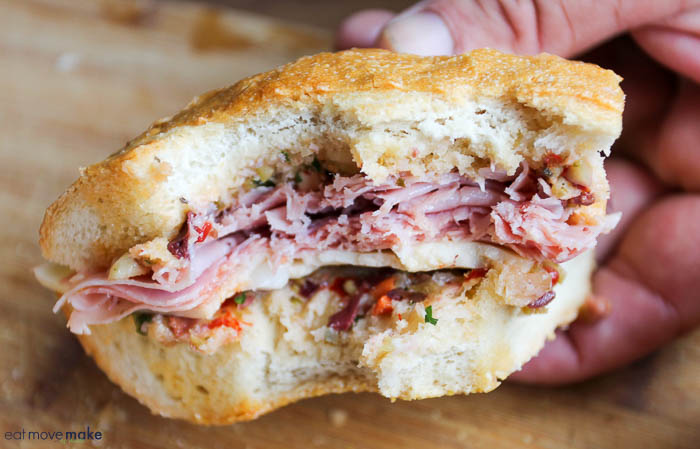 I especially love the little kick of heat from the Stuffed Jalapeno olives — so good!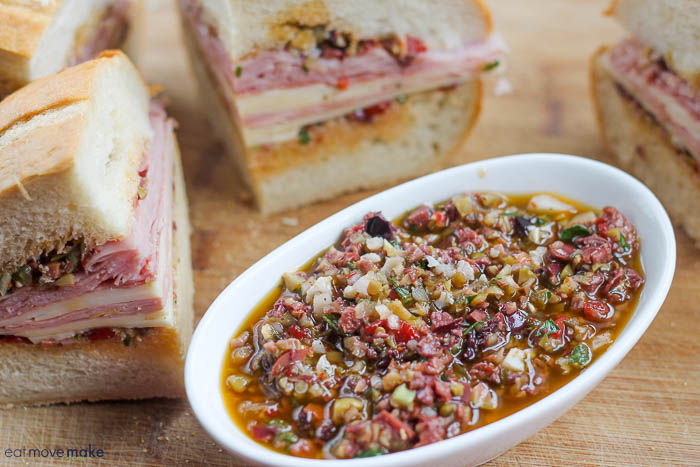 Olive Spread (Olive Salad) for Muffuletta Sandwiches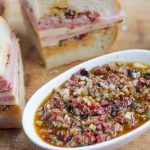 Olive Spread (Olive Salad) for Muffuletta Sandwiches
Ingredients
3/4

cup

Pearls Specialties Pitted Kalamata Greek Olives

diced

3/4

cup

Pearls Specialties Jalapeno Stuffed Queen Olives

diced

1/2

cup

giardiniera

diced

2

cloves

garlic

minced

2

tablespoons

celery

diced

3

tablespoons

roasted red peppers

diced

1

tablespoon

Italian parsley

chopped fine

1

teaspoon

dried oregano

1/2

teaspoon

red pepper flakes

2

tablespoons

red wine vinegar

3/4

cup

extra virgin olive oil

1

10-inch round Italian bread loaf

unsliced

1/4

pound

mortadella

thinly sliced

1/4

pound

salami

thinly sliced

1/4

pound

ham

thinly sliced

1/4

pound

Swiss cheese

thinly sliced

1/4

pound

provolone cheese

thinly sliced
Instructions
Olive Spread (Olive Salad)
Mix together olives, giardiniera, garlic, celery, red peppers, parsley, oregano, red pepper flakes, red wine vinegar and olive oil. Cover with plastic wrap; refrigerate at least a few hours, preferably overnight to let flavors blend.

Cut bread loaf in half from side to side, not top to bottom. Spread a layer of olive tapenade on the inside of each half. Layer slices of mortadella, Swiss, salami, provolone and ham on top of bottom half of loaf. Cover with top half of loaf. Cut into fourths and enjoy!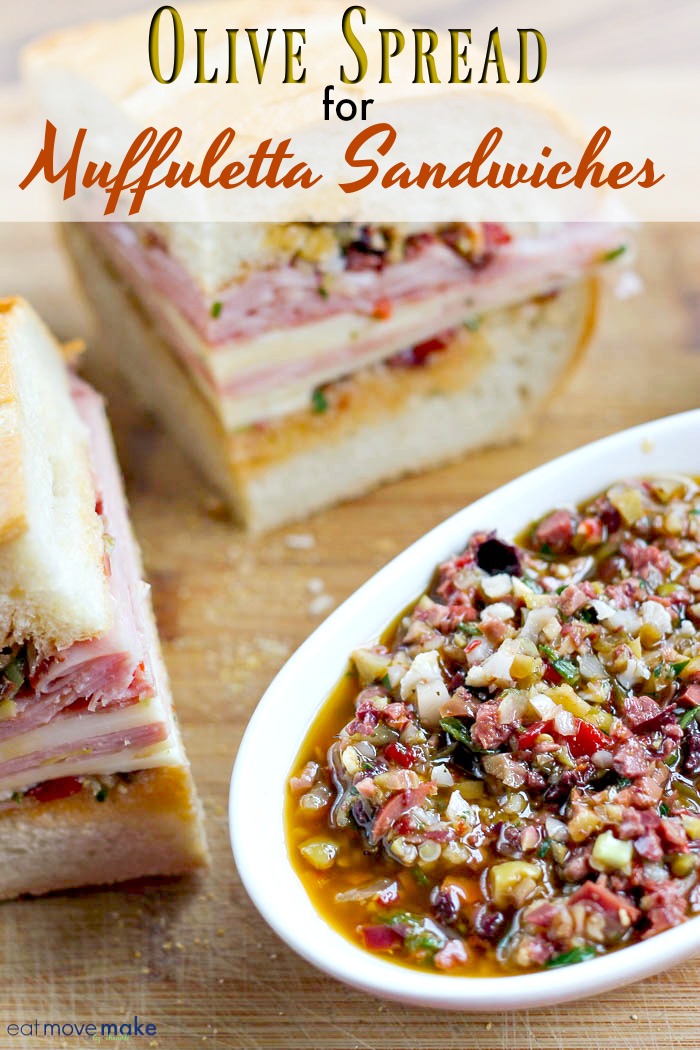 I hope you love the flavor of the Pearls Specialities olives in this olive spread as much as my family and I do. Not only is perfect on a muffaletta sandwich, it's wonderful for appetizers. Try spreading it on a crostini. Enjoy!