Maannnnn I gotta be honest with you. The first week of dieting (last week, the week of January 11th) was basically hell.
I forgot how boring it can be to eat the same meals at the same times EVERY DAY.
I especially forgot how much it sucks to have to eat salmon and asparagus at 9:00 or 10:00 at night.
I was recovering from a cold and felt like shit all week, and having no appetite certainly did not help me eat six meals a day. It also made it very difficult to put in my full effort at the gym. In some cases, I didn't. Sometimes you just have to listen to your body, ya know?
But anyway, I hit the reset button for this second week of prep and made some minor changes to a couple of my least favorite meals so that they are tolerable. Delicious, even!
Today I'm sharing my recipe for healthy turkey chili that is way tastier than plain ground turkey, rice, and broccoli, but has the same macros (protein, carbs, and fat)! You can play around with how much turkey you add and how many cans of beans you add to get the carbs and protein ratios just right for your dietary needs.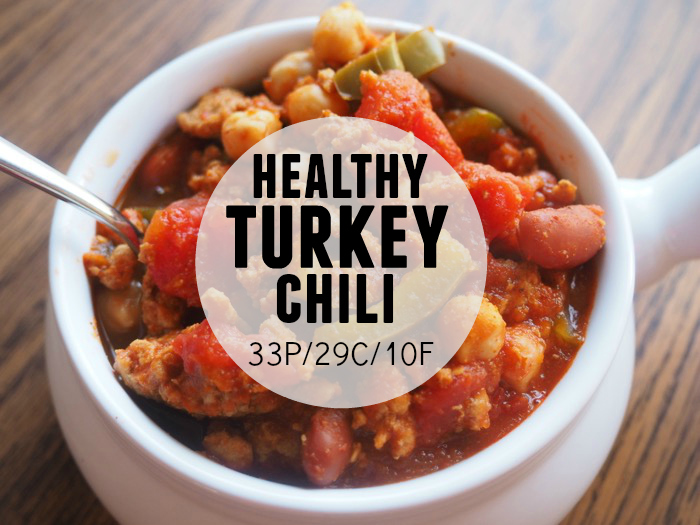 As shown below, this recipe makes a very meal-prep friendly 7 servings. Each serving has 33g protein/29g carbs/10g fat.
Bodybuilding Friendly Healthy Turkey Chili
Ingredients
1

T.

coconut oil

2

cans tomato sauce

no salt added

2

cans diced tomatoes

no salt added

1

can kidney beans

1

can chickpeas/garbanzo beans

2

lbs.

93/7 lean ground turkey

2

jalapenos

2

green peppers

Salt

Pepper

2-3

T.

chili powder

1-2

T.

cumin

Red pepper flakes
Instructions
Drain and rinse both cans of beans and set aside.

Heat coconut oil in large soup pot over medium-high heat. Add ground turkey and brown it.

Add chili powder, cumin, red pepper flakes, and salt & pepper to taste. Toss turkey in spices to coat.

Add tomato sauce, diced tomatoes, kidney beans, and garbanzo beans. Cover, turn heat down to medium-low, and let it simmer while you prep the peppers.

Dice jalapenos and green peppers, then add to the chili. Turn heat to low and simmer while you finish your meal prep! (The longer the better, but 30 minutes min.)
Nutrition
Carbohydrates:
29
g
|
Protein:
33
g
|
Fat:
10
g
And of course, here's this week's progress comparison. I weigh the same as last week, but I think my muscles look fuller and tighter. Yay!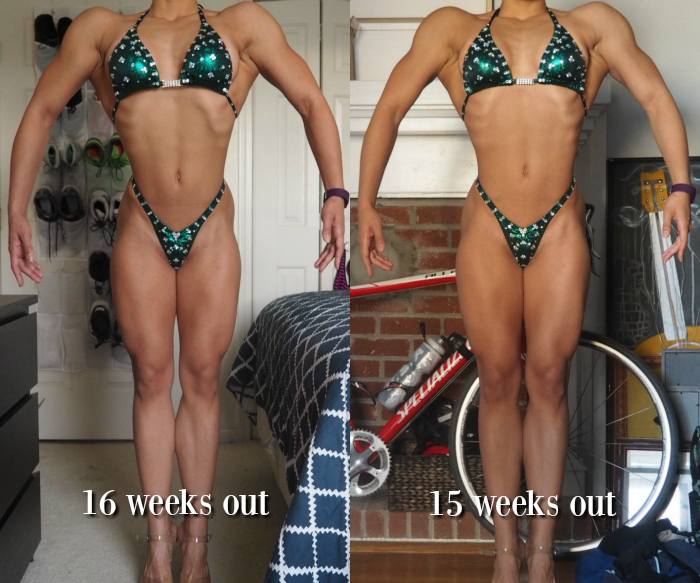 ---
Read the rest of the posts in my figure competition prep series here, and follow along with my pro figure competition journey with Instagram hashtag: #proprepdiaries!
---
Hey fit fam! Want a weekly email update on only my new fitness posts? Click here.