There's nothing like the feeling you get after a good spring cleaning, but getting started can be a bit overwhelming. I want to be all rah rah, let's do this thing, but really, I'm just like…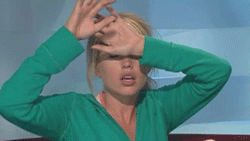 But, every home needs and deserves some post-winter perking up, even if you're short on time. So if you can't do a thorough top to bottom, side to side, corner to corner cleaning, don't worry! You can do a speedy version by focusing on the most noticeable dirt, grime and clutter. Tackle that with everything you've got.
Spring Cleaning the Grimiest Spots in Your Home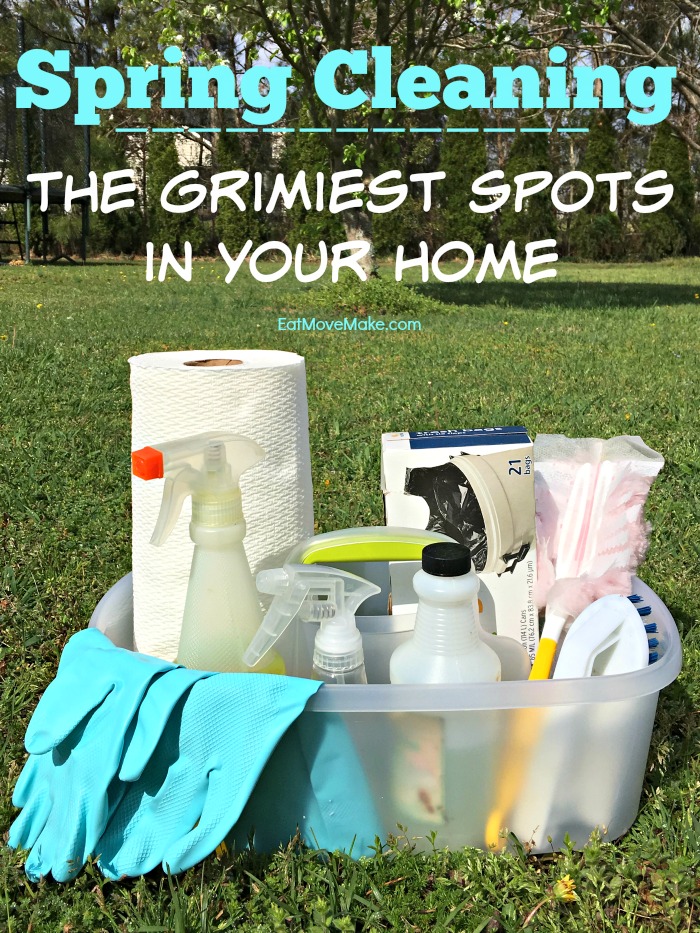 This post is sponsored by Kimberly-Clark and The Motherhood. All opinions are my own.
To be most efficient, put all your supplies in a cleaning caddy and carry that from room to room. I used to store a complete set of supplies in every room, but all that really did was create more clutter — the opposite of what spring cleaning should be doing.
Now let's start cleaning that grime! And because there's something very satisfying about before and after pictures, I'm sharing an embarrassing few.
Baseboards
The kind of gunk that collects on and in the crevices and cracks of baseboards is otherworldly. Fill a bucket with warm water and vinegar and start wiping. Get into those nooks and crannies with cotton swabs, and buff it dry with a cloth or a soft and smooth paper towel, like Viva® Towels. I'm surprised at how many people notice dirty baseboards in homes. (I'm not one of them sadly, which is why mine need serious spring cleaning.)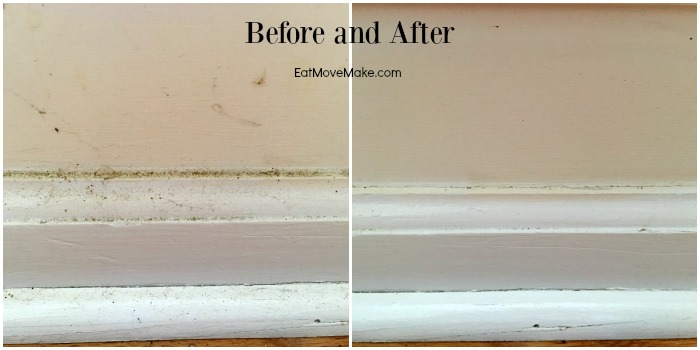 Ceiling Fans
If yours are anything like mine, there's a pretty significant layer of dust coating each and every fan blade. Take a pillowcase, pull it over an individual fan blade and dust. All the dust is removed and contained at the same time. (Learned that little tip from Pinterest.) My added suggestion is to use a soft cotton jersey-type pillowcase. The dust really clings to it.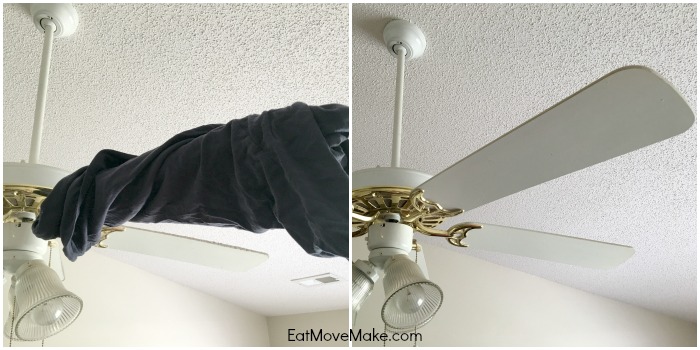 Light fixtures
Remove light fixtures and dump out the dead bugs. (You got 'em and you know it.) Wash the glass fixtures in warm, soapy water, rinse well, and dry with a soft cloth or paper towel before replacing.
Faucets and shower heads
For the love, take that aerator off at least once a year and clean it. It's disgusting! Soak it in vinegar for 15-20 minutes, and use a toothbrush to scrub loose any leftover bits of crud.
For shower heads, pour vinegar into a zip top plastic bag and tie around the shower head. I usually let it soak for at least an hour depending on the level of nastiness. Rinse and then buff dry with a soft paper towel.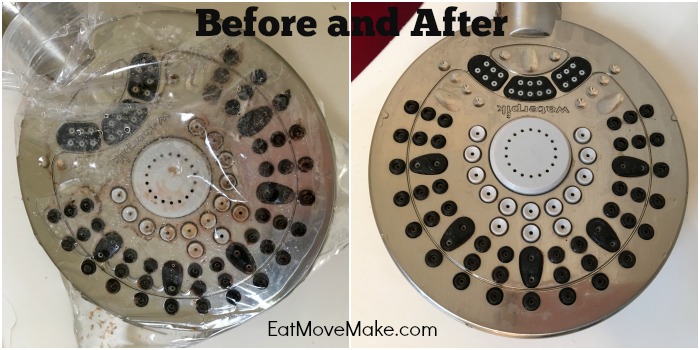 Doors, doors, doors
Have you ever actually looked at your door? How in the world does all that smudgy stuff get on there? Spritz some multi-purpose cleanser onto the door and handle, and wipe it clean with a scrubby-textured paper towel, like Viva® Vantage®.
Wait, you're not done. Look down at the door threshold and start spritzing and scrubbing that mess, so you don't bring more of it in on your shoes every time you come home.
Light switches
Based on the dirt we transmit to the average light switch, we are filthy, filthy people. So first off, let's all wash our hands more, and secondly, freshen up those light switches! Spray some multi-purpose cleaner on a folded sheet of paper towel, and give those a good rubdown cleaning.
Refrigerator grille
Look at my before. I rest my case.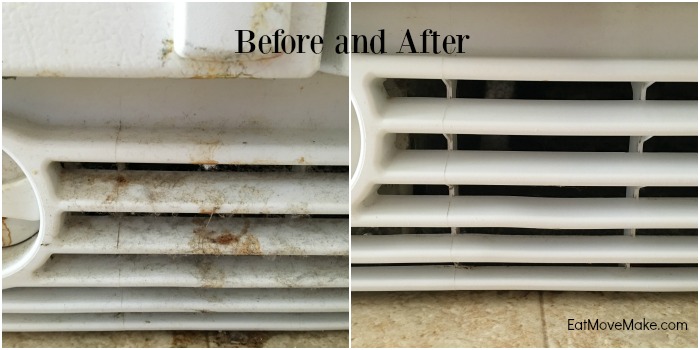 Windows (not the glass)
Ugh. To make the grime a snap to remove, fold a scrubby paper towel lengthwise into long strips, soak in a warm water and vinegar solution and lay it across the length of the window frame and/or sill for a couple minutes, then remove the paper towel strips, give a quick wipe and voila, the grime is gone. Use the same paper towels to wipe anything else around the window that has collected dust.
Ok, you should probably clean the window glass too… sigh.
Dead Zones
These are the forgotten spaces above the cabinets, on top of the fridge and under the bed. You know what to do — CLEAN THEM!
Kitchen sink
This is a test. You pass if your kitchen sink gets a daily cleaning with soap and water, and a twice-weekly hard core cleaning with disinfectant. You fail if you think the kitchen sink only needs a once-a-year spring clean.
Paper Towel Tip: Always fold your paper towel before using it. I don't know or even care why, but it soaks up more spilly stuff and lasts longer, so you'll use less paper towels overall.
And in case you need help choosing the right paper towel for the job, look no further than those Viva Vantage and Viva Towels I mentioned.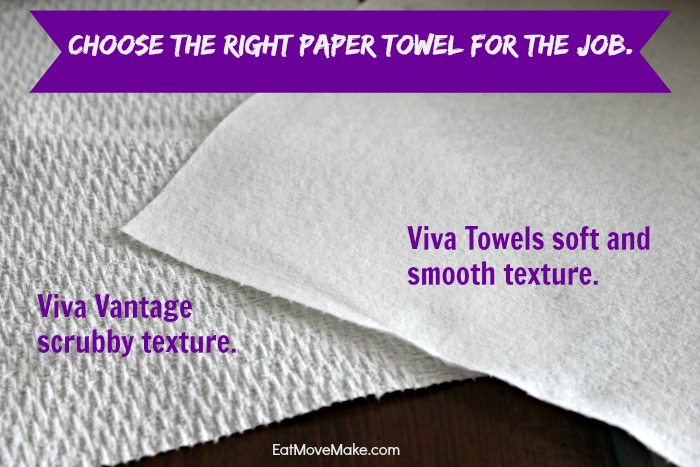 Viva Vantage has a scrubby, grooved cloth-like texture, so it's great for tougher jobs like scrubbing toothpaste off bathroom counters or cleaning patio furniture. It also helps give a nice shine to stainless steel appliances and glassware.
Viva Towels have a soft and smooth texture, so they're great on little faces and hands and for baseboards, windows, countertops and coffee tables. I rinsed them off in my vinegar water solution when I was cleaning and just kept on cleaning. They lasted through all the baseboards of my house!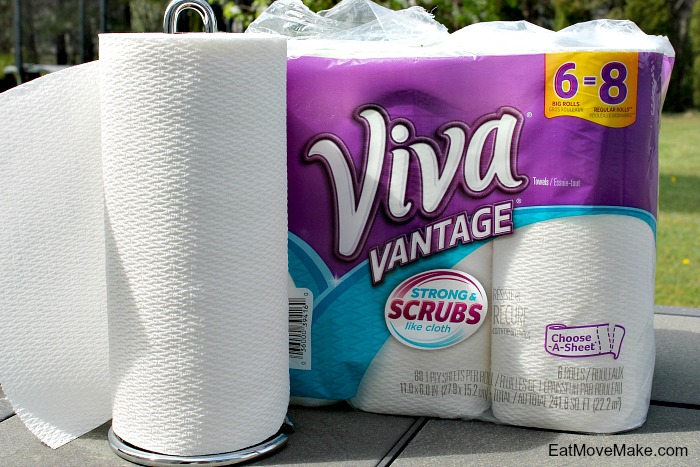 Once you've finished all the spring cleaning, be sure you pick up essentials like bathroom tissue for all the guests you'll be wanting to invite over to your sparkling clean home. And for sparkling clean bums, make it Cottonelle® Clean Care. It has CleanRipple Texture to help you get the cleanest bum possible. Clean house, clean bum. You can also make your bath tissue last and last with Scott® 1000, and yep that means there are 1,000 sheets on a roll!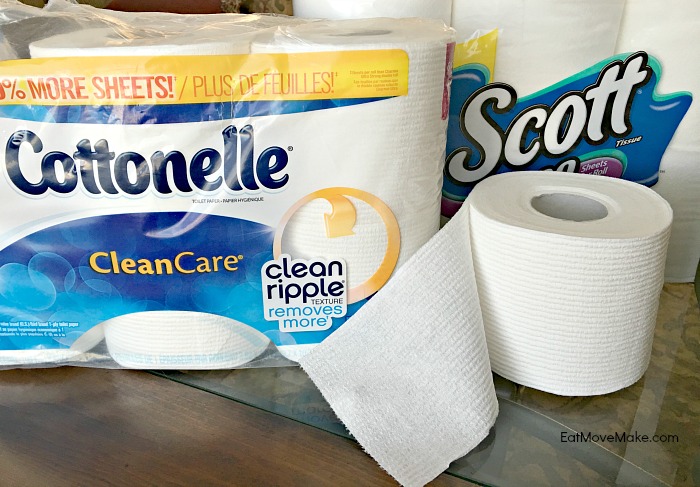 Pop into Walmart for one-stop shopping of all your cleaning and organization must-haves, and get ready to enjoy a spic and span summer! Visit the website for all the details on the Kimberly-Clark products I used in my spring cleaning post.
Are you ready to start spring cleaning the grimiest spots in your home? What are they?