The only tater tots my mom let me eat as a child were on my school lunch tray, and since those were "ewwww", I grew up hating them.  But somehow through the years, they found their way into my cooking, my belly, and my heart.
My favorite way to cook with tater tots is to make "Tater Tot Casserole", but last week I found an Ore-Ida Sloppy Tots recipe, and it really made a great weeknight meal, so I thought I'd share it with you.
(I added a little BBQ sauce & some crushed red pepper to mine.)
 Sloppy Tots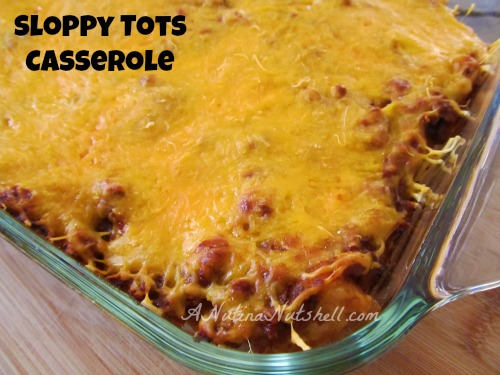 Ingredients
32 ounce Ore-Ida Tater Tots (I like to thaw or partially thaw mine in advance)
1 1/2 pounds ground beef
1/2 onion, finely chopped
2 garlic cloves, minced
8 ounces tomato sauce
1/4 cup ketchup
1/4 cup bbq sauce
3 T brown sugar
1 T worcestershire sauce
1 tsp salt
1/4 tsp pepper
1 tsp crushed red pepper flakes
2 cups shredded cheddar cheese
Directions
1. Arrange Tater Tots in a single layer in a 13 x 9 inch baking pan. Bake for 12 minutes at 425 degrees, if partially thawed. (If they were frozen to start, they'll need more time to heat through.)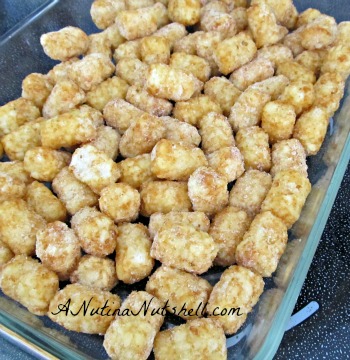 2. Meanwhile, in large skillet, brown beef with onion and garlic; drain. Add remaining ingredients except cheese; mix well.
3. Remove Tater Tots from oven, and pour beef mixture over them.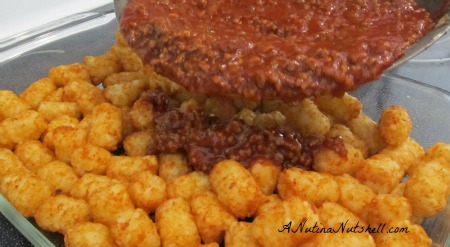 3. Sprinkle shredded cheese over the top. Bake another 15 minutes or until mixture is hot and cheese is melted.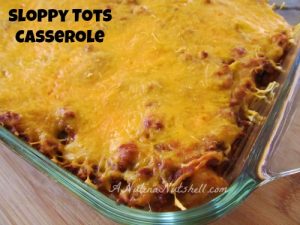 Enjoy!

Compensation was provided by Ore-Ida® via Glam Media. The opinions expressed herein are those of the author and are not indicative of the opinions or positions of Ore-Ida.