This Spicy Spaghetti Pie recipe comes from the new 6 Ingredient Solution cookbook sent to me by America's Test Kitchen and if you didn't catch the two most important words there, I'll say it again: Six Ingredients!
That's a big dang deal.
After all, it's usually a tantalizing photo that inspires me to look closer at a recipe, but if there's a mile long list of ingredients, nine times out of ten I'm outta there. Not only do I not have the patience, I don't have the budget to be cooking with a zillion ingredients for a single meal.
Long story short, I love the cookbook. Pretty sure you will too.
Now back to the Spicy Spaghetti Pie recipe….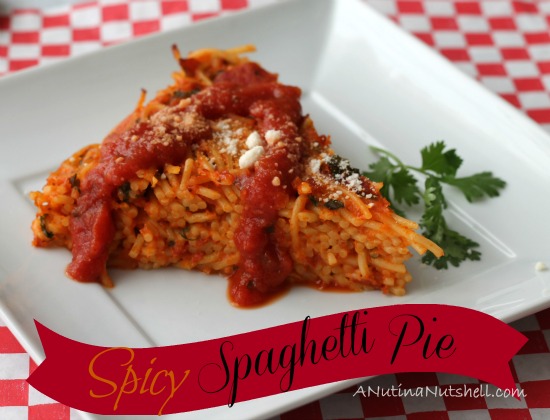 Chop up some pepperoni and then cook until crisp… Mmmm that blends beautifully with the arrabbiata sauce.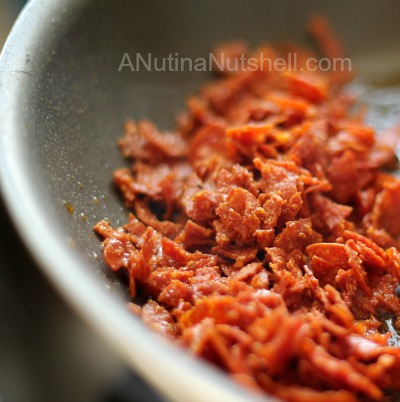 Bring the crispy pepperoni, arrabbiata, Mexican cheese, fresh basil and pasta together in the big ol' pot and combine.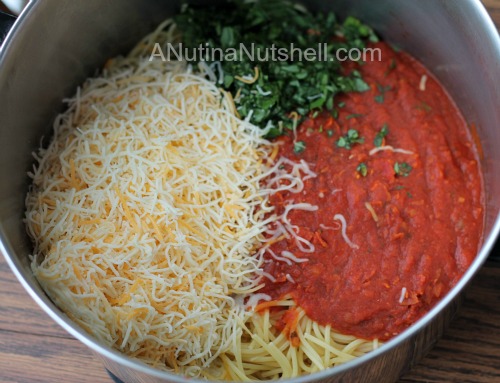 Pour the pasta mixture into a greased pie plate.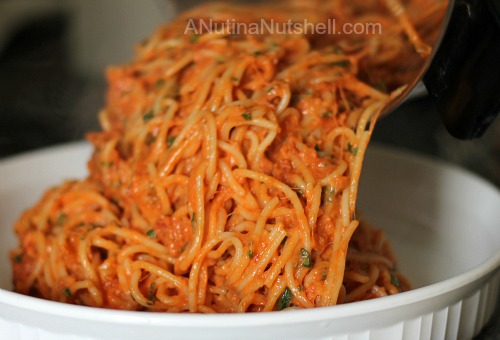 Use a spatula to flatten the surface so that when it's sliced later, it will hold together nicely. Bake that pie!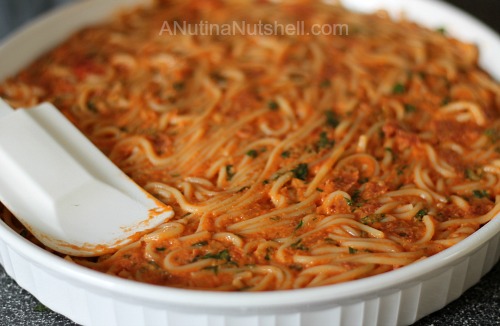 Once out of the oven, sauce up the spaghetti pie, slice and savor!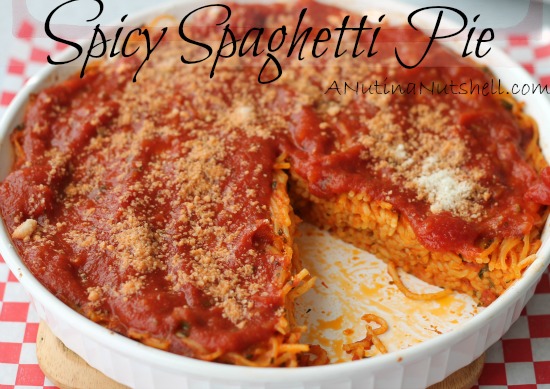 The recipe said it made four servings. Feeling sassy, I sliced mine into eight. Oops, one slice wasn't enough; I went back for a second…so yeah, the recipe serves four.
Enjoy!
Spicy Spaghetti Pie Recipe
A surprisingly flavorful twist on a traditional spaghetti pie. One slice might not be enough!
Ingredients
12

ounces

vermicelli or thin spaghetti

4

ounces

sliced pepperoni

1

25-ounce jar arrabbiata sauce

Fresh basil

2

cups

8 ounces shredded Mexican cheese blend
Instructions
Adjust oven rack to upper-middle position and heat oven to 475 degrees. Bring 4 quarts water to boil in large pot. Add pasta and 1 tablespoon salt and cook, stirring often, until nearly al dente. Drain pasta and return it to pot.

Finely chop pepperoni and cook in 12-inch skillet over medium-high heat until crisp, about 2 minutes. Stir in 2 cups arrabbiata sauce and bring to simmer.

Chop 1/2 cup basil.

Add pepperoni sauce, Mexican cheese blend, and basil to pasta and toss to combine. Transfer pasta to greased 9-inch pie plate and press with spatula to flatten surface.

Bake until golden and bubbling around edges about 15 minutes. Let cool for 10 minutes.

Reheat remaining arrabbiata sauce in microwave. Slice pie into wedges and serve with sauce.
Notes
To tone down the spiciness, substitute tomato sauce or your favorite jarred marinara sauce for the arrabbiata.
Nutrition
Calories:
650.16
kcal
|
Carbohydrates:
71.79
g
|
Protein:
22.54
g
|
Fat:
28.91
g
|
Saturated Fat:
13.88
g
|
Cholesterol:
82.97
mg
|
Sodium:
1045.09
mg
|
Potassium:
152.21
mg
|
Fiber:
1.36
g
|
Sugar:
0.7
g
|
Vitamin A:
369.04
IU
|
Calcium:
390.59
mg
|
Iron:
1.39
mg
Note: For those with a preference for the milder side of life, you can absolutely substitute a tomato sauce or your favorite jarred marinara sauce.
I'm so happy America's Test Kitchen sent me this cookbook! It was my first recipe made from the pages of 6 Ingredient Solution
, but it definitely won't be the last. It's available at Amazon now if you'd like a copy of your own (and who wouldn't?)